Types of Applique
What is Applique?
Whether you're a seasoned fashionista or an experimental designer, the art of applique is sure to come up in your textile practice. Applique essentially means applying one piece of fabric to another. It is usually shapes or designs on top of a fabric background – and it can be a practical way to add some depth to your designs. Applique is often enhanced and embellished by using different colored or textured threads, beads, sequins and pearls around the edges of the fabric motifs. Not only is applique a stunning way to elevate clothing, but it can also be used to adorn cushions, bags and home ware. If the surface is fabric you'll most likely be able to applique it in some way; whether it's with needlework or adhesives.
There are a huge range of different types of applique; there's no right or wrong way to experiment with this fun technique. Different methods can result in very different looks. Discover different types of applique and choose the best style to enhance your sewing project.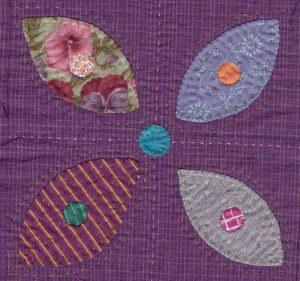 Methods of Application
There are three main methods of application when it comes to applique, each of these being able to create unique and different styles. The most common way to attach textiles is with sewing, in fact many people define applique by needlework. Choosing a method of application really depends on the final look you're after and how advanced your sewing skills are.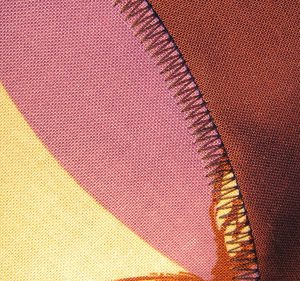 Machine Applique
There are two main methods for completing applique using your sewing machine. The traditional method (often called track down and trim) is a little bit more advanced. It involves stitching a placement line, placing your piece of fabric larger than the line over the stitches and then completing a second row of stitches to attach the fabric to the base material. Once this is completed, the excess fabric is trimmed away to reveal decorative applique shape. This type of applique can be time consuming, but is rewarding.
Pre-cut shapes is a much more recent and increasingly popular method of machine applique. These shapes can be laser cut or store bought. Generally, a zigzag stitch is used around the edge of the design to help create a smooth final edge and keep the shape in place. Following this, set your machine for a tight satin stitch and re-trace the edges of the design to cover the zigzag. Make sure to position the edge of your shape beneath the needle so that half of the stitch falls on the fabric background and the other half falls on the applique shape, to ensure it's secured.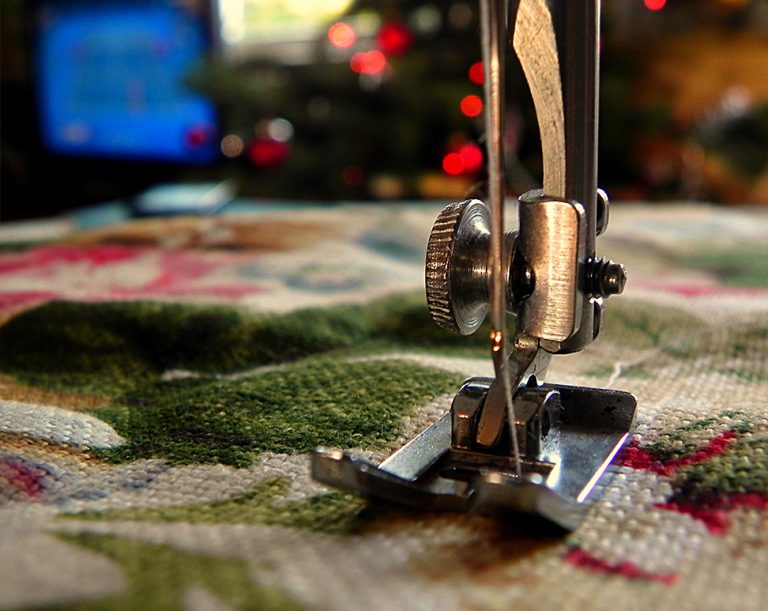 Hand Applique
Most different varieties of applique are done using a machine, but hand applying applique is often used for quilting. It is perfect for creating dimensional designs on your fabric. Hand sewn applique is essentially just sewing a shape to a piece of fabric using a needle and thread. There are various ways to hand applique which is what makes it such a popular method. One of the more traditional methods of hand sewn applique is the 'needle-turn' method. This is where a needle is used to turn under the seam allowance while you sew the pieces to the fabric background. Hand applique allows for you to easily add embellishments to your design. For example, slipping some sequins on the thread around the edges of your fabric motifs.
Fused Applique
Sewing applique the traditional way can be very time consuming, so today a lot of people use fusible web. A fusible web is generally an iron-on adhesive, to create beautiful designs. If you're after a quick way to create an effective design, the fusing method is your best bet. The fabric shapes are fused to the base fabric using the web while the machine stitching on top holds the pieces together and gives an embroidered finish.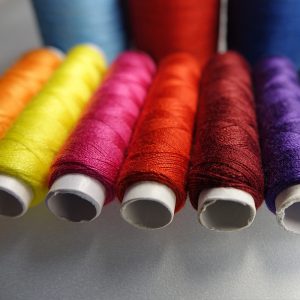 Different Styles of Applique
Smooth Edge Applique
Using a machine, you can stitch thread over the raw edges of the appliqued shapes to give them a tidy finish that looks smooth and neat.
Raw-edge applique
This method of applique is perfect for smaller projects. It essentially means sewing pieces of fabric onto a background piece of fabric without finishing or turning the edges. It can be done by hand or machine and create some sophisticated designs without the extra work.
Multi-needle Hoop Applique
This is perfect if you're more advanced and want to create a larger hoop design using your machine. Placement stitches are created on the design, and the background fabric is re positioned so that each section is accurately stitched. The result is a completely finished design once the machine stitching is done. It is a beautiful technique for a more detailed look.
Reverse Applique
Reverse applique is pretty much what it sounds like! Instead of sewing fabric shapes on top of a fabric background, you layer fabrics together and stitch a motif on top. Then you cut away parts of the fabric to reveal the shape below.
Decorative Stitch Applique
If you're sewing with a machine, you can experiment with the decorative stitch options to make your design stand out against the fabric. It's an experimental process most suited to those comfortable with a sewing machine, but can be very rewarding!
Felt Applique
To jazz up your applique skills, try creating a design with felt shapes. There is no need to finish or turn the edges of the motifs because felt doesn't unravel, so it's an easy way to try out applique.
Applique is all about being experimental and having fun with your fabrics. Now that you've read more about the different types of applique, design your own fabric and get creative.