Fabric tutorials can range from a stunning dress and exciting accessories to making your home a more personal space.
Printing custom fabric gives us the unique opportunity to work with so many creative people. Creators and crafters can create fabric tutorials as easily as some of us can write a text! When we get the chance to work with these creators, it is a wonderful thing to be able to share their tutorials with the rest of our community.
With sewing, knitting, crochet, and other crafts becoming so popular, it is important to make your creations stand out from the rest. This is where the customized fabric comes in. You get the opportunity to showcase not only your making skills but also your design skills. Imagine creating a dress from scratch, not from a fabric you purchased from a store, but from a fabric you designed yourself. These brilliant fabric tutorials have done just that, and their creations definitely stand out.
Fabric tutorials by the Contrado Creators
Our creative community is constantly coming up with new and inspiring tutorials using custom-printed fabric. These crafting bloggers dig out their sewing machines, hot glue guns, beads, fabric scissors, and every other essential to bring you tutorials that are easy and fun to follow. With our latest batch of tutorials, you can learn how to make a dress from a top pattern, how to make a swimming costume, how to create a DIY bed canopy, how to make stunning wall art, and how to make the most adorable raincoat you ever did see.
1. Gina Michele – Sew a Dress Using a Tank Top Pattern
How stunning is this dress by Gina Michele? If you didn't know better, you would think that a design and a dress like this would be on sale for a small fortune. But super talented Gina made this dress from her own customized fabric. Best of all, she didn't even use a traditional sewing pattern, she used a tank top.
If you have never visited Gina's blog, make sure you put some time aside to check it out. This designer and DIY master creates the most amazing "how-to's" and fabric tutorials. From sewing a faux fur throw to making adorable baby leggings, there isn't anything this craft queen cannot do.
We worked with Gina on her dress project. She uploaded her beautiful design on our stretch jersey and created a tank dress, which is just ideal for summer. Want to try it yourself? Here are the basic steps, but check out her blog for the whole fabric tutorial.
Basic Tutorial:
Choose and design your fabric at Contrado
Grab a tank top that fits you well
Fold the fabric over and lay the tank near the edge
Measure on your body how long you want the dress to be and mark the length on the fabric
Cut out the dress pattern
Using this piece as a pattern, cut another piece for the back
Sew the two pieces together, the shoulders, and the sides
Measure the diameter of armholes and cut two pieces of fabric to that length. They should be about 1.5 inches wide
Sew armhole strips together
Fold the armhole binding over once
Fold it again and pin it down
Repeat these steps with the other armhole fabric and collar fabric
Fold the bottom hem over twice
Pin the hem fabric and sew
Try it on and look amazing!
Confessions of a Refashionista – Easy Upcycled DIY Bed Canopy
We love Sheri from Confessions of a Refashionista so much. She always comes up with the most creative DIY projects and fabric tutorials. We have seen her work wonders with a glue gun and a sewing machine, and this tutorial is no different. Ready to make your bed or your little one's bed look great?
This upcycled project is a brilliant way of adding character and personality to a child's bedroom. Sheri used a huge cardboard box as the base for her DIY bed canopy and used our custom printed fabric and other adorable decorations to make it personal for her daughter.
Want to try it yourself? Follow these basic steps, but we recommend visiting Sheri's blog for the whole video tutorial.
Basic Tutorial:
You will need; a large box, cutting tool, tape, papier mache, paper strips, paint, decorations, fabric
Measure the width and height you need from the box
Cut out the pieces from the box and tape them together
Mix equal parts of warm water and flour to make a thin paste for your papier-mache
Get your paper strips and soak them in the paste
Give the canopy 4 – 5 layers of papier mache and allow it to dry completely
Once the canopy is dry, paint it in the color of your choice
Decorate it as you wish! Sheri used custom printed fabric and an assortment of decorations, beads, and other accessories
Snugglebug University – DIY Kitchen Art
When it comes to gorgeous photos, fun fabric tutorials, and creative ideas, Jill from Snugglebug University is up there as one of our favorites. We love many of Jill's blog posts, teaching us how to make everything from bed canopies and decorative pillows to DIY picture frames and curtains.
We worked with Jill to create custom printed canvas fabric for her to make wall art. Printing her original artwork on our canvas is a whole new way to make her designs pop. It also means that they can be displayed in a way for everyone to see – and appreciate!
From the customized canvas, Jill made five art prints, and the finished result is just beautiful. If you want to create your own custom-made wall art, then follow Snugglebug's tutorial. Check out her blog for the full list of steps.
Basic Tutorial:
You will need: a miter saw, angle brackets with screws, a screwdriver, a staple gun, a mounting bracket and hammer, wood for the frame (Jill used 1 x 2-inch white wood boards), and finally, your designs printed on fabric
If you need to cut your art from the fabric, make sure you leave enough to wrap the edges around the wooden frame
Measure each side so the pieces have about an inch of colored overhang on each side
Use your saw to cut the wood pieces to the correct size
Use a screwdriver to screw in the angle brackets to each piece
Lay the frame on top of the fabric image side down
Pull the canvas on the opposite side so that it is tight
Staple the edges
Custom canvas in no time at all!
4. Seamstress Erin Designs – Rainbow Raindrops Waterproof Minoru Raincoat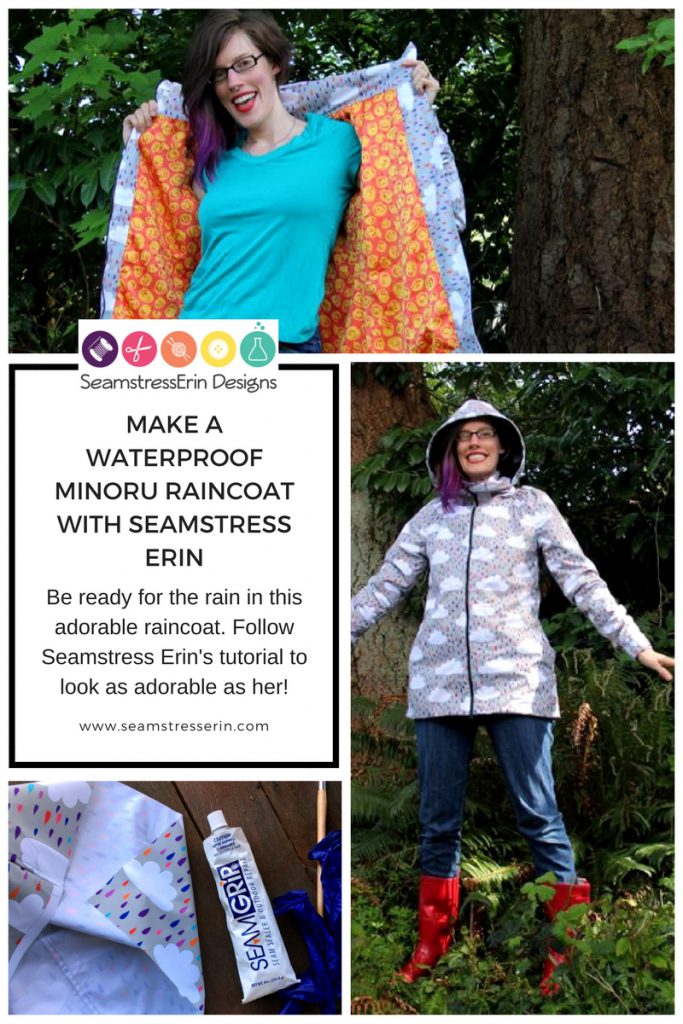 Sewing obsessed Erin from Seamstress Erin Designs is such an inspiration. From her amazing patterns to her gorgeous fashion sense, this is a lady who you want to be following.
Erin lives in Seattle, Washington. And it rains there, a lot. So, Erin used our custom printed fabric to make a raincoat seems like the perfect choice. Use Sewaholic's Minoru Pattern to create the coat and our breathable waterproof fabric to make it from. Her design is so sweet – cute little clouds with colorful raindrops.
To create this raincoat yourself, you will need to download the Minoru Jacket pattern (www.sewaholicpatterns.com/minoru-jacket-pdf-sewing-pattern), but make sure you pay a visit to Erin's blog for the full run down, and even more beautiful photos.
Meggipeg – Sophie Swimsuit with Custom Printed Fabric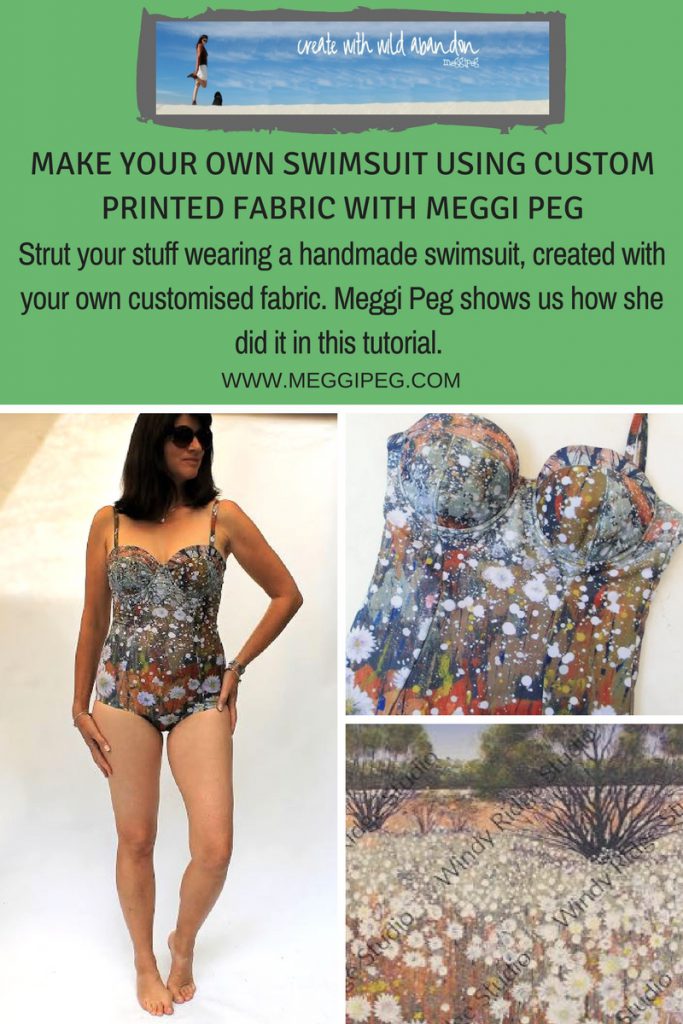 Let's stop for a moment and appreciate how beautiful this swimsuit is by Meg from Meggipeg. Meg created her custom printed fabric using one of her mom's original paintings. The finished result is just stunning.
Meg used our customized Slinky Matt Lycra to create her swimsuit, which is ideal thanks to its form-fitting body, water-resistant finish, and flexibility. The print of her mother's painting looks amazing. Vibrant colors, clear detailing, and a sharp finish.
Ordering a piece of the Lycra 40″ wide x 25″ long, Meg was able to make a swimsuit for her body shape. You will need to work out exactly how much fabric you will need before ordering, to ensure you have enough but not too much leftover and wasted.
If you want to create this swimsuit for yourself, you will need to download the Sophie Swimsuit pattern by Close Case Patterns (https://store.closetcasepatterns.com/products/sophie-swimsuit-pattern).
Now that you have been inspired, it is time to pick up your sewing needle, download that pattern, dig out your sewing machine, and get creating! Thanks so much to this super talented bunch of creators. We can't wait to see what you come up with next.