What is Poplin Fabric?
If you've ever asked yourself, 'What is Poplin fabric?' then you've come to the right place. You've probably, most definitely, worn some variation of poplin, whether it's 100% cotton poplin or a cotton-poly blend. Traditionally, it was used for casual attire but now has a place both in your everyday wardrobe and in high fashion. Its popularity isn't surprising, due to its strong, durable nature but soft, lustrous surface. It is pretty much just a well-rounded fabric that can't do any wrong.
How is Poplin Made?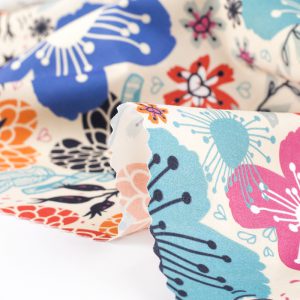 Poplin's distinctive ribbed texture and the tightly closed weave are what gives the fabric its luster that we all love. When it was first created, poplin was a plain weave constructed using fine silk warp yarns that were filled in with heavier wool yarn. This is how it gets that classic ribbed texture. Today, poplin is primarily made from 100% real cotton, making it lightweight but still retaining its strength. Other variations include wool, silk, satin, rayon or a poly blend fabric, but the basic concept remains the same; 2 yarns of different thicknesses in a plain weave. If you like having the best of both worlds at all times, poplin is thin and cool with an easy drape, yet simultaneously sturdy and tough.
What is Poplin Fabric Used For?
Since it was first made, poplin has been a staple fabric for a wide range of uses. Due to the perfect harmony of durability and elegance, it was a popular choice for women's dresses, but the 19th century also found it a lovely fabric to use for upholstery. In World War II, US personnel took a shine to poplin and used it as the main material for the uniforms. It kept our soldiers cool when necessary but it was strong enough to endure rough elements.
These unique properties have helped make poplin a comfortable but stylish fabric for all manner of clothing, from shirts and skirts to pants and jackets. It's so versatile, and the subtle sheen adds a touch of luxury, allowing you to wear it in both casual and formal situations.
The Difference Between Poplin & Broadcloth
Often mistaken for the same thing, you might be surprised to know that there actually is a difference between poplin & broadcloth. This distinction lies in the thickness of the yarns used. Broadcloth is woven in the same way as poplin, however, the yarns used are a lot thicker and yield a sturdy fabric with a robust feel. Poplin is a fine warp yarn woven with a thicker weft yarn, resulting in a strong material but soft to touch material.
The Origins of Poplin
Due to it's durable, smooth and lustrous surface, Poplin has always been incredibly popular. In 15th Century Europe, poplin was woven using silk and wool, making it popular winter attire. The actual word 'poplin' derives from 'papelaine', and is based on a (now obsolete) French papal town of Avignon. Despite being woven with real silk, the fabric was still extremely casual. In the Louisa May Novel 'Little Women', two sisters were described as being full of regret for attending a ball in their best poplin dresses instead of their pure silk ones.
What is Poplin Like to Sew With?
Despite being thin, Poplin is incredibly easy to work with, thanks to its smooth face and ability to hold its shape well. You still may want to stiffen it up beforehand though, as although crisp, it can be quite slippery. Embroidering onto poplin is a popular craft too, due to the nature of the weave and how forgiving this fabric is. You'll love how simple it is to work with poplin and turn it into something beautiful and long lasting.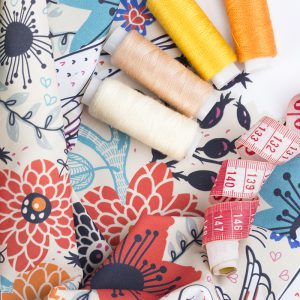 What is Poplin like to print on?
Due to its structure, semi-translucent effect, and tautness, it presents color beautifully. Often, lightweight fabrics like Poplin have a lighter color payoff, resulting in a washed-out final print. However, by using our state-of-the-art printing techniques, we're able to create vibrant prints every time, in every shade. Poplin is a perfect texture and weight for summer clothing, interior furnishings, and upholstery, so it suits a wide range of crafts and projects. So now that you know the ins and outs of this fantastic fabric, all that's left is to find the perfect design or print your own!
Advantages
Durable and strong
Cool, lightweight
Versatile
Soft to touch
Lustrous face
Subtle sheen
Comfortable
Delight to print on
Doesn't wrinkle easy
Doesn't stain easy
Water-resistant
Disadvantages
Doesn't lock in heat
Too thin for winter
Now you know the answer to "What is Poplin fabric?" Discover poplin and other fabrics in your own swatch pack.