Sublimation printing is becoming more and more popular. It is a form of digital printing that uses a specialized paper. There are many pros and cons of sublimation printing, but overall it is clear to see why it's gaining so much traction. So, what is sublimation printing?
The Sublimation Process
Sublimation is a chemical process. In simple(r) terms, it is where a solid turns into a gas, immediately, without passing through the liquid stage in between. When questioning what is sublimation printing, it helps to realize that it refers to the dye itself. We also call this dye-sublimation, as it is the dye that changes state.
So what is the opposite of sublimation? Well, it's called deposition, although is sometimes known as desublimation. A deposition is when something transitions from gas to solid, not to be confused with condensation where it transitions to liquid form. The best example of deposition would be the formation of frost; air transitioning directly to a solid form and bypassing water. Another would be soot in chimneys.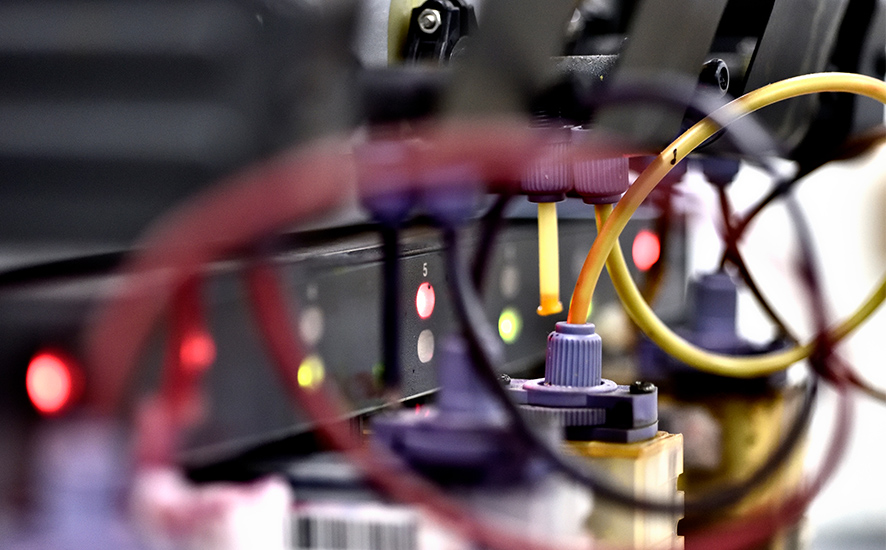 How to do Sublimation Printing
So, what is sublimation printing actually all about then? We're here to explain the actual nitty-gritty details, the how it makes a thing colorful, the process.
Firstly, your design is printed onto a specialist transfer paper. It is printed as a mirror image, using specialist dye-sub inks. These are water-based inks that have less of an environmental impact than harsher chemical inks. After that, the transfer is lined up with the fabric, and a combination of heat and pressure are applied. This causes the inks to transition from their current solid form, directly into a gas.
The inks then penetrate into the fibers of the material and are permanently bonded to the fibers. The end result is a high-definition print with an extremely intricate level of detail.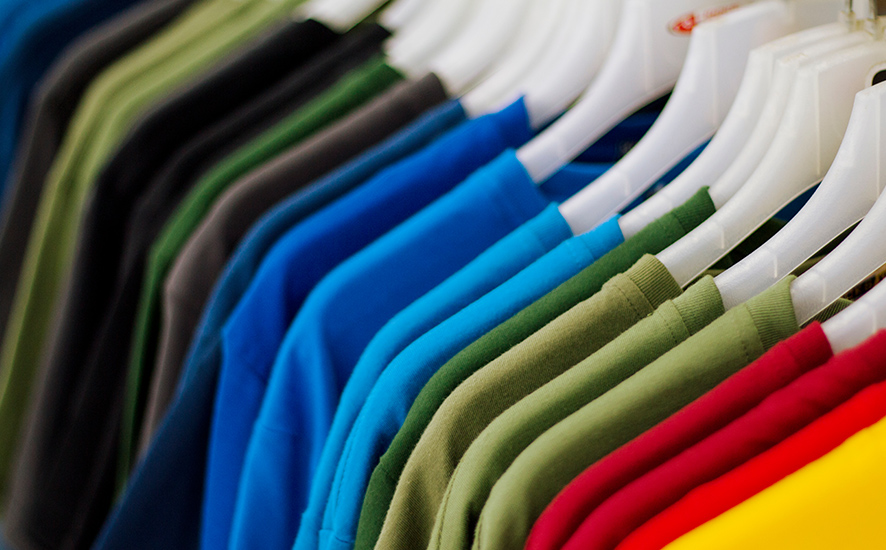 What is Sublimation Printing Used For?
Okay, so we're aware that there are a lot of questions that we have already answered; what is sublimation printing? How is it done? What does it mean? So far there have been very few downsides. There is, however, a catch. Sublimation on cotton just doesn't particularly work. Or silk, or most natural fabrics. It's ideal for t-shirts, great for hoodies, ideal for socks, providing they have a high polyester content.
As a result, if you're a 100% natural cotton aficionado, then sublimation printing might not be for you. If you're happy with a poly-blend material – we recommend around 85% poly – then this really is the future of fabric printing.
Another benefit of this type of printing is that you're not limited to fabrics. Sublimation printing is great for hard media too: think mugs, pens, clocks, Christmas ornaments, tins, the list could go on.
Sublimation vs Screen Printing
Print Runs – Sublimation printing does have high set up costs, initially. Whereas screen printing has high set-up costs every time. Once you've made the initial outlay, dye-sub is more cost-effective for small runs. It doesn't struggle with bigger print runs either.
Details – Screenprint produces sharp edges but due to the digital methods that sublimation printing uses, the level of detail is so intricate. Not only can you print in photographic quality, but the detail is so outstanding you can even show brushstrokes.
Colors – Dye-sub can print any number of colors in one swoop, however, it is limited to the colors you can create on a computer. Fortunately, this is a LOT of colors. Screen printing limits you to one at a time and using multiple colors can cause bleeding or alignment issues, but you can mix up any color you like.
Longevity – Screen printing sits on the surface of the material it is printed on, whereas dye-sub penetrates deep into the fibers. This means that sublimation printing is extremely fade-resistant. It will likely outlive most, if not all, other print methods.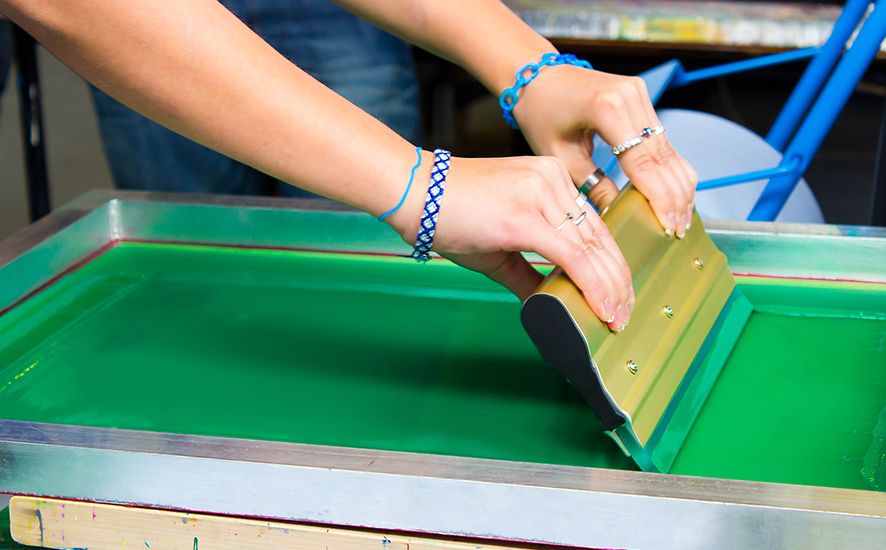 Direct to Garment (DTG) vs Sublimation
Print Runs – DTG is also suited to smaller print runs, similar to sublimation printing. You'll find however that the print area needs to be much smaller. You can use dye-sub to entirely cover a garment in print, whereas DTG limits you. Half a meter square would be a push, it is advisable to stick to around 11.8″ to 15.7″.
Details – With DTG the ink disperses, so graphics and images with details will appear more pixelated than they do on your computer screen. Sublimation printing will give sharp and intricate detailing.
Colors – Fades, glows and gradients cannot be reproduced with DTG printing, especially on colored garments. Also due to the color palettes used bright greens and pinks, and metallic colors can be an issue. Sublimation printing leaves white areas unprinted, whereas DTG uses white inks, which is handy when you don't want to print on white material.
Longevity – DTG literally applies the ink directly to the garment, whereas with sublimation printing the ink permanently becomes part of the garment. This means that with DTG printing you might find that your design will wear, crack, peel, or rub off over time.
Sublimation vs Heat Transfer
Print Runs – Both methods are well suited to smaller print runs, and due to the initial costs of dye-sub, if you are only even going to print one t-shirt every couple of months, then you may find heat transfer is better for you.
Details – The key here is in the printers. Heat transfer uses a standard printer, whereas sublimation printing uses a specialist printer that prints in super-high quality. Think about the times you have tried to print photos out on a home printer. Remember those fuzzy edges? Yeah, that.
Colors – Dye-sub allows you to print full colors, albeit they do need to be generated on a computer, but you can select the mix of blue to green to yellow and print in very specific colors. As heat transfer uses either an inkjet or laser printer, you won't always be able to achieve the same palette.
Longevity – Transfers are literally that, they transfer a layer with your print onto the top of the fabric. They are not self-weeding either (which means that unless you cut it out, you will have the whole A3 or A4 layer of transfer, whether printed or not). Sublimation printing will only ever transfer the inks, so there is no almost-sticky feel, and the inks become a permanent part of the material, so they won't peel or scratch off.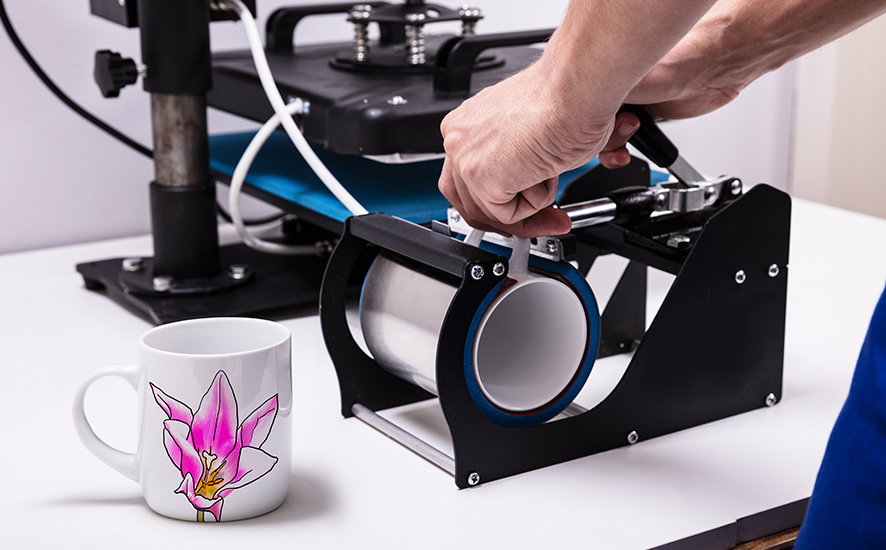 So, what is Sublimation Printing?
Well, after that in-depth look, allow us to summarize. Sublimation printing is outstanding for fine lines and details, and arguably one of the best methods for all-over printing. With low set up costs, it is great for small runs, and the printing is so close to permanent it's pretty much unbeatable. But, it isn't great for natural fabrics, requiring 80-85% poly-blends, and the white areas are left unprinted which can be problematic if you want to print on darker fabrics.
Order some samples of our poly fabrics to see an example of this amazing printing technique! We have an extensive range of over 110 fabrics, most of which use sublimation printing to achieve the best result. Browse our full range below!