What is a neck gaiter?
If you're a camping or hiking fanatic, you may have already heard of a neck gaiter or tube scarf; an elasticated tube-shaped piece of fabric which is amazingly versatile and often used on outdoor trips or for sports.
There are endless ways how to wear a neck gaiter. This single piece of material has multi uses if you're a lover of adventures. But it is also a functional fashion accessory that adds a stylish flair to your everyday look.
What can you use it for?
There are tons of ways to wear this super multi use piece of headwear; it has its uses in everything from camping to skiing. Neck gaiters or warmers can be found in a variety of materials such as merino, fleece-lined or knitted. They are generally made from a fast drying and wind-resistant fabric to keep you protected from the elements. Shield yourself from the drizzle, wind burn or sunstroke with this unique and flexible accessory.
A tube scarf can help keep you warm or cool in extreme weather conditions which is essential for any adventure-seekers. One of the most popular uses for a neck scarf is to soak up excess sweat after some hard-core activity. (That's where the fast-drying property comes in handy). The moisture-absorbing quality can prevent sweat lingering and cooling, which lowers the chances of losing body heat in chillier climates. The lightweight nature of neck warmers means they're perfect for camping. They take up minimal packing space and have an endless array of uses. It's also a simple and practical way to keep any hair out of your face while you hike, run or work.
How to wear a neck gaiter?
Although there are no wrong ways to wear a neck gaiter, try out our 19 different ways to wear a tube scarf to get the most out of your new accessory.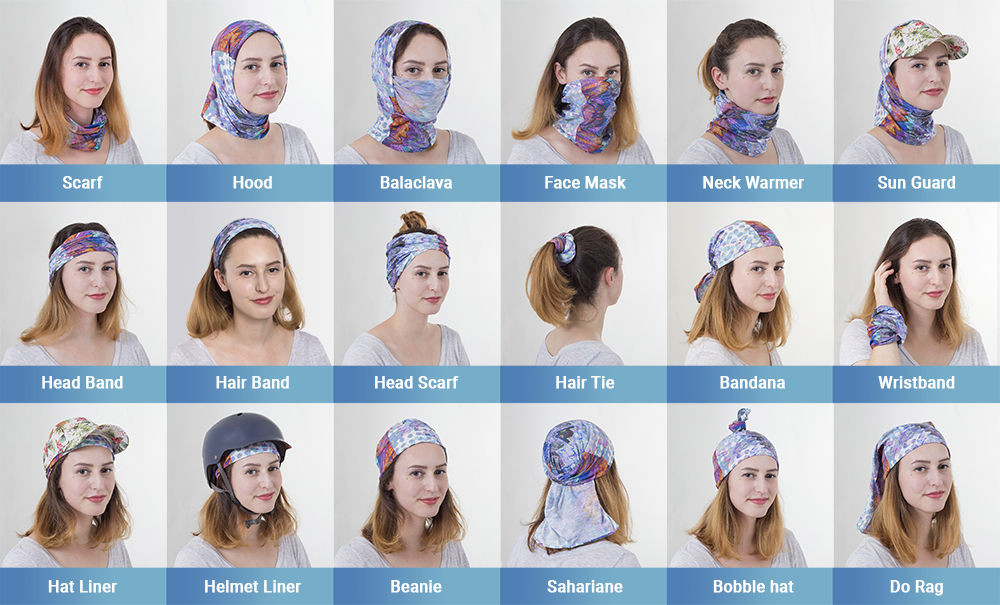 19 Ways to Wear a Neck Warmer
Scarf – simply pull the tube scarf over your neck for an effortlessly cool look, which will also keep you warm.
Hood – This covers most of your head and is excellent for staying warm. Keep the front of the neck scarf under your chin, and pull the back up to cover your head.
Balaclava – start off with the hood. Then take the material from just under your chin, double it up and pull up to cover your nose for added warmth or sun protection.
Face Mask – Start with the tube scarf on your neck, then pull it up to just below your eyes. This style is ideal to protect against dirt, dust, rain or cold.
Neck Warmer – keep it around your neck but pull it up over your chin and the back of your neck. A great way to protect against wind burn when cycling.
Sun Guard – put it around your neck and pull the back up and over the back of your head. This works particularly well when worn under a hat or helmet.
Headband – Wear the neck gaiter around your forehead to keep pesky hair at bay or absorb sweat when you're on a long hike. Scrunch it up for a more casual look or fold it to look like a pro.
Hair Band – begin with a scarf around your neck, then pull it up at the front to push back your hair. Works well with either long or short hair.
Head Scarf – start off with the hair band look, then pull the tube scarf back – perfect for bad hair days!
Hair Tie – Like a simple scrunchie, wrap the neck gaiter around your ponytail to hold your hair back.
Bandana – Take your neck warmer and turn it inside out. Put both of your arms through the garment and cross the grab the ends of opposite sides of the tube. Pull both ends to form a knot at 1/3 from the end of the tube. Shape it a bit so the opening is large enough to fit your head. Place on your head and adjust the knot until the fit is perfect. This can be worn under your helmet without having to adjust the helmet size.
Wristband – wrap around your wrist enough times till the fit is snug, a great way to absorb sweat on runs.
Hat Liner – a neck scarf is thin and lightweight enough to be worn under a hat for extra warmth and protection against sunburn. Lay it over your head and simply pop your hat on top.
Helmet Liner – just like the hat liner, use a scarf to add an extra layer underneath your helmet.
Beanie/Cap – First grab your neck tube and turn it inside out. Place one end of the tube on the top of your head and twist it in the center at least twice. Then take the opening above the twist and pull it down over your head.
Sahariane– One of the most classic ways to wear a neck gaiter. Turn it inside out, lay it flat over your head with the openings at the front and the back. Open the top layer of the tube and hold inside with a hand over your forehead. With the other hand pull the top layer down over your head to form a cap shape.
Bobble hat – Give your beanie hat a bit of a flair with the single layered bobble hat style. Start off with the beanie, but tie the loose end of the neck warmer into a big knot.
Do Rag – A simple do rag pulled over your head and left open at the back means you can protect your neck from the sun.
Foulard – Start with the hairband, but open up the back of the neck gaiter slightly. Create some fabulous hairdos with this style!
Funky neck gaiter with your own design?
Design your own neck gaiter to add some stylish flair to your hiking trip, or simply for a splash of extra color in your wardrobe. We handmake our neck warmers from sustainable materials with wind resistant and heat-retaining properties to keep you extra comfortable in your adventuring. Try your own design and create an accessory that makes heads turn.