With a new month comes a chance to meet another group of super talented Contrado Creatives. These are the artists who make up our online marketplace, filling it with must-have products, original designs, and a lot of color and character.
Several months from launching the marketplace, it is filled with a plethora of talent and different artistic styles. We get so excited when a new artist joins us and starts to build a brand, which we hope will gain them the fans and recognition that they deserve. It's amazing to see so many different types of artists, all looking to spread the message of supporting undiscovered talent. Whatever your preference is, we can guarantee that you will find one, if not several, Contrado Creatives that will cater to it. From watercolor painters and fine artists to tattooists and graffiti artists, there truly is something for everyone at Contrado.
Contrado Creatives
Every month we introduce you to a selection of our artists, through our blog. We hope that giving you a deeper insight into their methods, style, and lives, will entice you to visit their stores and give them your support. Whether you love homeware, accessories, or fashion, these remarkable artists have created a collection to suit all tastes and budgets. This month we meet six more artists: Ellie Cartlidge, Tana Pither, Inma Garcia, Artist SG Designs, Marina Popska, and Ali Elly.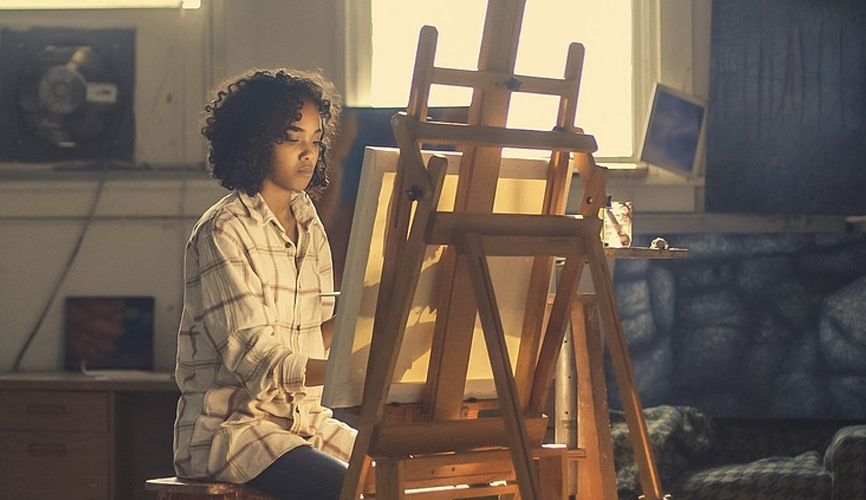 Ellie Cartlidge
Textile Design graduate Ellie Cartlidge has a beautiful and distinct style, that brings color, vibrancy, and trend-led creations to Contrado. While in school, Ellie discovered a love for surface patterns, and she quickly learned how to develop her drawings into prints using software such as Photoshop and Ned Graphics.
Having specialized in digital textile design, Ellie has developed a love for creating trend-led prints, which work perfectly for homeware and fashion. Although she is renowned for her original hand-drawn, detailed designs, Ellie now finds that she can vary her style to suit different tastes and end-uses. Hand-drawn motifs combined with photographic elements create this bespoke style and fuse a hand-crafted aesthetic with a contemporary edge.
Nature provides the greatest inspiration for Ellie but also for fashion and interior trends. Her design technique always starts with drawing or painting, and it is this method that adds so much character and individuality to her work.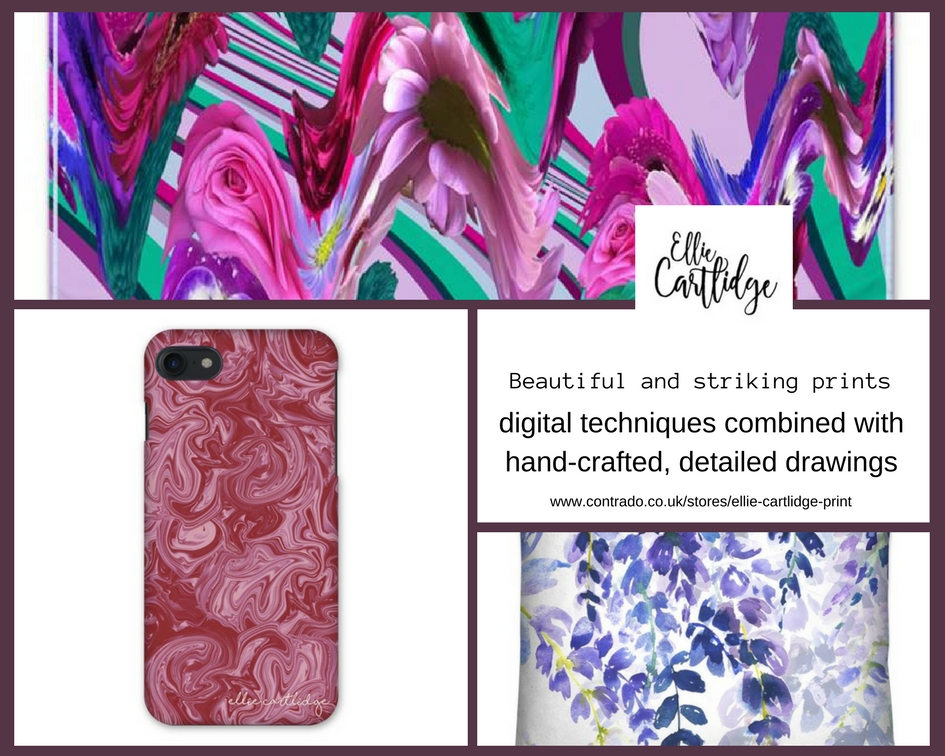 Tana Pither
Be inspired by nature and 1930's East Africa with Tana Pither's stunning imagery and vivid designs. Having specialized in Textile Design and Printed Textiles, Tana's work is full of exotic flora and fauna, created with a distinct range of painting techniques.
Describing her style as "expressive realism," Tana uses mainly gouache and acrylic paint to produce her bold designs. These mediums allow her to experiment with brushstrokes and vibrant colors. The watercolor adds strength to Tana's works, emphasizing the beautiful subject matter.
Tana's latest collection, "East African Explorer", is based on the artist's grandfather's photographs and paintings from the 1930s. This unique representation shows the true beauty and diversity of the natural world. With homeware pieces and accessories, Tana's Contrado collection will bring new depth to your living space.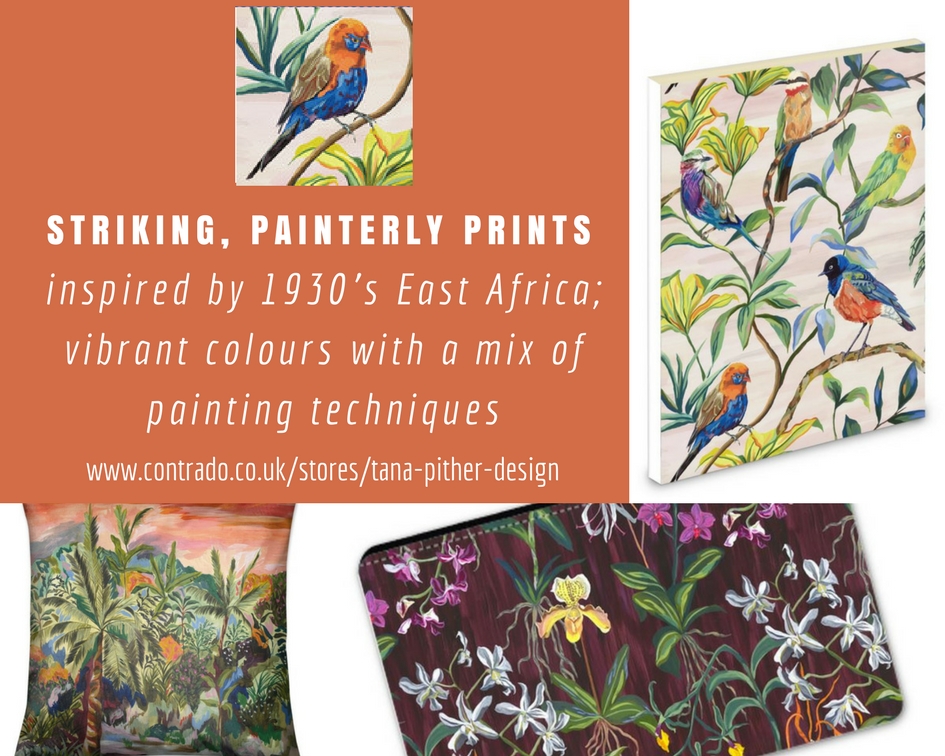 Inma Garcia
Textile Print Designer Inma Garcia has been specializing in designing surface prints for furnishing fabrics since 1994. She designs prints for homeware, textiles, and wallcoverings for the interior and fashion industries.
Her elegant and bold prints work beautifully on homeware and fashion and add an on-trend, fun element to functional products. Inma gains her inspiration from several areas. The simplicity of nature's organic shapes is apparent immediately when looking at her Contrado collection. "Summer Leaf" and "Night Petals" are two collections that reflect this love of the natural world. Geometric shapes and tribal patterns also play a role, along with an elegant zen vibe.
Inma works with contemporary software to develop new layouts and compositions of sketches and drawings. This unique process allows her to create stunning repeat patterns and motifs that will bring style and character to your home.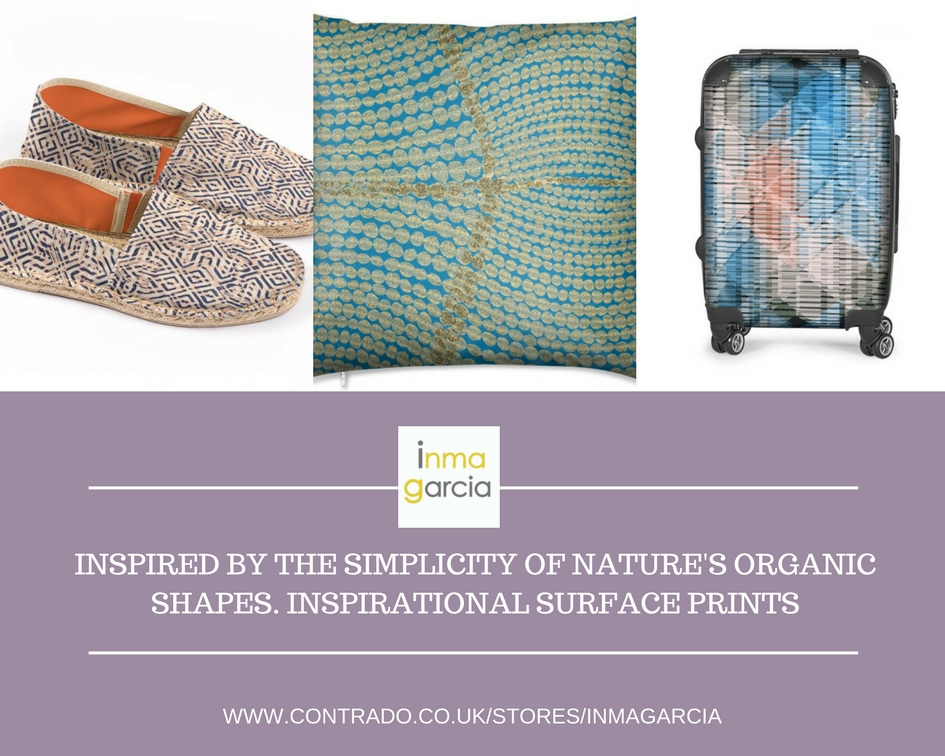 Artist SG Designs
Bold, powerful, and attention-grabbing, the work of Artist SG Designs is sure to leave a big impression. The artist behind the brand, Saulius Ginetas, started his creative journey at 13 years old with a passion for graffiti art. Saulius' passion has continued to grow, and his artistic methods have evolved.
Describing his style as purely expressive, it is plain to see his graffiti art background. However, there is more sophistication in his method now, and his experimentation with different artistic techniques has added to his aesthetic. Filled with bright colors and dynamic shapes, Saulius has tried his hand at everything from printmaking and sculpture to paintings and digital art. All these practices have helped mold his current style, which is pure print power!
When it comes to the Artist SG Designs customer, Saulius believes that they are open-minded individuals, who are not afraid to express themselves. His powerful designs can be found on a selection of custom-made bomber jackets in his Contrado store, which are the perfect canvas for them.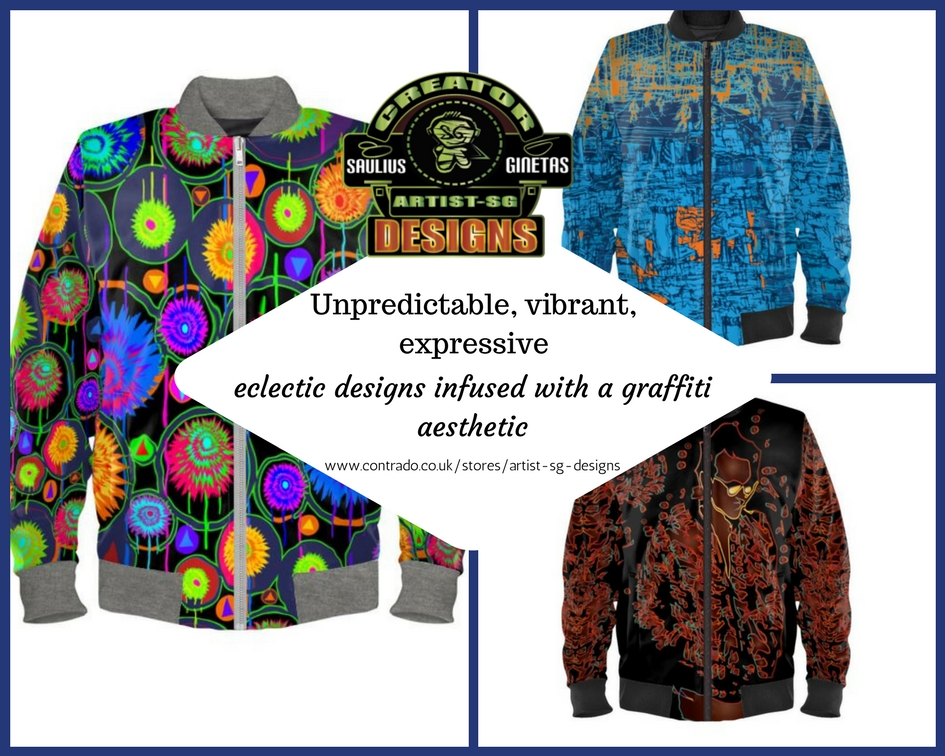 Marina Popska
Prepare for color and positivity, and lots of it. Marina Popska's lively and optimistic designs are the perfect way to inject a dose of color and style into your life. Marina comes from a long line of artistic talent; from tailors and textile designers to professors in Fashion and Textile Design, Marina's creative heritage is varied and rich. Much like her art.
Marina describes her style as "a colorful hurricane of flying madness; bright, bold and eclectic and full of light and positivity." Her love of patterns and textures has contributed to her evolving style over the years. She constantly experiments with colors, prints, and shades, and has developed a distinct aesthetic, where colors and textile compositions work together in perfect harmony.
Working with a combination of hand drawings, photography, and watercolors, Marina edits and manipulates her original creations using Photoshop and Illustrator. Many of her prints are in a square or rectangular composition, with repeat patterns. This method suits the products in her Contrado store perfectly and fills them with energy and life.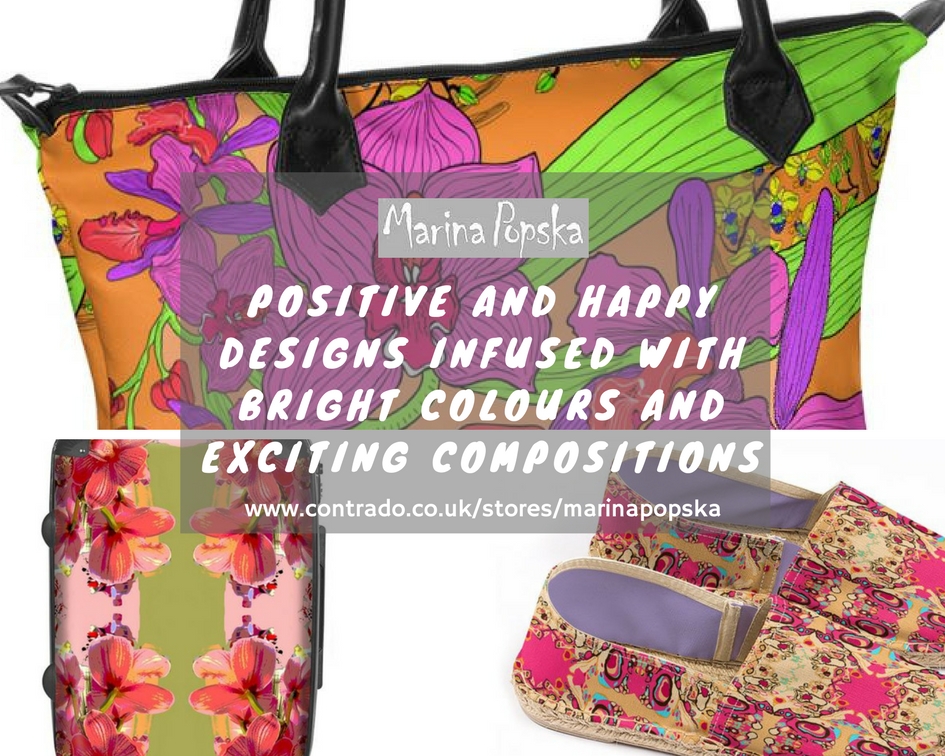 Ali Elly
Float away in a sea of tranquility with the dreamy seaside creations of Ali Elly. Ali's modern, nautical designs are created from her original watercolor paintings and are ideal for adding a bit of calm and style to your home.
Ali's Contrado collection shows her obsession with two things; the sea and the color blue. She works from her studio on the Northumberland coastline, where Ali is inspired daily by the shoreline and the sea itself. She sees her work as an extension of the nautical blue world that she lives in every day. Ali's degree in Fashion and Textiles is the ideal backdrop to her artistic creations.
Ali's designs have a common ground, using a predominantly blue palette. Every piece begins with a sketch that eventually develops into a stunning watercolor. She uses digital means to add composition and repetition, and the finished designs are always the same colors as the original paintings. They perfectly capture the details of the handmade artworks.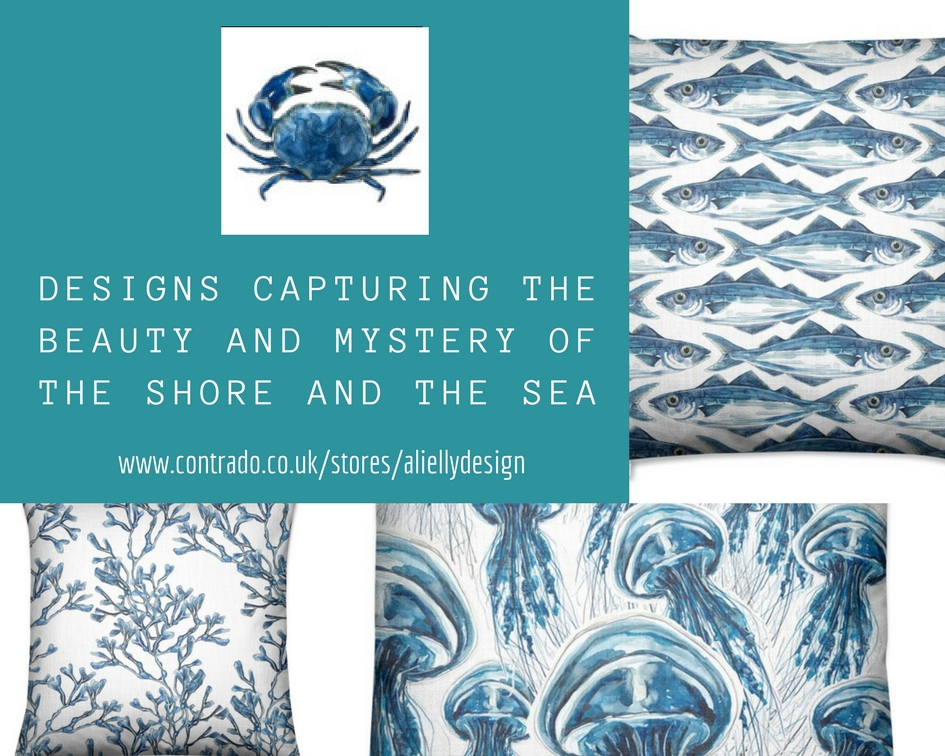 If you have enjoyed meeting these creatives, then make sure you click on the button below. You will head to our #ContradoCreatives page, where you can meet all of our artists. As we continue to grow, we are excited to bring you more and more amazing artists. If you'd like to become one yourself, then click here and let us know why you would make a great Contrado Creative. We can't wait to hear from you!