Limitless is introducing maximalist prints, silky looks, and bright floral pieces. When our high-quality and sustainable fabrics are in your home, you can finally trust yourself to get that lie-in on at the end of the workweek. And while everything drips luxury in our new collection, there's something very down-to-earth about it too. Like maybe those patterned canvases, or a pair of those slice-of-heaven PJs would be just the thing to wake things up around your apartment. And with COVID telling us it's here to stay this year, dressing top-to-toe in sweepy silk should absolutely be a new hobby.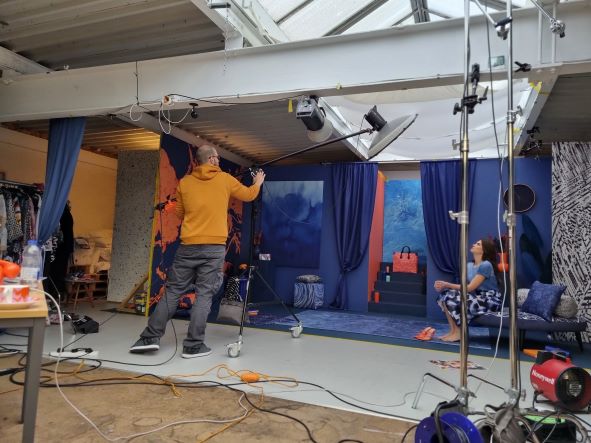 We collaborated with Italian artist Simone Biffi from Doroteo Design, who has basically made it his mission in life to beautify every corner of our homes. He started out as an advertiser in Milan, but his real affair of the heart was in designing. He just loved the stark beauty of nature and the Italian Renaissance and wanted to reconnect with that. So he created the brand Doroteo after the Greek meaning, "God's gift", to fill our homes, offices and studios with divine beauty – practical, high-end, and aesthetic decor. His painterly floral pieces have always been his bestseller. And they are all, of course, featured in our Limitless collection. Simone's got a studio based in London today, but his home is his hub of inspiration. And we think he's got the right idea there. Having something beautiful to come home to, unwinding with some pre-dinner sips and snacks, surrounded by the dreamiest lounge art is a vibe we didn't know we needed. Simone says, "design must be beautiful and emotional, but also functional and practical." The Limitless collection is all about creating your own dreamscape of custom prints, styles and practical decor and knowing there are limitless ways of achieving that. It's about displaying an unapologetic amount of art in your home to make WFH way more colorful.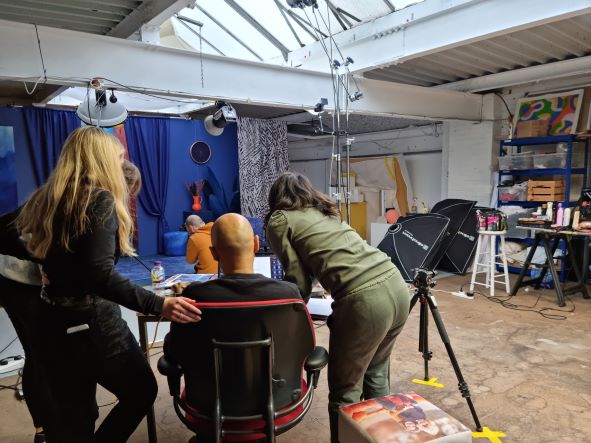 We got involved with a whole host of inspiring artists to present our dream world. But crazily enough, to get Limitless looking as amazing as it did took just 2-3 WEEKS (?!) of planning and mood-boarding. Things had to move fast, not to mention the half-panicky set changes to get things rolling before the deadline. And there was just one day to shoot. It was… tough. But the energy was high. Our designer Caitlin says the day was totally chaotic in the greatest of ways, and I think you can feel that coming across in our collection.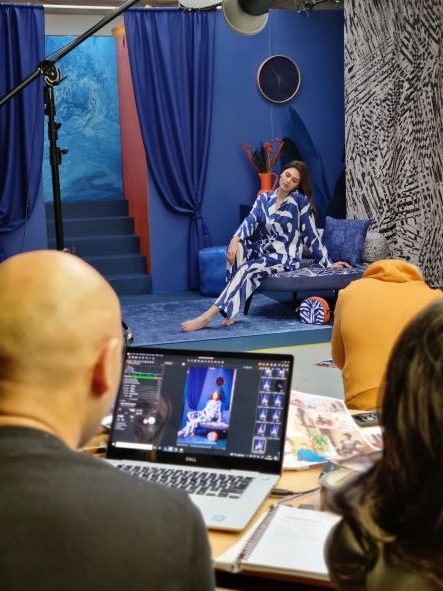 Excuse me for getting corny, but the first time I got my eyes on the set, it was like being transported into some kinda dream world. I'm talking panoramas with dreamlike landscapes, swirls of watercolor on the prints, decor shown off with modern pops of color. The centerpiece was this ocean's universe canvas spotlighted with deep blue curtains. And there was this platform with a bright orange floral shopper bag on top. The rest was all blue ombre, orange abstract prints and black-and-white, cross-hatching walls. And the cushiest of cushions and rugs to match. Talk about dreamy. There's just so much here in our collection to inspire your inner dreamer and next project. It's truly a huge privilege and the best reward to see our customers, artists and entire team enjoy the final result.
Best,
Joanna x