As our designer marketplace continues to grow and develop, so do our artists. We are fortunate enough to work with creators from all areas of the art world, and we want to show their talent off to you. Each month, we will be looking into a particular genre of art and design; from Abstract and Expressionism to illustration and graphic design, and everything in between. This month, we are starting our art and design series off with surface pattern design, and 5 of our pattern creators.
What is Surface Pattern Design?
Surface design is everywhere. It is something that is all around you. A designer created the patterns in pretty much everything you own, wear, and use. From your bedsheets and your towels to the clothes, you are wearing. Before there was a product, there was a pattern design for it.
There are so many kinds of techniques to create surface pattern designs. Relief printing, where blocks are carved to create unique prints and patterns, and screen printing are just two examples. The patterns created can be digitally manipulated to create a repeat, which is always a popular type of print.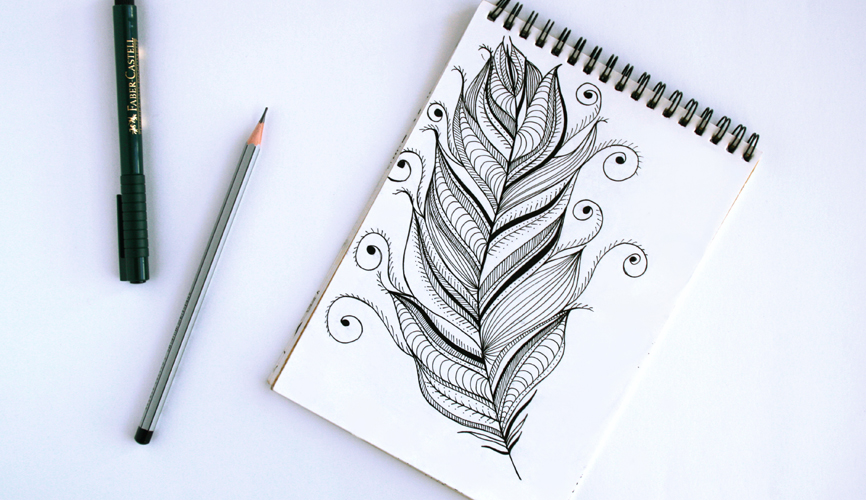 What does a surface pattern designer do?
These artists create patterns and repeats, that give life, energy, character, and movement to surfaces. They are applied to pretty much everything you see in your daily life, which is why it is such an important genre of art. The surface pattern designers have a specialist area or style, which allows them to make their mark on the world. Many are also textile and product designers, which gives them the insight to see how their patterns will look from conception to adorning the final piece.
Understanding trends, color forecasting, and fashion trends are all key to becoming a successful surface pattern designer. When you can combine this knowledge with your spin and unique style, then beautiful things can happen. These 5 Contrado Creatives show us how they do it.
Ellie Cartlidge
Ellie creates beautiful prints, that have vibrant colors and alluring designs. Featuring both digitally manipulated and stunning hand-drawn creations, her designs are often highly detailed and appeal to the contemporary market.
Ellie learned how to develop her drawings into prints using software such as Photoshop and Ned Graphics. Photographic elements are also included in her work, and Ellie works hard deciphering the current market and future trends. This propels her creations and shows her skill at interpreting what designs will have an impact on the world.
Original and inspiring, Ellie plans her designs perfectly, right down to her choice of motif, coloration, and repeat style.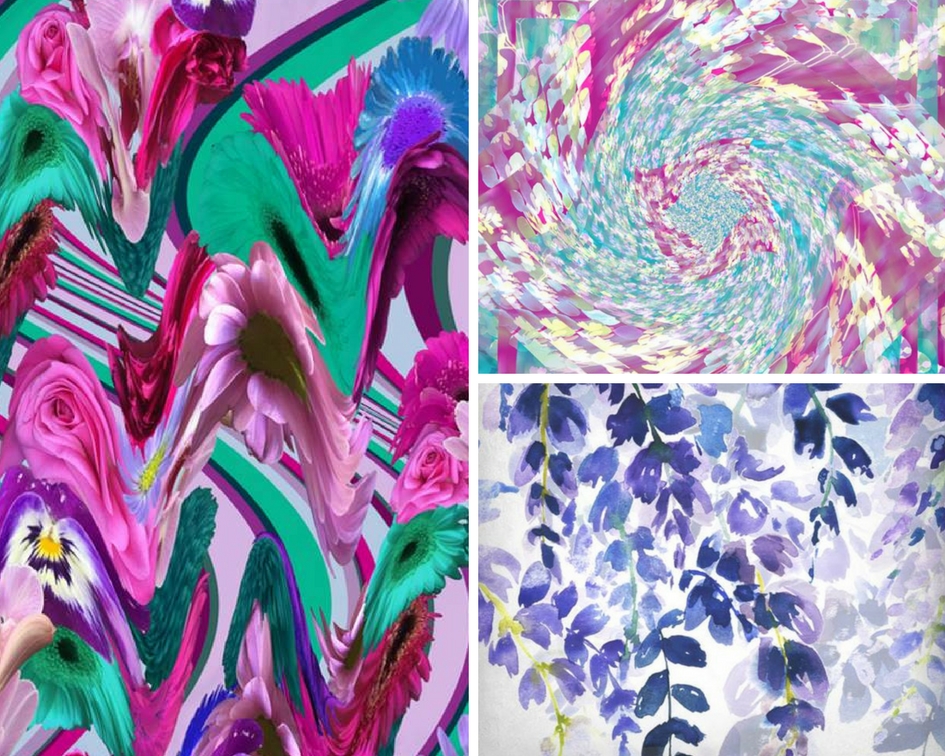 Gabriela Fuente Studio
Fashion and interiors print designer Gabriela originally started as a product developer in the fashion industry. It was several years later that she discovered her true passion and found her real place in fashion; working as a surface pattern designer.
Gabriela uses several tools to create her distinct and energetic prints. Pen, pencil, water-colour, paper, Photoshop, Illustrator, photos, ink, oil pastel…the list goes on. Her prints are impactful, modern, and fun, and will appeal to the fashion forward, individual woman. Her detailed creations show an understanding of the trends around her, but they also stand out from the crowd.
From captivating bedding and homeware to bold fashion statements, Gabriela's inspiration comes from nature, travel, fashion, and the world around her. If you are a trendsetter, then this is a designer you need to take note of.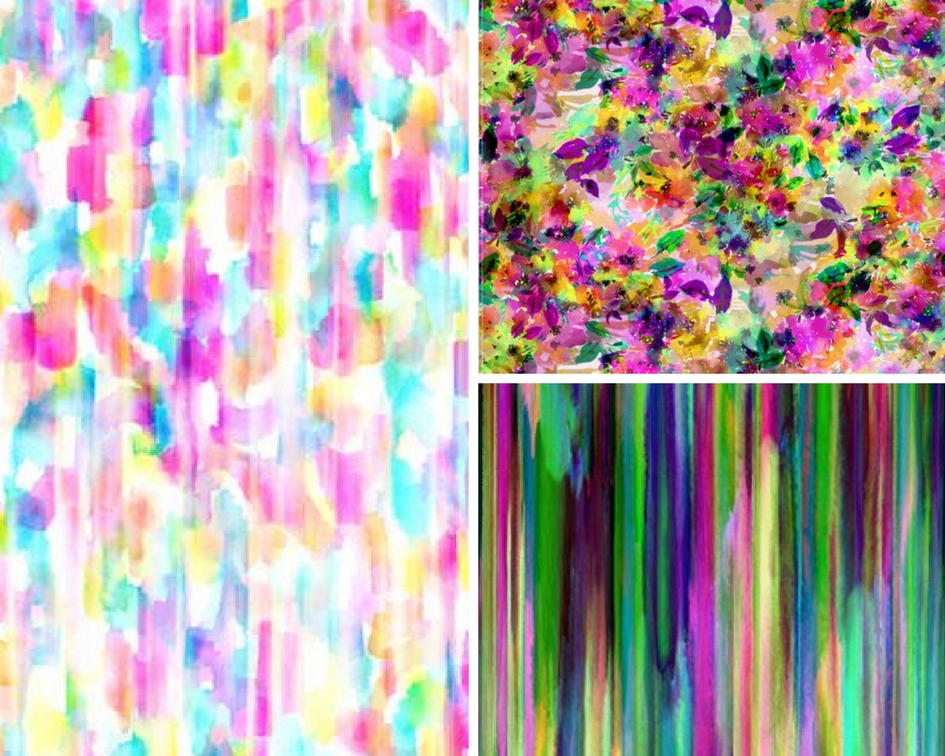 Inma Garcia
Inma specializes in creating surface prints for homeware, textiles, and wallcoverings, for both the fashion and interiors industries. Her experience in textile designs spans more than 15 years, and her stylish pattern prints have been produced worldwide for a wide range of brands; from John Lewis to West Elm and many more.
What makes Inma's patterns stand out so beautifully is the simple yet statement patterns. Her trendy prints are inspired by the organic shapes found in nature, tribal patterns from around the world, the minimalist Zen, and geometric shapes. These combined have become her distinct style over the years and make her creations completely one of a kind.
Inma's pattern designs always start with ink or pencil sketches or photographs, before manipulating them into new layouts with motifs on her computer.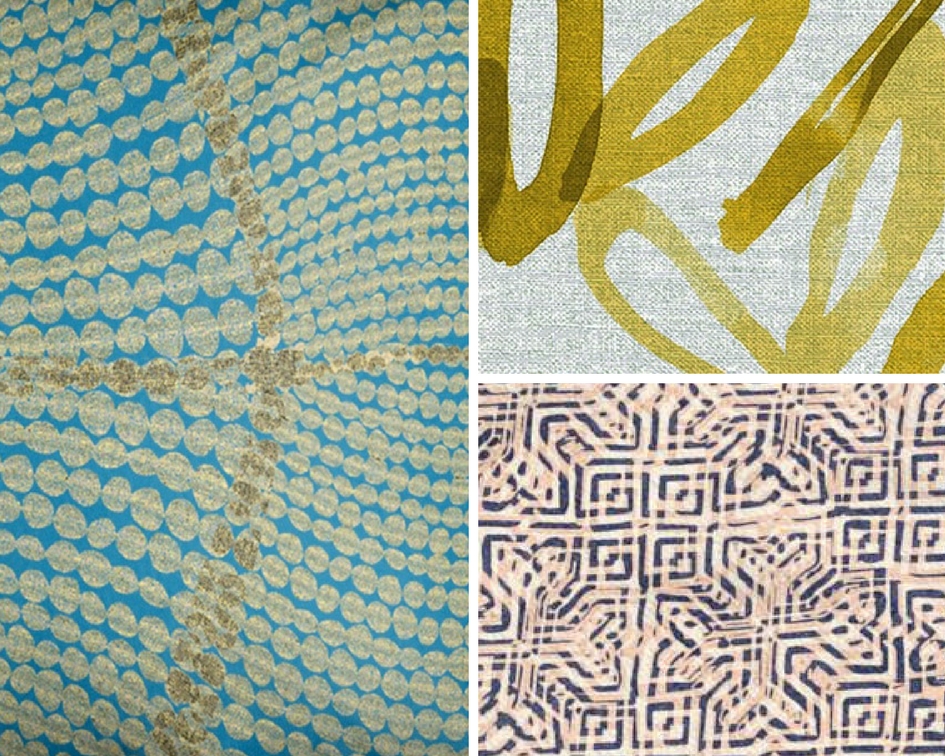 Joyce Allen
French-born textile designer Joyce has been working in the design industry for several years. With a unique style that has taken her time to implement, Joyce's creations are sharp, bold, and graphic, at times with a geometric twist. Other distinct features in her patterns are color, vibrancy, and eclectic themes. Her surface pattern designs have a certain amount of humor, but she also likes to stay on top of trends to ensure her patterns are always relevant.
When it comes to techniques, Joyce specializes in digitally integrated practices within textiles. She uses digital software, processes, and techniques to help manipulate, repeat, and push her designs further. Some of these include; Photoshop, digital printing, digital embroidery, jacquard, and laser cutting. Although this digital approach is key to the final look of Joyce's designs, they always start the same; with research, sketches, and painting. The digital touch is only introduced once she is happy with the handcrafted element.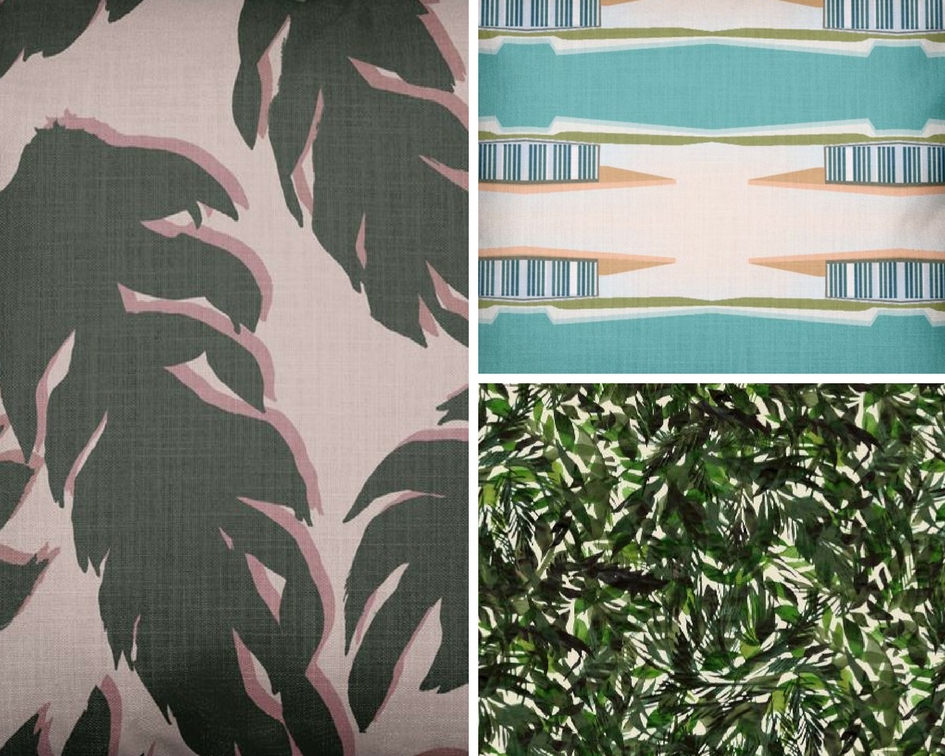 Emily Sexton
Fashion and Textile Design student Emily creates beautiful and wearable prints that leap off the canvas they are printed on. The prints always begin with hand-drawing and using a range of mediums. She scans the drawings into design tools such as Photoshop, where she can manipulate, layer, and color them. Once Emily is happy with the design, she works on creating a repeat. The final look is always captivating and bold.
Repeat patterns look so powerful with Emily's vibrant designs. Experimenting with different drops and layouts helps push a print onto another level. The color palettes and the background complement each other perfectly, while the subject matter works for a variety of lifestyle products.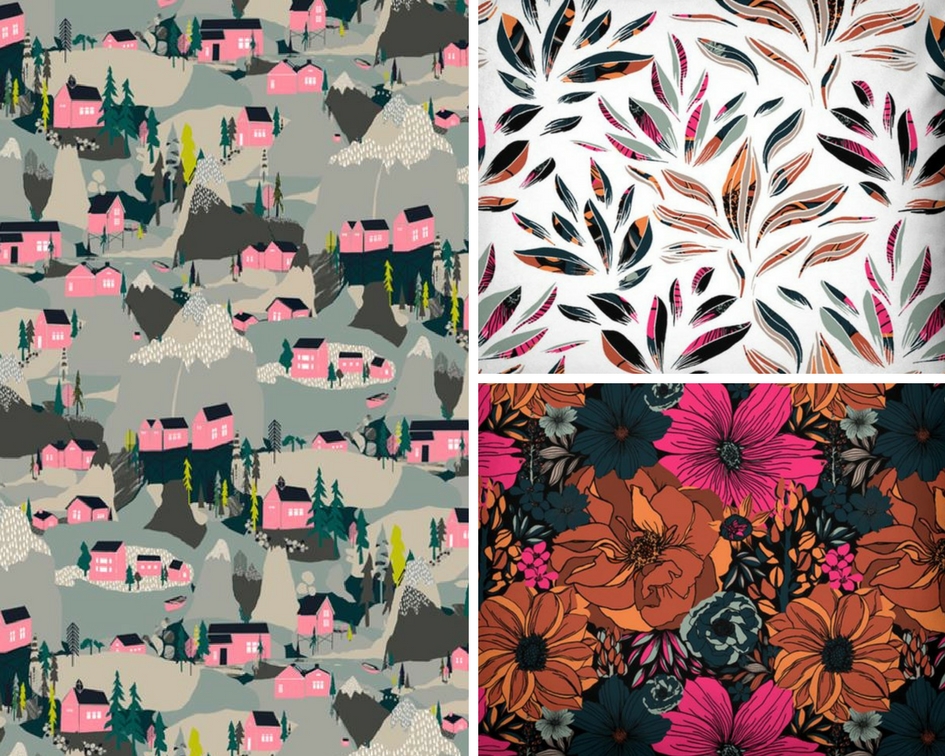 Surface pattern design colors the world around us. It adds personality and style to all areas of life, from the clothes we wear to the furniture in our house, to the wrapping paper we use to wrap gifts in.
Do you want to sell your patterns? Sign up & open a store.