Everywhere we go, we see leather, but have you stopped to think what the different types of leather actually are?
Simply put, leather is any fabric that is made from animal skin. Leather is a hard-wearing fabric that is flexible and wrinkle-resistant, which is why it's such a good investment. We'll be covering the many types of leather in this blog post.
How are different types of leather made?
1.) Tanning prep
Prepare the leather by taking the hair off the hide, then soak and bleach it.
2.) Tanning
Time for tanning! No, we're not talking about soaking up some rays – this is a crucial step for the leather in order to stay strong and flexible for a long time. Manufacturers use tanning agents like chrome salts and vegetable oil to treat the hide.
3.) Crusting
Crusting basically thins and dries down the leather, getting it all beautiful for production. It also locks in all the tanning dye. Sometimes with certain leathers, a surface coat with be applied, which is referred to as "finishing."
Types of finishes for the different types of leather:
Spraying
Buffing
Padding
Oiling
Embossing
Glazing
The different types of leather
Full-grain Leather
This type of leather is considered the highest quality leather because it includes all of the grain, which makes it extremely flexible. Full-grain leather will probably not be the cheapest option but will last you forever and you can be sure that the quality is top tier. Corrected-grain leather is another option. It still contains the top grain but has been sanded down to create a more unflawed, smooth look.
Suede
Lamb's skin is what is used to make suede, a fabric that's popular for shoes, jackets, and accessories. Unlike full-grain leather, which is sturdy and thick, suede is thinner and softer. Why is Suede so soft? Good question. It's because it's made from the underside of the animal skin, which gives it that smooth finish. Suede is extremely popular, due to its luxurious, soft texture, which you see mostly with high-end brands.
Patent leather
Do you want a leather that's water-resistant? Perfect, this one's for you then! Patent leather can be distinguished by its shiny, lacquered finish, that's seen mostly in formal shoes, handbags, and belts. Start celebrating, because patent leather is less expensive than natural leather, due to the plastic coating that's put over its leather/ faux leather base. Basically this process means that it's not as costly to produce.
Bonded leather
Bonded leather is a combination of real and fake leather. Scraps of leather are taken and melted down to produce the finished effect of a full sheet of leather.
Some types of bonded leather:
Vinyl
Composite
Reconstituted
What are different types of leather used for?
Clothing: Different types of leather are used for clothing items like leather trousers, leather jackets, leather dresses, leather blouses, and more.
Furniture: Timeless and elegant, leather chairs and sofas will never go out of style. Drive in style with a car seat made of leather. You'll often see these in the more high-end range of cars!
Shoes: Leather shoes are popular because of how sturdy the fabric is. Doc Martins, loafers, and high heels are other popular leather shoes.
Bookbinding: Hardcover books are bound using leather most of the time. Tanning used for this specific type of leather is vegetable tanning, making the leather super smooth and soft.
Contrado's different types of leather: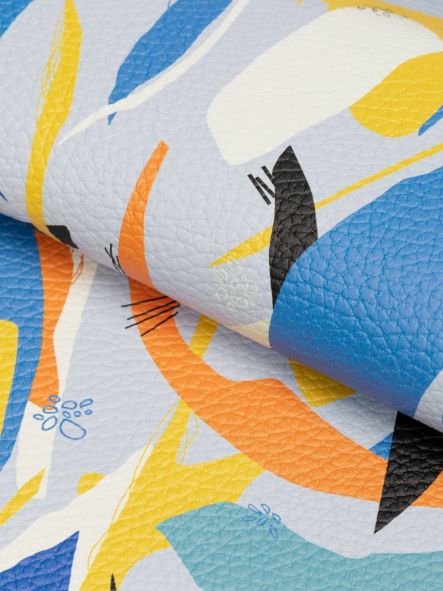 Smooth Nappa Leather
Nappa leather is a full grain leather with a 0.7-1.6 mm thickness. Summed up, it's the name for soft smooth leather made from different types of animal hides.
Hooray! It's the best of the best in terms leather grain, and comes in a choice of either bubbled texture (soft and thick grain) or textured, which has a stamped 'Bison' grain. Europe is where the tanning is done for this bespoke leather, using tip-top materials and processes. We then print the Nappa leather in our studio, turning your artwork and designs into a finished product with our state-of-the-art machinery.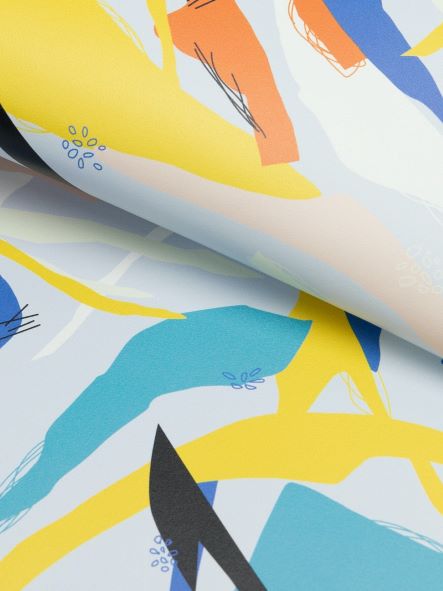 French Calf Leather
French calf leather has a super smooth face and is a corrected grain leather. Its white base is very receptive to fine details and vibrant colors. Perfect for sturdier upright bags, it has an impressive thickness of 1.3 to 1.5 mm. Were you to print your very own design on French calf leather, it would have a beautifully smooth and subtle shine. Plus, this leather is also crease and wrinkle free which is a real bonus!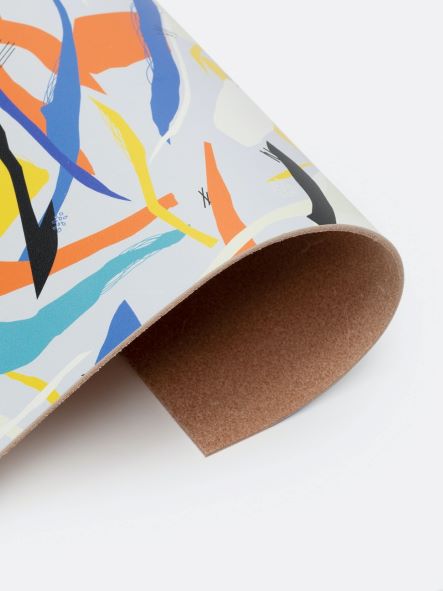 Double Butt Cow Leather
(Yes, this is its real name). Double Butt Cow leather is perfect for handles and belts because of the amazing yield acquired. Similar to Nappa Leather, this is a full-grain leather, which is ideal for saddlery, due to its strength; but not to worry, it's still very smooth to the touch. Sturdy and high quality, this leather has a lovely matte finish to the face. Print your gorgeous designs on our Double Butt Cow Leather and know that your colors will be produced without any fading!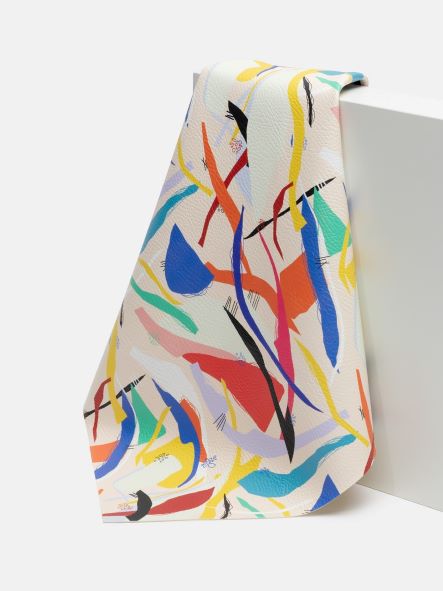 Custom Printed Faux Leather
Faux leather has a super soft polyester back and a PVC face, making it one of our favorite additions to our fabric range. Being unique is what really sets this fabric apart- with its stunningly textured leather effect, which looks just like the real thing! It's a contemporary choice, and obviously ideal for vegetarians and vegans. Warm Leatherette is perfect for wallets, small accessories, and upholstery. Printing on this fabric, the details will look crisp and your colors will be bold and bright.
We can rave about our leathers all we want, but you'll need to make your mind up for yourself. If you want to start designing your leather today, we offer a pack of leather sample swatches, where you can check out all our fabrics.
Advantages of leather
Flexible
Sturdy
Durable
Breathable
Signature smell
Timeless
Easy to clean
Disadvantages of leather
Expensive
Smaller choice of color
Not eco-friendly
Can look dirty when neglected
How should you take care of different types of leather?
There are different types of leather, but they all have one thing in common. Leather needs to be taken care of! Here are some steps to make sure your leather stays gorgeous!
Don't overfill your handbag. Otherwise it won't retain its original shape
Using a soft cloth/brush, wipe away any spots or dust on your leather
Umbrellas up! Leather and water do NOT go well together.
Keep leather away from direct sunlight, as it can cause the fabric to fade.
Finally, now you know how leather is made and the different types of leather out there, what next?
At Contrado, you can take your leather to the next level.
How, you ask?
On our website, you can print anything your heart desires onto leather, to create a custom leather product that nobody else will have. Interested? All you need to do is order a test print of our leather collection, printed with your artwork or designs of choosing, and you'll actually get a discount voucher that you can use on your first order.
Some of the different types of leather products you can print on:
Leather phone holder
Leather pouch
Leather duffle bag
Leather belt
Get creating your leather designs today!