Ever wondered how to hang wallpaper by yourself? At Contrado, we're all about giving your homes an instant floor-to-ceiling makeover with wallpaper that is super easy to hang and brings colour, comfort and painterly mastery to any room they grace. More than anything, you'll fall in starry-eyed love with our premium and self-adhesive wallpapers that are just a cinch to apply. We also have hundreds of wallpaper designs by independent artists (shout out to our wall art heroes this season, Anna and Betty), which is even more reason to get acquainted with our wall collection, no? Here, you can learn how to hang wallpaper you designed yourself to lift any space into your happy place.
But before our wallpaper can fancify your homes – there's prep to be done. Here are five simple steps on how to hang wallpaper to ensure your well-loved walls go from drab to delightful.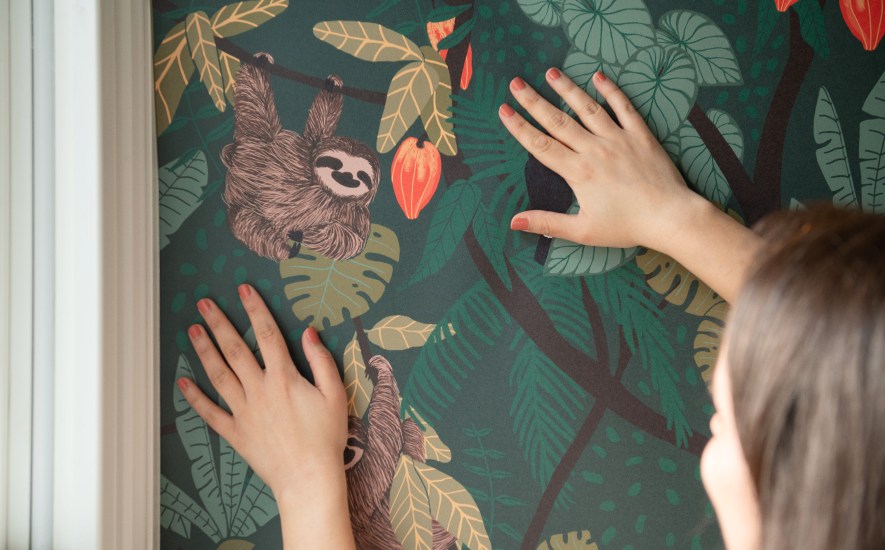 Step 1 – Have on hand
Wallpaper smoothing tool
X-Acto knife
Ladder
Tape measure and pencil
Wallpaper rolls
Water spray (for premium paper)
Wallpaper paste and brush (for standard paper)
Oh, and a friend
Step 2 – Choose your wall
There's no knowing how to hang wallpaper without finding the right room first. We challenge you to visualise that neglected living room as an exquisite 'unwind with a highly caffeinated cup of coffee' type space. To let the eye travel through the lush flower fields on the walls as the backdoor brings the outdoors in or the kaleidoscopic pops of colour brightening your bedroom.
When you've found a wall that whispers sweet nothings in your ear, inspect its surface to make sure it's fairly smooth (honestly, the better the finish of your walls, the better the wallpaper will look). Consider the size, desired mood and function of the wall as well – like maybe you need to look at how to hang patterned wallpaper in your bathroom in a more serene palette. You can totally use our easy wallpaper calculator to discover how many rolls you need. We also print using eco-friendly water-based inks, so when entering the dimensions you need, add a little extra space to prepare for shrinkage. Besides that, if you're laying our standard wallpaper on a darker, mood-setting space, we suggest applying lining paper before hanging it.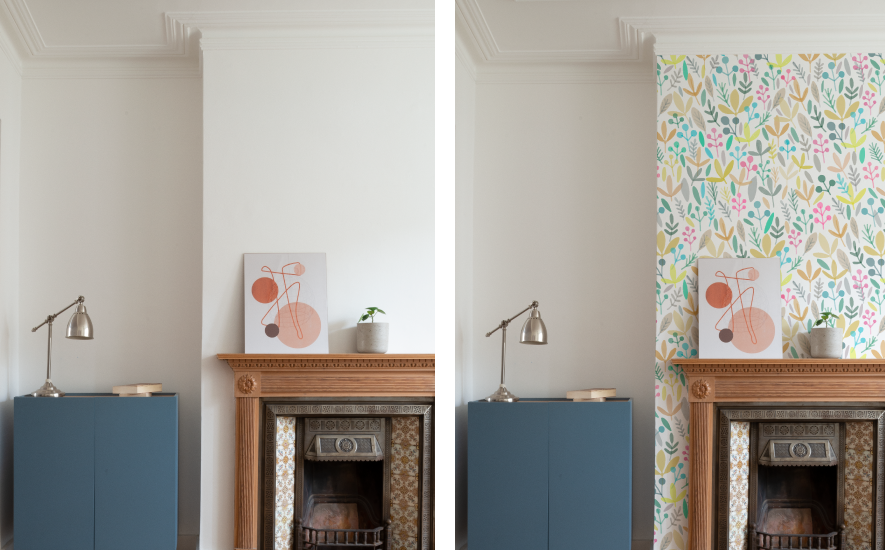 Step 3 – Meet your muse
Order one of our stunning wallpaper swatch packs to get an idea of the quality paper you'd like to represent your rooms. One can never learn how to hang patterned wallpaper without a little inspiration. Create a mood board and treat our artist's page like an inspiration gallery so you can dream up your own scheme. Discover prettily layered pastel florals, classic stripes, or forests of bamboo for wildlife-filled hallways. We believe that wall prints and colour impact not only how a room looks, but how you feel. So explore designs that spark an emotional response.
Step 4 – Pick your print
Choose to paper a room with the same print or focus on a vibrant colour for a wall or panel, and shop the look from our artist's collection. Fair warning on how to style wallpaper – playing with our one-of-a-kind artist's prints is a slippery slope. You might just end up living in a maximalist print wonderland you'll never want to leave.
Gravitating towards a particular print style? Create your own repeat pattern landscape with our custom printed wallpaper that pairs with a paint scheme in your home. Or maybe you see your room screaming out for a truly audacious change: feature wallpaper imbued with your big personality. It's true; printed wallpaper gives that foreground-background effect that eliminates the feeling of a sad, flat wall. How to design wallpaper your way: create a print using our photo or montage design tools that's rich with its own unique story to make your home feel really distinctive. Then make your order, and we'll deliver it to you fast.
Step 5 – Smooth your wall
So your wallpaper has finally made its way out of the "powder room". Now you get to measure it out and trim it to the right size. Looking for how to hang paste-the-wall wallpaper? If you've ordered our standard paper, brush your wall smoothly with a water-based, pre-mixed wallpaper paste. With our premium paper, simply spray the walls with water and for how to hang self-adhesive wallpaper, just peel to apply (phew, no need to prep the surface).
This is where a friend comes in – get some help positioning the paper, lining up the corners to get the angle right (no stress if you're not happy with the positioning. Our luxury paper options are designed for easy removal so you can move and replace to your heart's content). Then use your hand to apply the paper and a smoothing tool (pro tip for like-minded people on the higher end of the spectrum of perfectionism) to prevent awkward air bubbles from showing. Finally, trim the excess paper with a knife, et voilà! That sums up how to hang wallpaper by yourself (+ friend), with a flawless matte finish, no decorator required. Now to hang all your custom canvases up to really anchor your space.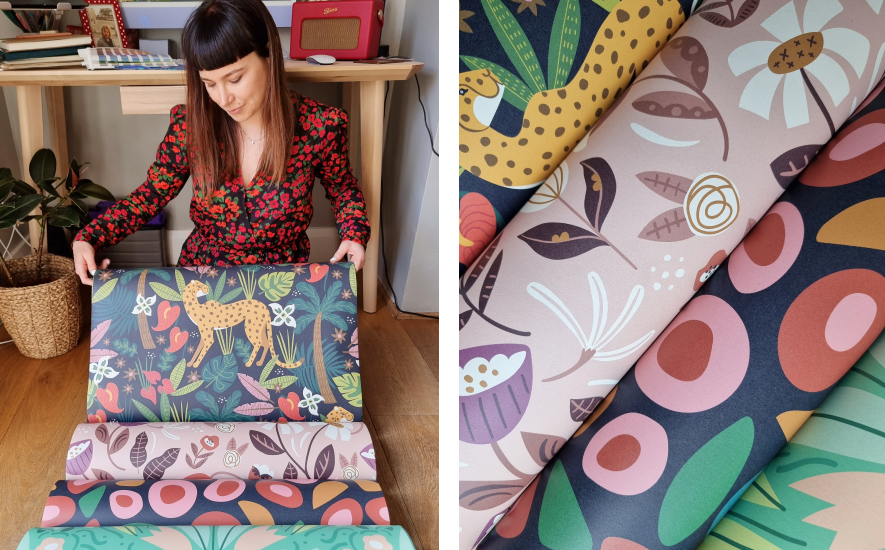 Side note: in the spirit of keeping all projects sustainable, you could use the excess paper in an art project. For tips on how to style wallpaper scraps, think decoration on journals or small tablecloths (our wallpaper's water-resistant and scratch-proof, after all).