Cornish-Bajan artist Joanne Reed collaborates with us to bring you the House of Contrado Bohemian Wanderlust collection. She believes in transporting people with her designs in their studio to the rich flora, animals and tropical gardens of her Bajan home. Surrounding fellow art-lovers with the magical exotic orchids and wildlife printed fabrics that each tell their own story of wanderlust, wild dancing monkeys, days of wandering the flower forests and the luringly bold personality of nature.  
Bohemian Wanderlust is all about transforming studio interiors into a series of brightly illustrated and emotional stories. Take it from us— each one of her printed fabrics cut into silk PJs, or premium cushions is a visual story that connects you with the designer and her vibrant Bajan childhood. Her pieces give your studio a perfectly worn-in, upbeat feel, alive with the balmy island colors and spirit of the Caribbean. In this interview, Joanne talks about the story behind her designs, her biggest inspirations and why her brilliant 'Peacock Garden' design seriously belongs in your lonely studio.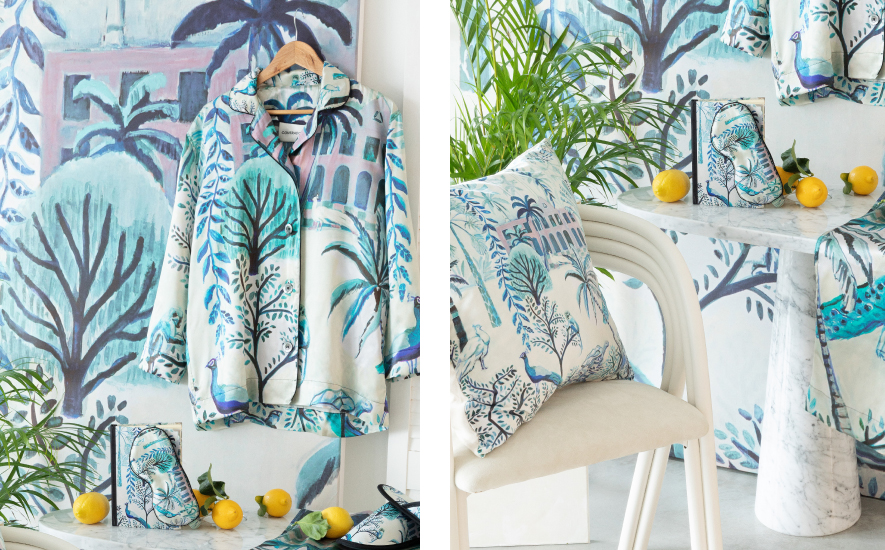 Take me back to the beginning of Orchid Monkey…
Orchid Monkey began as an offshoot to my paintings. I make my living solely through my art; give or take odd jobs that supplement my income when things are tough. During the pandemic, I started to create a series of paintings with the idea of using them as designs for products. Having always admired beautiful fabric designs and products, this seemed like an exciting path to go down. The process is less loaded than in my other paintings, which is so reflective and personal; Orchid Monkey is the best part of my practice. 
Is there a secret meaning behind the name?
Although my designs are often linked to my paintings, I really wanted to separate the two by having a different name for them. Orchid Monkey came from the first design I did, a green monkey surrounded with orchids. Barbados has many of these monkeys all over the island; they are beautiful to observe but also a total nuisance for farmers as they heavy-handedly pull up crops and help themselves to all the fruits. They are known to take a bite from fruit and then disregard it in favor of another. This got me thinking of their sheer decadence and inspired the sultan hat and orchids. 
Walk us through your design process
Most of my designs are quite involved paintings that take a long time. To resolve, I don't draw anything out. I just launch right into the painting and let it develop. Usually, I will start with a few ideas of what I want in the painting. I might have some painted sketches or a few elements I want to put together from photographs. I paint over things a lot, alter colors and add new elements. A bit like I'm trying to work out a puzzle, so everything fits together. Adding things and taking things away. They require a lot of focus and decision-making to create the right balance. So far, I've only turned one design into a repeat pattern—the leopard with the Pearl necklace. But I intend to do this with other designs too. My Photoshop skills are limited.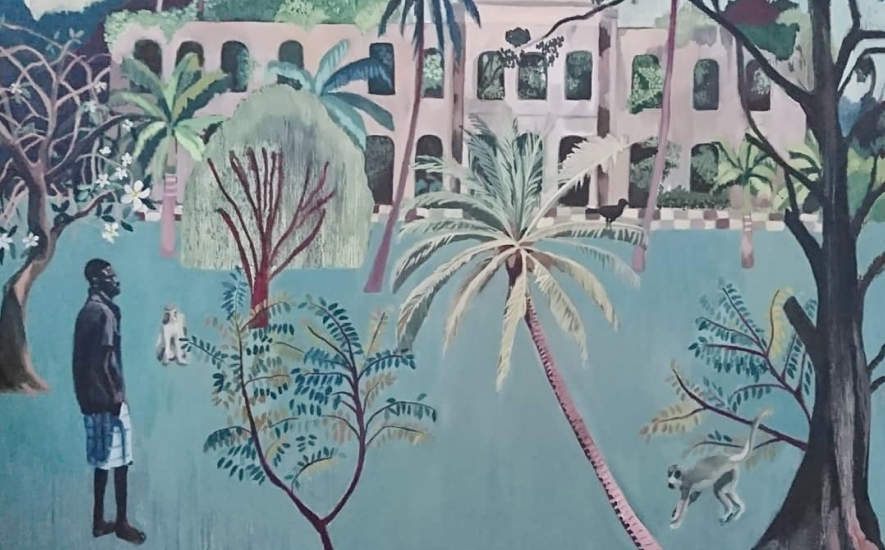 How does your home in Barbados influence your designs?
Where I live in Barbados is on the east side of the island. It is very steep hills on this side and lots of rich flora and fauna. There are some amazing tropical gardens, too: Andromeda Hunte's gardens, the flower forest. It's hard not to be affected by nature here as you feel so immersed in it. The tropical flora and fauna have this explosive quality to them.
Then there's the coral reefs surrounding the island, a whole other world of exploration. Just a snorkel and mask a short way out from the shore, there's all these beautiful fish and corals. I have always had this draw to tropical islands—maybe it was the movies from childhood, blue lagoon, Swiss Family Robinson or Robinson Crusoe that drew me in, or the travel brochures that I used to look through, dreaming of these far-off places. Whilst I can feel creative and get inspiration from anywhere, the Caribbean people and landscape have always captivated me.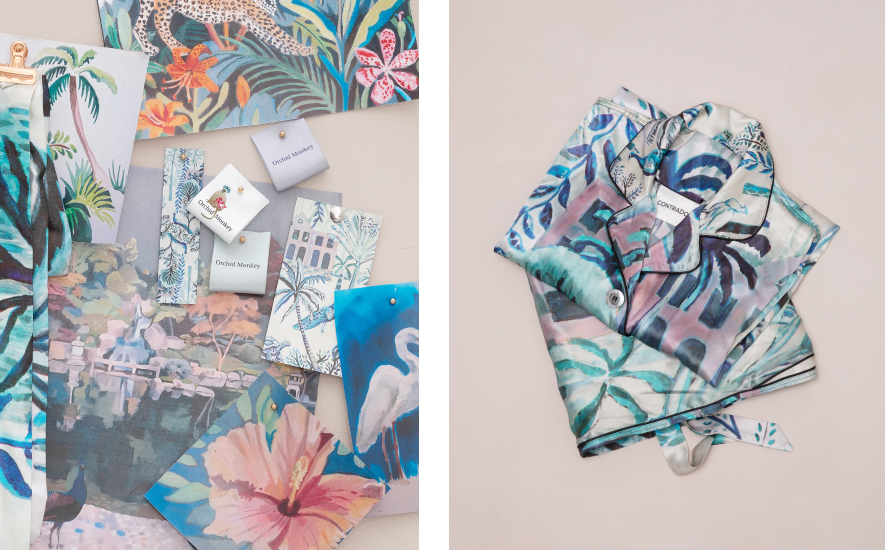 Tell us about your designs for Contrado
My designs for Contrado have mostly centered around a set of oil paintings featuring animal or sea life as its central piece set amongst botanical imagery or corals. Besides this, the Peacock Garden design has a different orientation in that it is minimal in color and produced with gouache and watercolor paint. I like to swing between the two mediums of paint, although their different application of paint sometimes can be an issue, really the watercolor, as you must plan the light areas from the beginning to use the white of the paper. Watercolor can be quickly doomed by over-enthusiastic painting; oils are more forgiving, allowing you to make endless mistakes. 
Going back to the Peacock Garden, the design originated from one of my paintings, a narrative piece called 'only fear dies'. I think the design took me just as long as the big painting; I was thinking about the blue and white China plates that we had in my home growing up, the ones that contained pictorial stories of exotic landscapes. I thought it would be interesting to create my own version of this, and I liked the idea of it coming from one of my paintings. 
Most of my designs are very full images. I am interested in creating a kind of atmosphere within the design, like my paintings to be not just decorative, but to have a mood and feeling to it, whether imagined or a real faraway landscape.
In my leopard with the pearl necklace design, she is like an elegant female version of a gangster. Instead of a medallion, she has strings of pearls around her neck and is surrounded by beauty. I find most paintings, when you break them down, to have metaphorical connections to the artist's life – not saying I'm a gangster!
Why do you feature flora and fauna so heavily in your designs?
We are essentially part of nature. Art gives us this wonderful tool to express this love for it, connect with and observe. Through doing this, you can then pass on this pleasure to other people. I want to convey my love for it, I want to bring the essence of beauty from the natural world, so I strive to make beautiful designs for people to enjoy and feel good.
I love that you mentioned you were inspired by classic art. Can you tell us a little about that?
Because I am essentially a fine artist, I study and look at a lot of great art. It's hard to narrow down the influences. I can be painting away, and I see something come up in my work that I have seen in another painting. The artists I am really drawn to – Gauguin, Henri Rousseau, Peter Doig all have this connection to the tropical landscape. Recently, I have also been revisiting the work of the Bloomsbury painters; I like the way they extended their painting skills into patterns and painted everything in their surroundings whilst maintaining the character of their great artworks, even their pattern designs connecting back to their painting style.
How can you imagine people styling these pieces?
I think this is really an exciting time for artists, with companies like Contrado providing a platform for artworks to be transformed into wearable and functional objects. It would be great to see people enjoying my designs on a variety of different items and having a more personal connection with the designer, being able to read about my designs and even to link up to my paintings.
You could choose a beautiful silk pair of pajamas and have this same design on your cushions and even your coffee mugs. It would be a great idea if customers could request a specific item with their chosen design on from the artist. I hope that people will follow my designs as they progress and fill their homes with my artwork. 
Do you have a favorite piece in your collection?  
I think my favorite pieces of work are the peacock garden and the orchid monkey. It's fun experimenting with the different designs on various products, deciding what works well. I want to turn the Peacock Garden into a repeat pattern. I think this would be a great fabric to experiment with different color variations. 
How do you want people to feel when they're in their home or space and see your designs?
I really want people to feel like they know the artist and that they have something unique and not mass-produced, that they will feel part of the artist's journey, and they have supported that journey by investing in my work. I would love them to feel transported to far-off magical places knowing the background story to the work and whatever product they buy, to have the feel of it being something special.
We absolutely loved hearing your story, Joanne. Thanks for chatting with us <3