When you're starting a brand, you might fall into one of two categories: either you came up with a brilliant name for your brand right away, or you have a list of ideas but just can't seem to find the right one. If you're reading this, you probably fall into the latter group. No worries! We'll help you figure out how to come up with a brand name by looking at brand name ideas from the big leagues to the small businesses.
Dig Deep
First, think about your brand story. What's special about your brand? How do you want people to perceive it? What are your main selling points? What parts of your brand do you never want to change? If you could only tell people one thing about your brand, what would it be?
These questions should give you some insight into how you want to present your brand to the world.
Quick Tips
No matter how you go about naming your brand, it's best to follow these criteria:
Keep it short
Make sure it's unique
Be memorable
Have a rationale
These things will make it easy for people to distinguish your brand from others and give you the best chance of sticking in their mind. Now that we have some basics, let's look at tactics for how to think of a brand name.
5. Put Two Together
Think about two things that describe your brand, whether they're words, the name of your product, or something unique that you bring to the table. Is there a way you can put those two things together to come up with a name?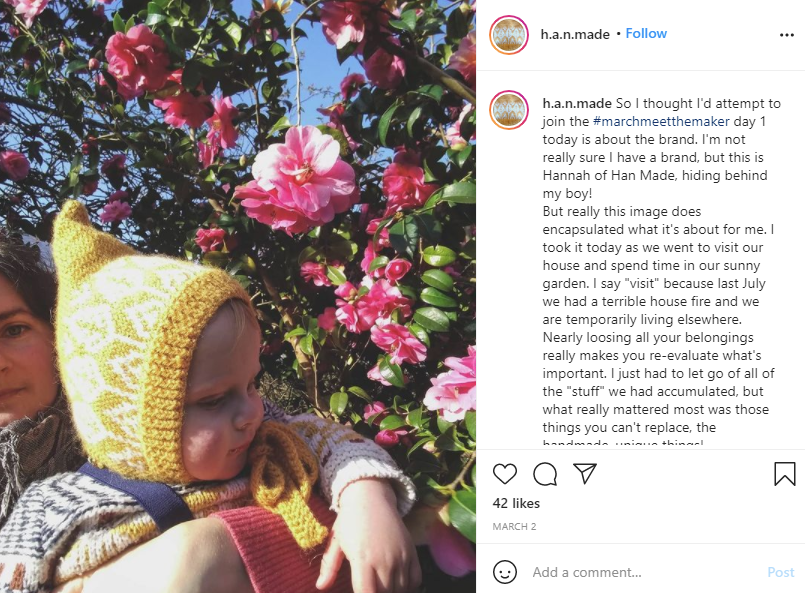 Check out this example from Han Made. Hannah makes knitwear, and everything she does is handmade, hence the name! She combines a selling point for her brand, which is handmade items, with her own name. The result is catchy and gives the world an indication of what her brand is.
6. Use a Word
Crack open a dictionary and flip through. Write down any words that jump out at you, whether they're related to your brand or not. Maybe you can tweak a word so that it captures the essence of your brand. Be open to words from different languages as well if that's relevant to your brand.
We use the Spanish word 'Contrado' as our brand name because it means to assemble and deliver, which our brand has specialized in since the start.
7. Try Acronyms
Maybe you're leaning towards a longer name for your brand but want to shorten it so it's easier for people to remember. There are a few ways you can go about acronyms. One option is to just use the first letters of each word, like how DSW stands for Designer Shoe Warehouse.
Alternatively, you can try spelling something out with your acronym. Do you want your customers to say each letter (like DSW), or do you want your acronym to function as a word itself? GEICO is an example of this tactic.
The company 3M started out with the name Minnesota Mining and Manufacturing Company, which was a mouthful. With just a number and a letter, it's not a traditional acronym, but people are way less likely to forget this shortened version.
Try thinking of a longer brand name using some of our other tactics. Then, take the first letter of each word. You can play around with the order of the letters to get it to sound right.
8. Play With Spelling
Some brands will use a word but change the spelling. BHLDN is an example of this; the bridal brand drops the vowels from the word "beholden."
If you've written down some words while reading this blog, take another look at them. Is there a way you can tweak the spelling? Add or take away certain letters? Maybe you can use part of a longer word. Tweaking a word that relates to your brand will help you keep your brand name distinct.
9. Evoke a Feeling
If you want people to feel something when they see your brand, tell them! A great example of this is the meditation app, Calm. As soon as customers hear the name Calm, they know that whatever this service is, it might be able to help them destress.
This is a targeted way to communicate the purpose of your brand and potentially inspire people who are chasing that feeling to want to learn more
10. Ask Around
When you're figuring out how to come up with a brand name, it can be tremendously helpful to bounce your ideas off another person. They might see something from a different perspective and help you view your brand from another angle.
Once you have your brand name narrowed down to a few choices, your friends and family will probably be more than happy to give their opinion on which one they prefer. If you have social media accounts, try creating a poll with your top choices and see which name people like the best.
11. Don't Forget to Double-Check
Once you have some brand name ideas that you like, do a quick Google search. You don't want to get attached and then find out that someone else already uses it! If you can't find anything online with your brand name, then guess what? You've got a winner.
There are so many different approaches and techniques to coming up with a brand name, and each brand does it differently. Whether a brand name is good or bad is generally subjective, so as long as you have a good reason behind your brand name, you really can't go wrong.
Sell With Us
Now that you have your brand name, go ahead and tell the world. Design products featuring your logo and brand name that you can sell as merchandise. If your brand is clothing, accessories, or homeware, you can partner with Contrado to create hundreds of handmade, high-quality products. We offer dropshipping and wholesale options, or you can create a store for free right on our website. The only limit is your imagination.