Art is in the eye of the beholder and our extensive online marketplace is filled with a plethora of amazing talent. From pattern and surface designers to graffiti artists, and fine artists to illustrators, our #ContradoCreatives are an amazing bunch, who, with our help, are building their own brands to unleash into the world.
With having such a diverse group of artists, we know there is truly something for everyone at Contrado. Hopefully through this blog, you can get an insight into their methods, style and lives. If you are feeling extra inspired, make sure to check out their shops!
JUURI Art: Japanese Inspired Mixed Media

A Tokyo- born muralist and artist that currently resides in Oklahoma, Juuri's art is driven by touching visuals mixed with paradoxial themes. Inspired by Japan, florals, and valour, Juuri has been drawing and creating art for most of her life. After studying graphic design in college, Juuri began pursuing fine art is 2010.
Her style is described as as "neo bijinga", defining Bijinga as a Japanese historical art form meaning pictures of beautiful females. She is not afraid to express thematic elements in her work, including lots of symbolism, questions and Japanese traditional motifs.
Her stunning pieces exude emotion mixed with vibrant color and culture. Sketching first in pencil and then adding watercolor, colored pencils and, at times, gold leaf. Her art can be seen on murals all over the world ranging from Orlando to Israel.
Keren Toledano: Abstract Expressionist Colors and Shapes

Keren Toledano is a self-taught artist based in New York City. Originally a writer, she expanded to painting and collage making when writer's block would hit. For Toledano painting was "a new creative language when the words didn't come".
She describes her works as "vibrant color schemes and often erratic movement, but all formed by an urge to seek balance in clean composition". Her creative process begins by choosing a color scheme and surface (paper on canvas), then "allowing each move to dictate the next." Then moves her work over to Photoshop and chooses which pieces work well with patterns.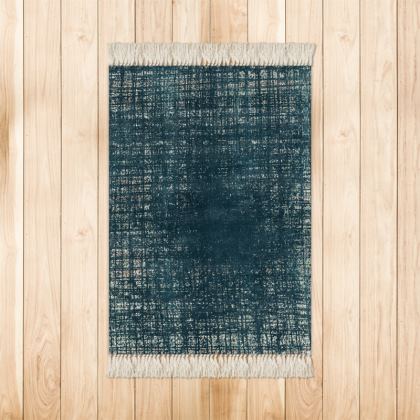 Her collection is as unique as it is visually pleasing. You can see western influence as well as geometric patterns in her collection. Her shop on Contrado includes several different cushion and rugs, while she personally paints canvases displayed on her website.
Emeline Tate: Clean and Minimalist Hand Drawn Stencils

Emeline Tate describes herself as being creative ever since she was a child. Art and fashion school were her start, Tate states "I can actually make a pattern of anything from scratch and make my own clothes or home furnishings". In 2010 that she was using her own artwork for print on a variety of products. Although she attended art school in England, she currently resides and works on her art in Palm Springs, California.
Tate describes her art as "very clean and minimal with contemporary graphic feel". Most of her inspiration comes from games, toys and crafts from her childhood. This is an aspect of her art that makes it so fun and easy to connect with. Her collection is definitely for people who love clean and minimalist style.
Most of her designs begin out as paintings. She gives the example of a painting that started out as a large canvas piece. It remained unfinished but she photographed it and finished off the color work in Photoshop.
Julia Lillard: Colorful Vintage Surrealism

Julia Lillard, a self-taught artist from Oklahoma City, has been creating art her whole life. A stunning and modern interpretation of surrealism, Julia's creations are undeniably unique.
Lillard creates surrealist collages, which have a strong vintage vibe and can, at times, make you feel slightly uneasy. She finds inspiration within nature and color, as well as other artistic movements.
She hopes that her "art will speak for itself and each viewer can take away something that speaks to them, personally". Not for the faint-hearted, but definitely one that will get people talking. Her pieces can be found on a wide variety of our products, from shoes to home ware.
Visual Issues: Bold Graphics and Contemporary Designs

Visual issues showcases design from Traci Larson's #dailydoodle project. As a person that has been creative her whole life, Traci loves working with colors and patterns. Graduating in 2006 from the College of Graphic Design, Traci has worked a multidisciplinary design studios since. With a need to finally become independent, her studio Visual Issues was born.
Traci lets her intuition guide her and approaches each piece as an exploration. Some days she would get the creative juices flowing, and ride that, especially as she already had her materials out. She made sure to make quick, spontaneous decisions rather than spend time deliberating
Her work is scanned in high resolution and then she cleans them up digitally. If you love fun design and bold prints, then her collection is one to look at.
Can't get enough of our artists? Our marketplace is brimming with incredible talent and exciting discoveries. Make sure to scroll through it and no doubt you will find something you like!