T-shirts are among the most popular clothing items for a wide range of garment-related businesses, offering unrivaled customization options at a relatively low cost. However, it's essential to consider the various elements that make up the t-shirt you wish to design or sell – with the t-shirts fabric being one of the key components to evaluate.
With that in mind, this article explores the topic of t-shirt types in great detail. We touch on the vast potential that designing and selling t-shirts have. Before breaking down the most popular t-shirt types on offer today.
Different Types of T-Shirts – Limitless Potential
Whether you're a wholesaler, an artist, or someone looking to open their own dropshipping store, t-shirts can be a great way to launch a business and begin gaining momentum. T-shirts hold a universal appeal and are not seasonal, meaning that demand will remain strong all year round. What's more, many print-on-demand companies (such as Contrado) offer tailor-made services that remove many business-related headaches, such as finding a supplier and fulfilling orders.
If you're considering starting your own dropshipping business, the service that we offer here at Contrado will seamlessly link to your online store. When you receive an order, it instantly gets sent to us. Meaning we can begin creating your product right away. For example, if you had a store selling branded t-shirts, any orders you received would automatically be passed on to us. Allowing us to create and send your t-shirt to the end customer in a speedy fashion. Handy, right?
On the other hand, if you are a wholesaler or an artist, choosing to focus on t-shirts gives you a fantastic opportunity to create and develop your own brand. A study performed by Contently found that 61% of people are more likely to buy from companies that produce unique content. Therefore, by offering tailor-made t-shirts and marketing them effectively, you'll be able to appeal to a broader demographic – boosting revenues dramatically!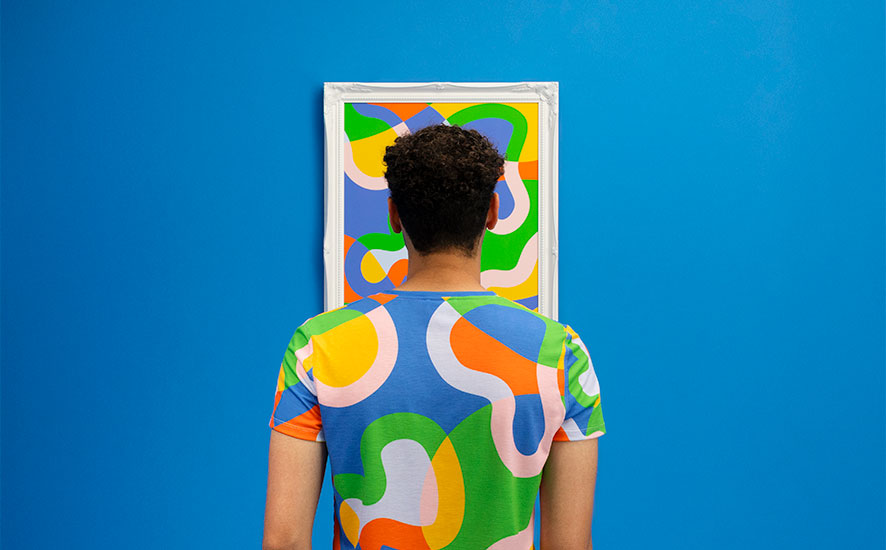 Breakdown of Popular T-Shirt Types
Interested in selling t-shirts? There are various factors that you'll need to make decisions on. Most notably, the fabric that your t-shirts will be made from.
T-shirt fabric has a significant impact on the quality and sustainability of your product. Some materials will shrink more than others, while some will lose their color more quickly.
To help streamline the fabric-choosing process, found below are some of the different types of t-shirts that you can sell, along with their inherent benefits.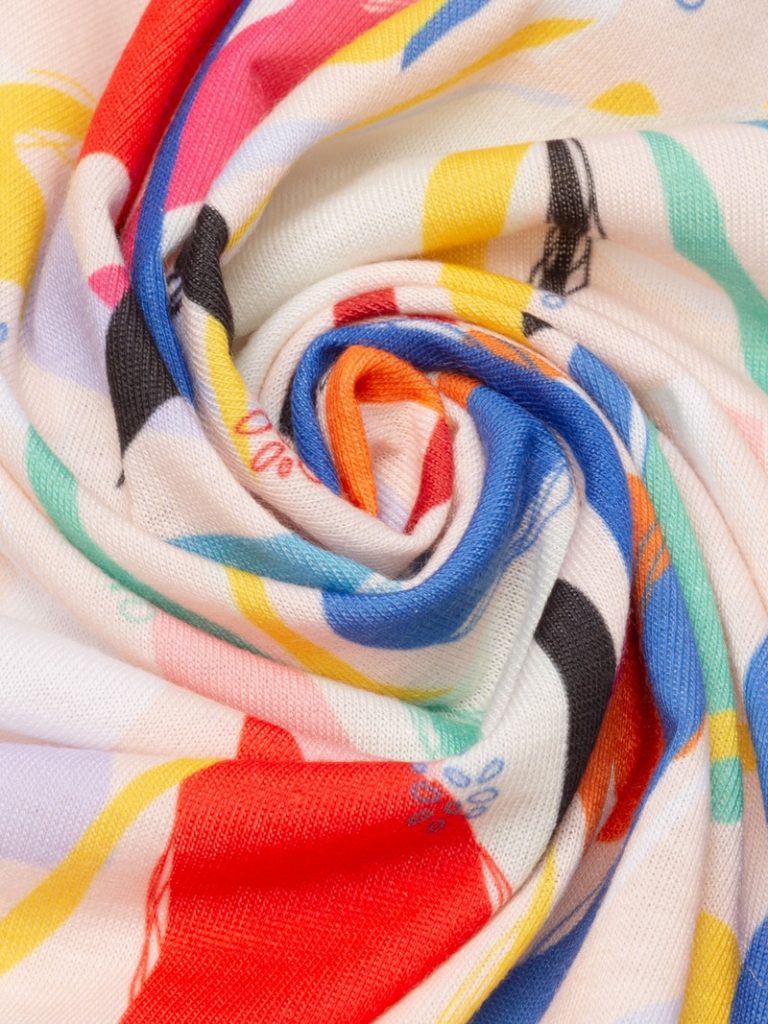 1. Cotton T-Shirts
Most people will own at least one piece of attire made from cotton. This fabric is by far the most popular material used in producing clothing. Cotton is 100% natural and is exceptionally soft to the touch, making it an ideal choice if you aim to focus on comfort. There are numerous different types of cotton to choose from, such as combed or organic cotton, each with its own unique characteristics. Overall though, cotton is an excellent choice if you're looking for a breathable and environmentally-friendly fabric.
2. Jersey T-Shirts
Jersey t-shirts are a type of t-shirt that is made from jersey-knitted fabric. They can comprise various materials, such as cotton or synthetic fibers, yet they are distinguished by the precise knit of the fabric. Typically, jersey knits will be smooth on the outside of the t-shirt and bumpy on the inside. The key benefits of using this fabric type are that garments will be soft and stretchy – although not as comfortable as cotton-based clothing. Jersey t-shirts are also breathable and lightweight, making them ideal for the summer months.
3. Linen T-Shirts
Linen t-shirts are ideal for higher temperatures, as the fabric allows sweat to be wicked away from the body. You'll often see people in hotter climates wearing linen shirts during the day, as they are very lightweight and breathable. Another added benefit of linen t-shirts is that they absorb moisture very well relative to other t-shirt types. However, linen is notoriously susceptible to wrinkling and more challenging to iron than other fabrics.
4. Polyester T-Shirts
Polyester differs from cotton and linen in the sense that it is a synthetic fabric. This fabric is made mainly from plastic, making polyester t-shirts very strong and resistant to ripping or stretching. Furthermore, polyester t-shirts retain color very well and tend not to shrink in the wash. On the flip side, due to polyester being plastic-based, it is not very environmentally friendly. This fabric doesn't break down easily and is not breathable, making polyester t-shirts a poor choice for hotter climates.
5. Lycra T-shirts
Finally, Lycra is a synthetic fiber typically blended with other fabrics (such as cotton) to create various pieces of clothing. Lycra is very cheap to produce and creates a garment that is very stretchy and tends not to need ironing. Lycra is quick-drying, making it ideal for use in sports. Again, similar to polyester, Lycra is an artificial fiber. Meaning it is not suitable for the environment relative to cotton or linen.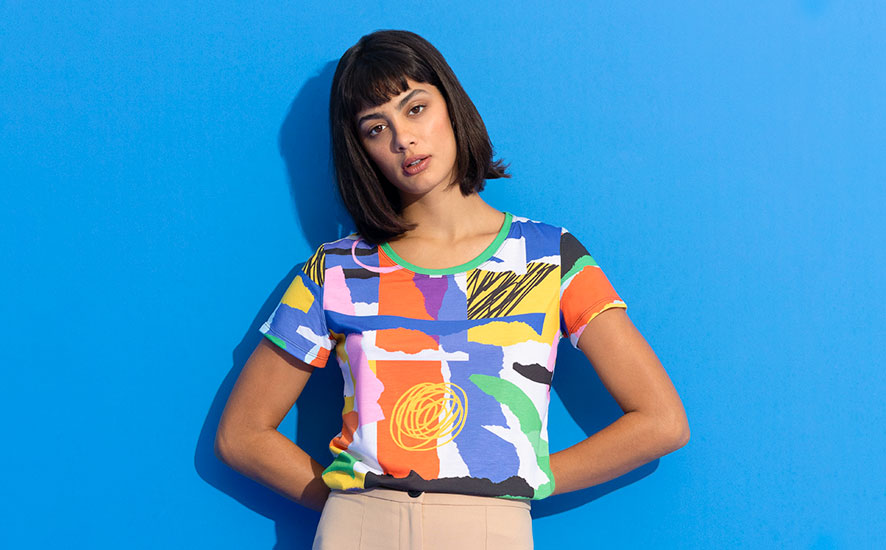 T-Shirt Types – The Verdict
As you can see from the list above, there are various options to choose from when designing your store's t-shirts. Choosing from the different types of t-shirts is an essential aspect of product design, as it will influence the types of customers you can target and the cost of producing each product.
Here at Contrado, we offer various fabric types for our t-shirt selection. Ensuring that designers or sellers can find a material that suits their goals. If you'd like to check out the products we have to offer, simply click below to browse our t-shirt selection to get an idea of the types of products that you could sell.