In our House of Contrado series, we're debuting our very own in-house artist designs in collections designed to breathe fresh life to your interiors. In the series, we'll be introducing our Bohemian Wanderlust collection, where we've handpicked designer items that hold only the most vivid, emotional stories to inspire a fresh face for your art studios.  
We collaborated with In Blank Gallery founder Niki Yu to debut Bohemian Wanderlust. And we're bringing in soft desert hues, organic cotton and bright terracottas to the perfect studio set-up. It's a chill Mediterranean aesthetic – you know, blonde terracottas, pinks and oranges to make you feel inspired, at peace and a little dreamy-eyed in your favorite thinking space. It's all about designing a casual and upbeat studio with a perfectly worn-in feel to bring an air of relaxed sophistication to any project, thanks to our soft velvet and natural cotton fabrics. You might have a very minimalist rug or wall alongside a bright-colored canvas and statement fabric-draped pouffe. It's all about creating dramatic, bold printed fabrics that bring a bit of wanderlust and personality to your studio space.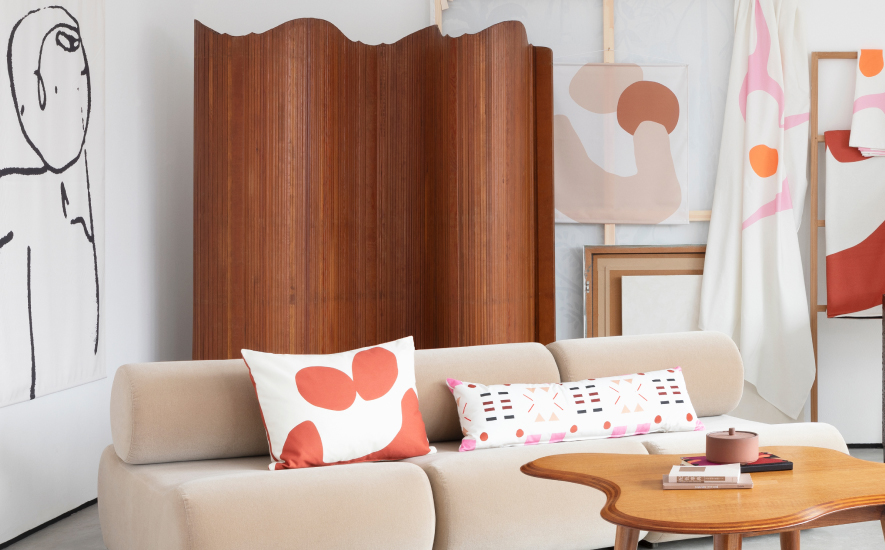 The overall vibe for this collection is soft and bohemian, but that doesn't take away from Niki's signature line drawing selfies and red smile graphic designs, inspired by her love of love and all its abstract forms. Her line art wall hanging featured in our collection is "everyone's self-portrait." She believes designs can express a wealth of emotions and the journeys and experiences of an inner person through the most concise lines and uses of color. And, hey, there's a lot to agree with there. Printing fabrics and making your studio space feel authentically you is a must. That's why Bohemian Wanderlust is all about transforming interiors into a series of deep-colored and emotional stories. Hanging up silky and cotton-soft fabric or rich drapes as living 'art' in your studio to radiate joy. Lifting subtle decor with custom-printed fabrics designed in the spirit of wanderlust, joy and bright colors. You can design bright here, bright now, with our large fabric range or use our fabric swatches to test the feel for your next project.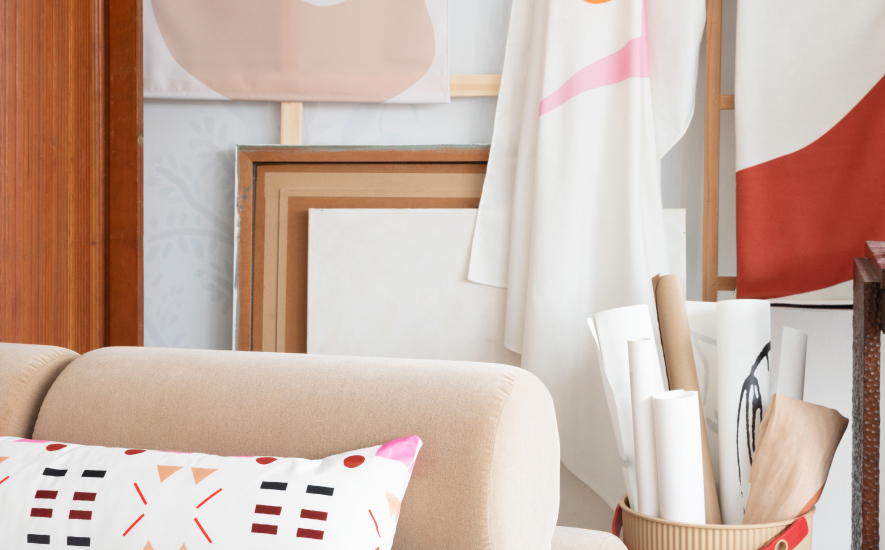 As soon as we got involved with In Blank Gallery, we started mood-boarding to create the dream studio set – a laid-back atmosphere with natural fabrics and prints in blonde terracottas, pinks, and oranges. Everyone in the team was busy painting the set stairs in Kalklitir terracotta, layering neutral rugs, arranging boldly printed canvases and draping our silky-soft natural fabrics in soft desert hues to make that London art studio really echo the Mediterranean dream.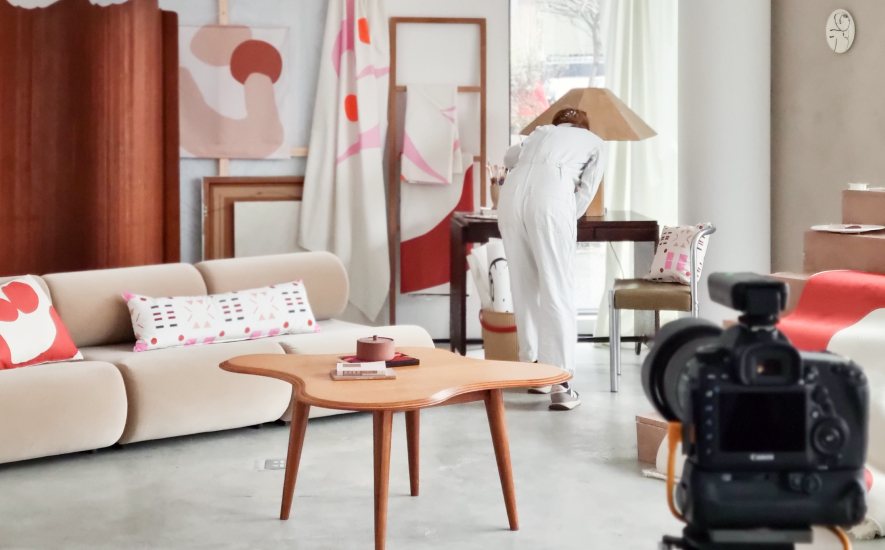 When we got to see the final result behind the scenes, the Bohemian Wanderlust studio was clearly very luxurious but with this perfectly worn-in feel, too. We had In Blank Gallery's abstract prints taking over the space of this boho-bold studio. Subtle terracotta walls, vintage room dividers and furniture with that bright seasonal dose of color coming from the 100% Cotton rugs, canvases, and cushions. Then – fabric rolls in baskets; fabric rolls pouring down the stairs and looking effortlessly elegant. A wooden coffee table was in the center, looking pretty comfortable surrounded by all the earthy desert tones; it was the picture of Bohemian wanderlust, a vibe you seriously didn't think you needed.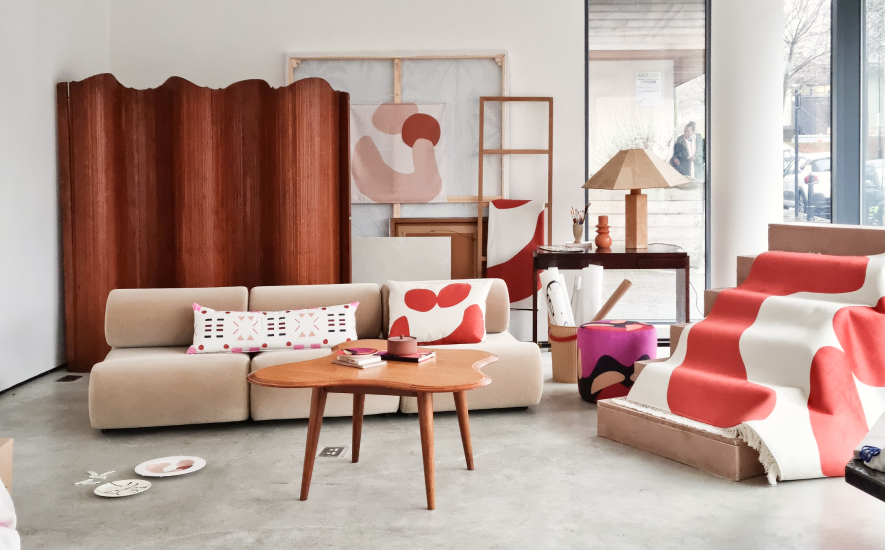 Best,
Joanna x