We're partnering with mixed-media artist Mike Thebridge to bring you the Art for Ukraine collection – a moving response to the Russian invasion. We're donating all profit from the Ukraine art collection to the Ukrainian Emergency Art Fund; a brilliant Ukraine charity that supports Ukrainian artists who have relocated abroad or remain in Ukraine and urgently need practical support to live and continue their creative activity.  
Mike Thebridge has been living in Ukraine over the past year. In the first few days of Russia's invasion, he created a print for his Art for Ukraine collection on Contrado: a Ukraine art portrait of his wife, Liuda, entitled 'Freedom' – inspired by her unwavering strength, the pride of millions and the spirit of countless independent Ukrainian artists continuing their work. In his painting, Mike pays tribute to a talented nation he loves dearly and a vibrant Ukraine art community, united by their hope and resilience to build their homeland anew.
When you shop from his collection, supporting the Ukraine charity is a reminder that design isn't merely about transforming your spaces with beautiful art. More than anything, it's about valuing the tragic yet strong-willed voices and complex stories of Ukrainian artists and helping people survive after the war. Wearing or displaying Mike's powerful, richly colored print in your home supports independent Ukrainian artists and is a moving visual reminder of a nation whose suffering we cannot forget. Here, Mike talks about the important message underpinning his Ukrainian artwork and his own creative mission.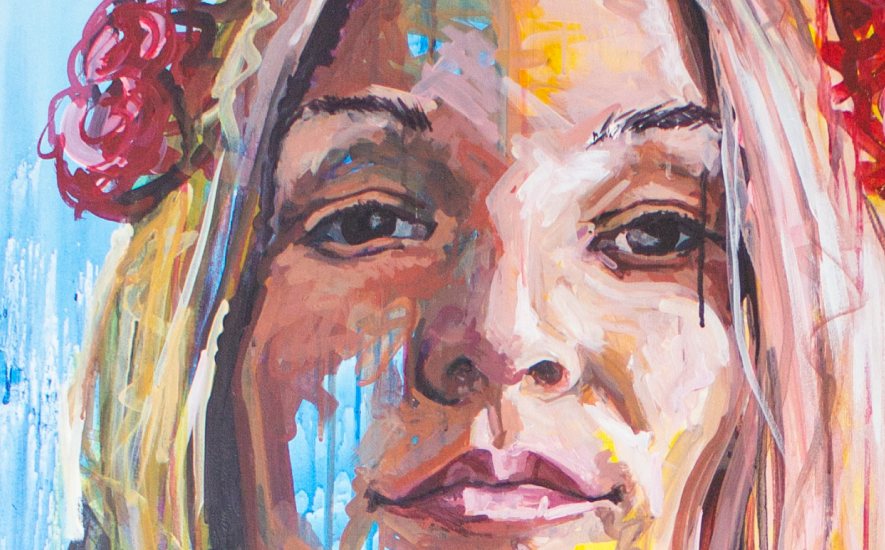 Tell us about the Ukrainian Emergency Art Fund
The horrors that are happening in Ukraine threaten everything we hold dear, freedom, unity and self-expression. We must remember how fragile these things are and help in any way we can to support those affected by this conflict. I hope my art and this collection can, in a small way, support artists in need in Ukraine.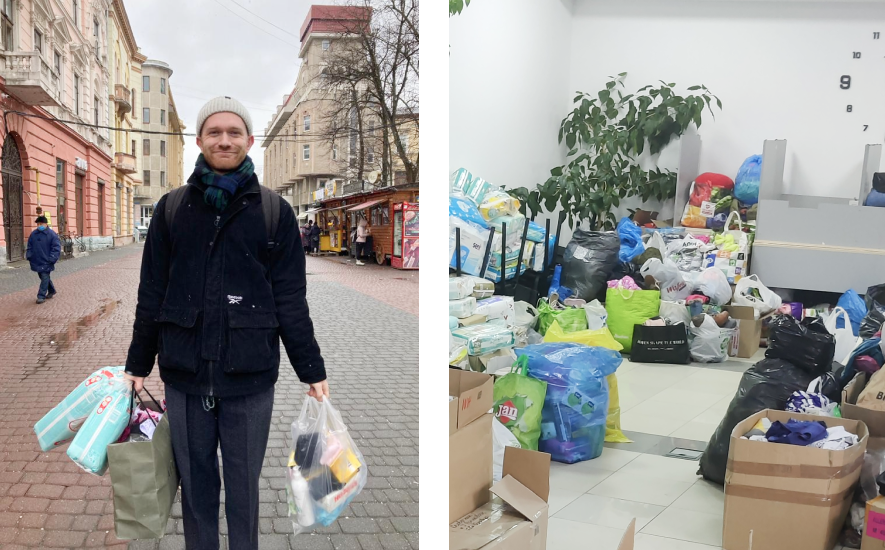 Tell us a bit about yourself and your works with Contrado
I'm a mixed media artist, and I live and work in Ivano-Frankivsk and London. I've worked with Contrado for 5 years, helping to grow and shape the platform and services for artists. My store showcases my favorite and most popular artworks, transformed into fashion and home items. I would often get requests from customers for my art on clothing or home furnishings, so when I began working with Contrado, the potential became endless. 
What should we know about artists in Ukraine right now?
It's terrible for everyone right now in Ukraine. I was there for the first 10 days of the invasion, and even though we were well outside of the fighting areas, it was hugely stressful. The constant uncertainty, not knowing what could happen at any moment, and regular air raid sirens coming any time of day or night. Creating, selling, and shipping work is near-impossible in this situation.
The artists I know or follow mainly live in Kyiv or Odessa, and they are working digitally. Still drawing on their iPad even when sheltering, it's crazy but so inspiring how their creativity will shine through in such times.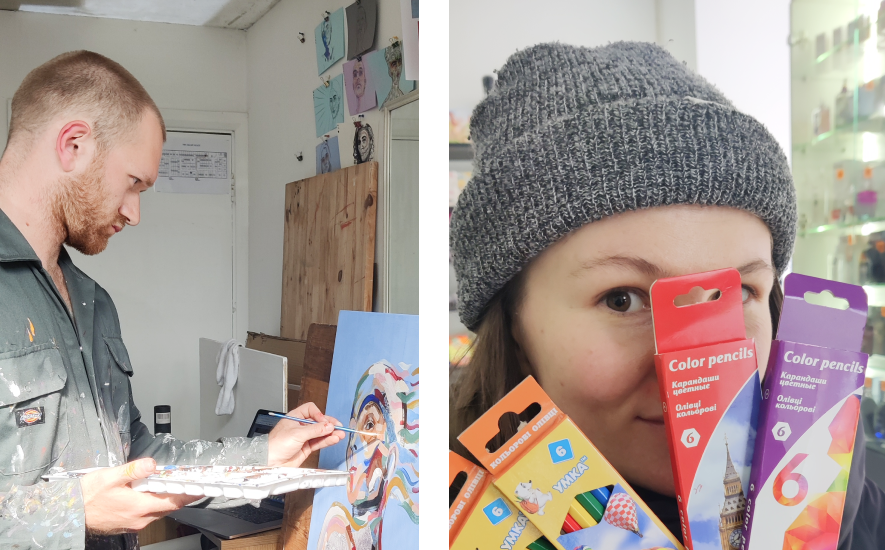 Can you tell us more about designing your Ukrainian artwork entitled 'Freedom'?
This piece is a portrait of my wife Liuda, who inspires me every day. She is Ukrainian, and she's been incredibly strong throughout the last month. Her strength and pride in her country are indicative of what I've seen in every Ukrainian and those working to support Ukraine.
We all want to be free of tyranny and free to pursue our own passions without others holding us back or invading our homes. Why anyone would inflict such suffering on a massive scale against their neighbors is unfathomable. For me, the cruelty and suffering are beyond comprehension, but the strength and bravery of Ukrainians stir up a lot of emotion.
How do you want people to feel looking at this piece in their homes and spaces?
I want them to feel joyful, remember what they have, and appreciate how fragile our freedoms are. I want people to recognize the strength of others and find that strength in themselves to speak out, support in any way they can and share stories so that we don't forget what is happening.  
Thanks so much for sharing your Ukrainian artwork and inspiring story, Mike!
Shop our Art for Ukraine collection now to support the efforts of the Ukraine charity, Ukrainian Emergency Art Fund.