We collaborated with Bloom Art Gallery designer Julie Coste to give you our latest House of Contrado collection, Sicilian Radiance. She got inspired in the heat of summer to create a collection that captures all that she's so often admired during her travels. It's all about inviting the vibrancy of nature into your space. A lighthearted space alive with breathable organic fabrics, bright colors, citrus fruits, and bold botanical walls so you can "travel without moving" and share the joys of her experiences in the Mediterranean.  
A post-Bloom Art-inspired space basically looks like walls and decor with bold patterns inspired by the Amalfi coast: florals, ceramics, summer fruits and vivid colors – a vision of Sicilian radiance. Her joyous citrusy aesthetic is the cure-all for all weary, winter-grey home spaces. Because let's be real, nothing beats introducing bright colors to your interiors. Draping hallways and kitchens with natural fabrics and bold premium wallpaper, and the sorry outdoor home spaces you've neglected with vibrant decor. It means you can reminisce the summer vibes, joy and bold spirit of your own travels in your homes forever. Here, Julie tells the story of Bloom Art Gallery, her love for Sicily and how to best style her pieces.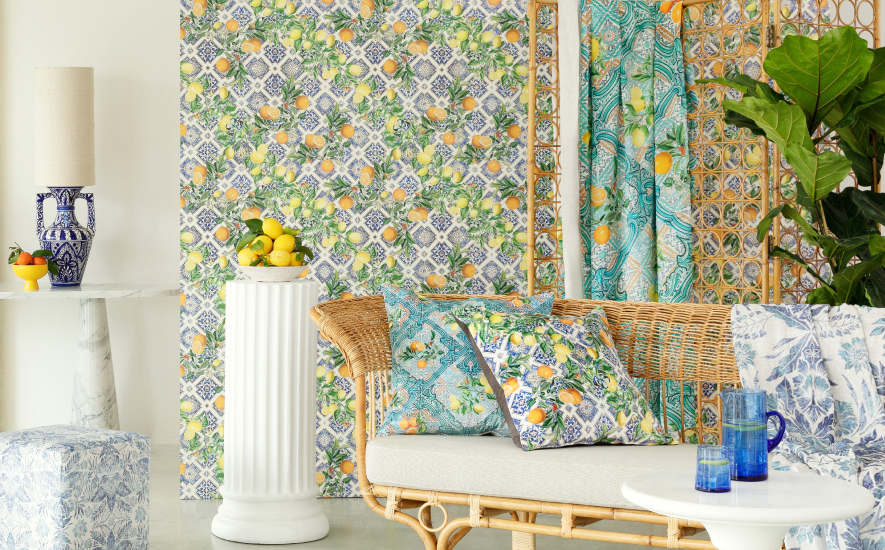 Take me back to the beginning of Bloom Art Gallery…
After graduating as a textile designer, I first started working as a freelance designer for large retail brands for several years, alongside developing textile concepts for Home Decor and Fashion customers.
In an effort to drive a more sustainable approach to the fashion sector, I launched the label Treasures Design in 2008. This collection of high-end accessories is built around ethical values, designed by myself and entirely crafted by highly skilled Indonesian craftsmen and women. The brand has a focus on sustainability as we don't hold stock while our products can be fully customized and ordered on demand. 
I thoroughly enjoyed collaborating with our team of artisans while living on and off in Bali and building the brand for the international market in Europe, US and Japan. I first started with leather handbags, printed shawls and jewelry and through the years, the brand became mostly focused on leather shawls and handbags. 
At some point, I strongly felt I also needed to reignite my passion for textiles, which is how the Bloom Art Gallery brand came to life. I love the way my work allows me to focus on my handpainted work and digital patterns while the Print on Demand business model aligns with my sustainable mission. As a designer, I aim to be mindful about what I create by offering products that can be ordered on demand rather than purchased from an ever-expanding stock.
Is there a secret meaning behind the name?
Bloom stands for my love for all things blooming and for nature which inspires most of my work. Art refers to the fact that most of my initial patterns are derived from artwork I draw, paint and photograph, which I turn into seamless patterns, sometimes decades after I've created them. Gallery implies that rather than being only a pattern design studio, the brand is also a showcase for a range of fashion and home decor products that tell a story. 
Walk us through your design process.
That's a great question because I haven't entirely figured it out myself just yet.
Since my work is so intertwined with my designs for Treasures Design and influenced by my travels, the design process of my patterns seems forever ongoing with no real beginning or end. Wherever I go, I bring my camera and photograph subjects that catch my eye, be it a leaf, patterns in the sand, fruit at a market or architectural details. When I'm starting a collection, I love to go through these images, sometimes years later, and that's where most of my ideas come from.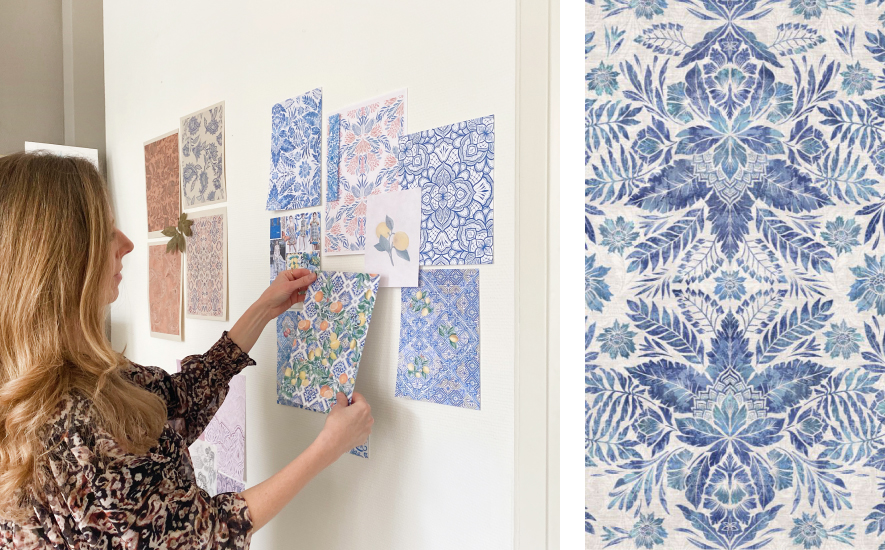 My patterns are always a blend of both handmade elements and a digital finish. So when I start a new design, I will either first start a watercolor painting, create a stamp or make line art drawings. Once my artwork is ready, I scan it, and that's when the digital part starts. I create a seamless design in photoshop, adding and reworking layers after layers, creating collages, adding textures and recoloring as I go. A pattern can take up to a few hours to create, depending on the number of layers, motifs and complexity.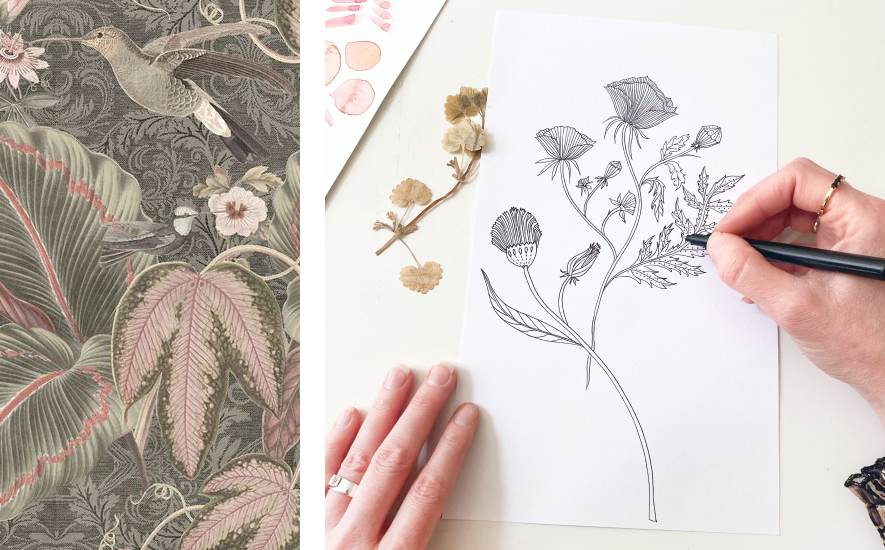 I don't really have a set technique; I really like to play with the software, and even after 20 years of using photoshop, the functionalities and results keep surprising me every time.
Let's talk about your design aesthetic. How does travel impact your designs?
I'm fascinated by nature, arts, culture, and my travels both near and far. These travels have had an essential impact on my work, and I've always been a bit obsessed with bringing back home photographic memories rather than objects (also, because I was often backpacking or traveling light; my camera would always hold my biggest treasures). 
Collecting and cherishing this huge database of images is my go-to creative source when I start a collection, and it's also proved a great way to "travel without moving" (especially during the last two years).
Aside from travels, I also feel my Swiss-Dutch heritage and growing up alongside my husband's Indonesian family have had a strong cross-cultural influence on my work and aesthetics.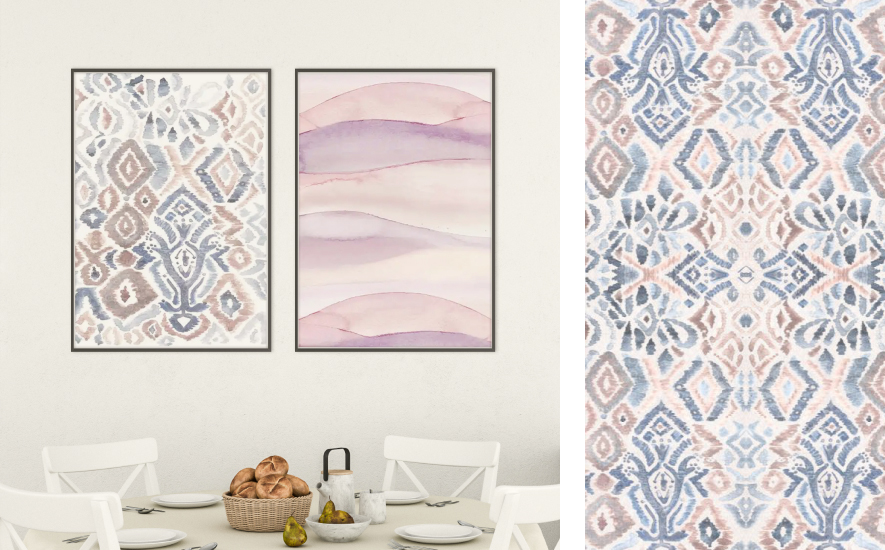 Love the radiant citrus fruits in your prints. Why do you feature fruits in your prints?
The "Sicilian radiance" collection was designed during a time when most of us were bound to our home and unable to travel. I love the vibrance of Italy and the Sicilian culture and felt inspired to create a collection that would reminisce of joy and free travels by combining Mediterranean aesthetics with fun elements like fruits to add a lighthearted feel to them. 
During my travels over the years to Sicily, Italy and Portugal, I had taken many photographs of the vibrant antique tiles that decorate homes and ancient architecture. For the background of my patterns, I first created various mosaics of these pieces of tiles and redesigned them into a medley of patterns along with my own paintings. If you look closely, you can even find some influences of Dutch tiles in them!
For the upper parts of the designs, I created a range of collages that feature vintage illustrations of Mediterranean fruits, plants and butterflies, which to me, are powerful symbols of joy and freedom as well.
The collection is much more colorful and outgoing than my usual work, but I feel this vibrance and abundance was what I really needed to express and share after the various lockdowns.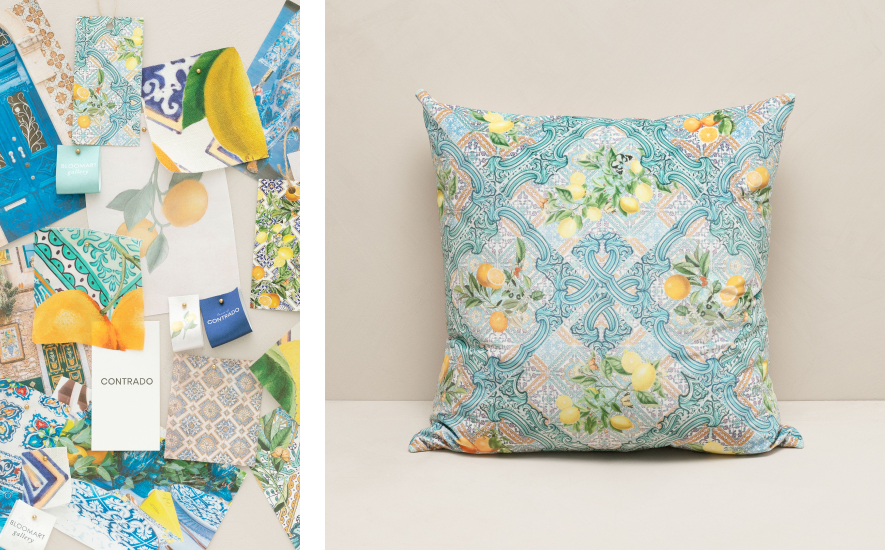 How can you imagine people styling these pieces?
This collection is infused with summer vibes and bright colors so I can easily imagine it on outdoor home decor, summer dresses and swimwear. Thanks to Contrado's wide range of products, I love how the pieces of the collection can also be styled to bring these vibes into your home, with wallpaper in a hallway or kitchen, as curtains for a sunny room or even as a piece of eye-catching furniture, the possibilities are endless!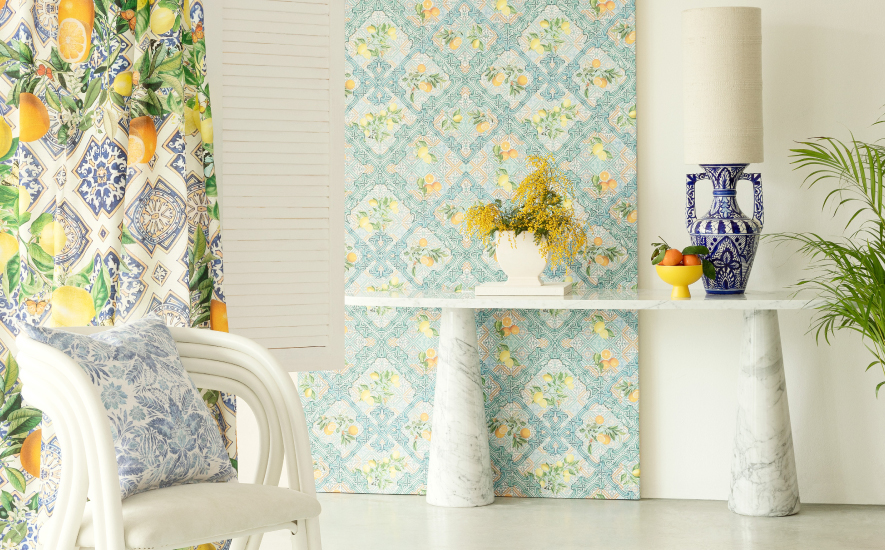 Do you have a favorite piece in your collection? 
Hard to choose because seeing the collection come to life in Contrado's lovely photoshoot really shows how each pattern works well over various products. But if I have to pick one, my favorite would be the "Sicilian citrus fruit" pattern which features various azulejo and maiolica combined with branches of lemon trees and oranges with butterflies.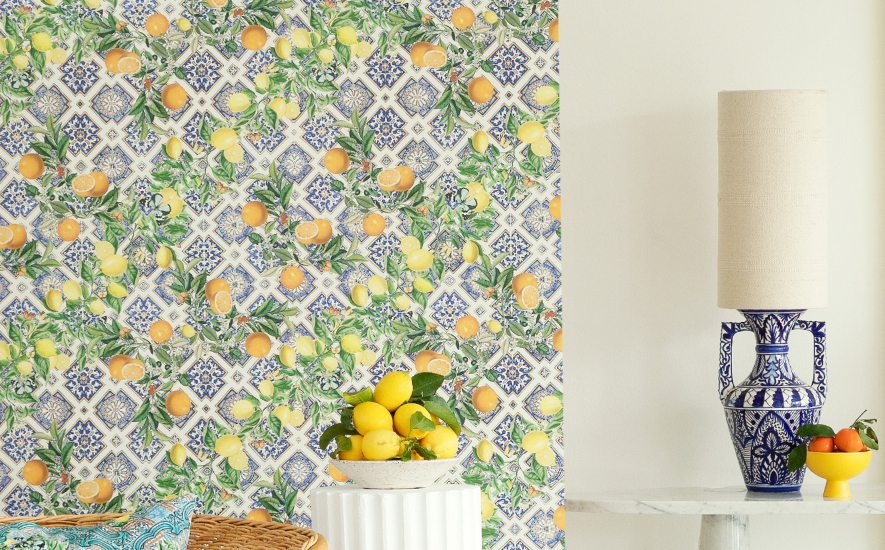 How do you want people to feel when they're in their home or space and see your designs?
I really like this question because, over the years, my working experience has taught me the importance of designing with the end-user in mind rather than only what inspires me as a designer.
My patterns are infused with elements of either nature or references to travels and cultures, two of my biggest sources of joy and inspiration, and my first aim is to share this joy with the people who see my patterns and make them discover and appreciate new cultures through them.
With my customer's unique taste in mind, I also try to create collections that can be combined with a wide range of interior styles by offering products that are eye-catching (like wallpapers and curtains) along with items that blend in more easily, like cushions and art prints. Thanks to Contrado's extensive product range, my customers can really customize the collections to match their own personal style to create a home decor they love. 
Thank you so much for sitting down and chatting with us, Julie! It's been such a pleasure!