At Contrado, we empower creativity and innovation around the world not just for major businesses and designers but for up-and-coming artists, too. Contrado is lovingly operated by a team of avid art-lovers in London, all equally passionate about supporting emerging artists with selling their work and gaining exposure fast. So whether you're interested in opening your own store, drop shipping or wholesale discounts, we know how to help you get there.
Here are just 5 ways we support emerging artists every day:
1. Our artist network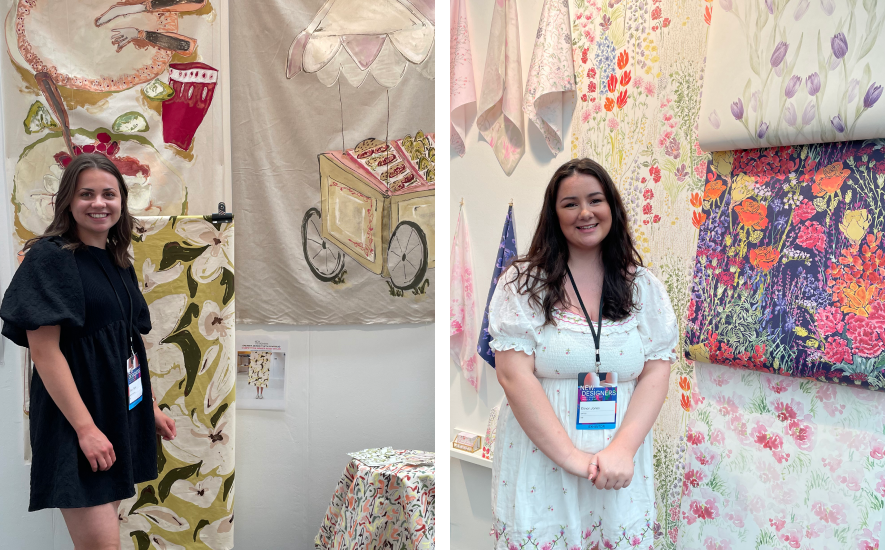 A creative rut. Sigh. The best of us have been there, gripping our tablet pens while staring at a menacing screen or scrapping pages of vain design attempts. The good thing is that there are ways to scout for inspiration and fast-track the creative process. Among many things, Contrado is an artist network of thousands of successful business owners and designers. We built the Contrado marketplace to support independent artists and connect people worldwide with designs they love. Art collectors scour the community for works that suit their style and taste. Meanwhile, we support emerging artists in finding their kind of people. You can explore our featured artist stores for a little inspiration and let your eyes travel through our top pick of products.
2. Bringing a vision to life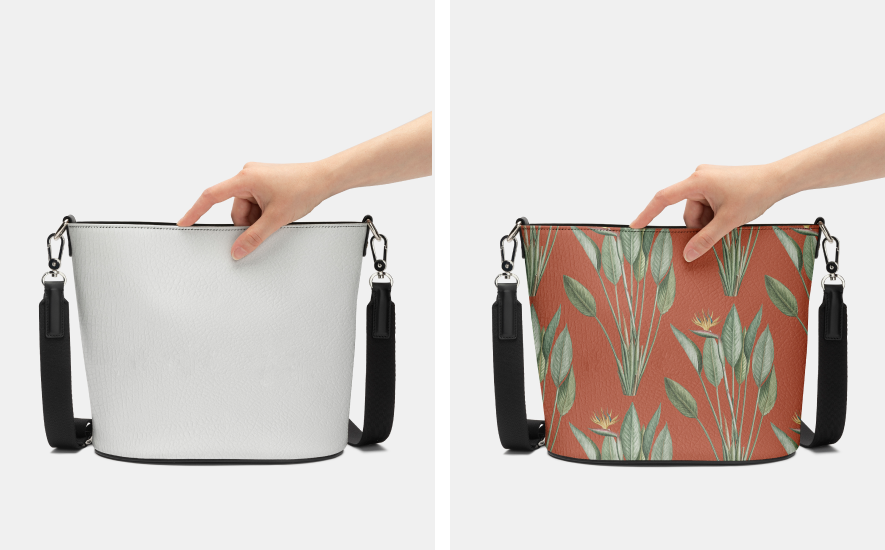 We have over 450 products you can customise online, from the best-in-class decor and furnishings to contemporary garments. Say you have a "laidback fashion" project in the works. You want luxurious, velvety fabrics and lots of them to stitch your own printed pyjamas, robes and sink-your-face-in towels for all the stay-at-home-bodies looking to get their zen on at the weekend. You're envisioning soft hues, clean lines and the cosiest palette of muted ochre and pink for a repeat pattern. Just know that we have countless products you can design that meet the description for creating that sense of sanctuary within the home.
How to support artists: give them a shiny, free design interface. No need to pay for materials or worry about delivering products to customers, especially when you factor in international shipping (a long, often bumpy road that sends many designers violently facepalming). We have an in-house team of experts that support independent artists by handling shipping, stock, production and customer service so you can focus on what matters: bringing your vision to life with products you love.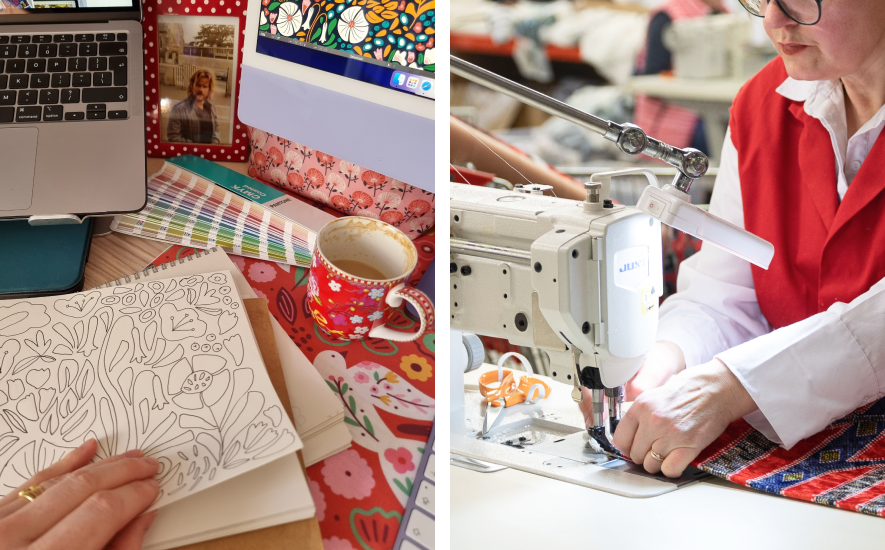 You can open an online store with us, write a unique artist bio, design limitless products with great student and wholesale discounts and share the exciting story behind every one of your creations with thoughtful product descriptions. It'll also help collectors discover new works when they're searching for something specific.
3. Branding your own products
Whether you're a fashion graduate looking to take your designs to the next level on our marketplace, someone who wants to drop-ship products in small runs or order in bulk for your start-up business, branding your own products is genuinely the first step to establishing yourself as an artist. Our branding station gives you total control over everything your customers see. You can add logos to your products, have your label expertly sewn into clothing and even customise the little dispatch note. Besides branding your own products, we support emerging artists creating products that are personal to them. You have the option to write up a "thank you" note to customers, ready to post with each order (frankly, it's just the most wholesome way of connecting with fans of your work).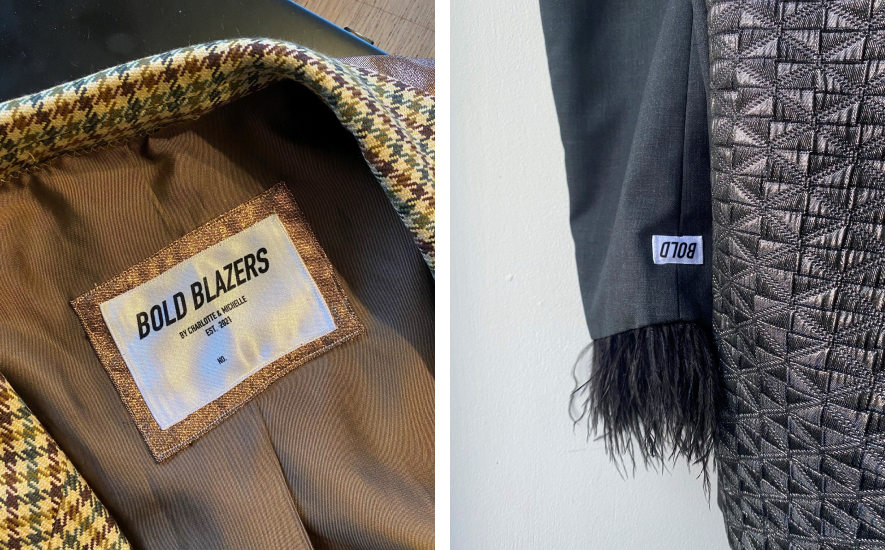 4. Easy design tools
Designing with Contrado means no fussing over the position of an image or pattern in lunatic detail. We have easy-to-use tools to help your vision come forward naturally. If you're creating curtains from scratch for a project, you only need to pick the perfect fabric, upload your design on our interface and check the final result with our 3D preview. You can just as easily embrace an eclectic style with your products using our photo montage tool. We have a text tool, too, which we think adds a confident yet playful finish to any product. On a mission to transform sad, all-white interiors with your own bold feature wallpaper? Use our 'repeat pattern' tool to create a decorative repeating pattern you're confident with. Yes, it's that easy.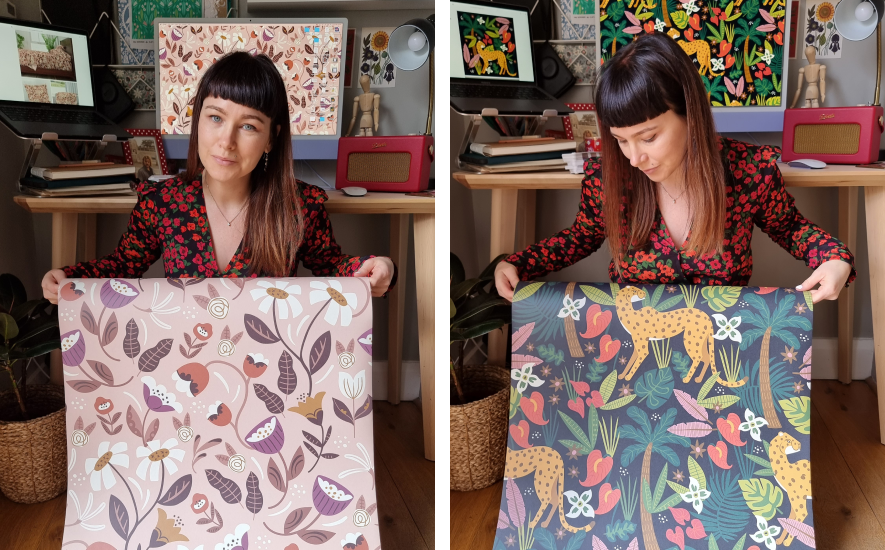 5. Dedicated artist support
We're a real, human team of art-lovers at Contrado and your biggest advocates. You can get in touch with us via email for expertise in fabric printing and design advice. Or share your timeless creations on Instagram and tag us #contradouk to get featured on our feed and curated weekly newsletter. When you sell with us, you get to set your own prices, earn a 20-25% base commission and upscale your business with high-quality materials. Our goal is pretty simple at Contrado: to support independent artists at all points in their careers, design painlessly and grow their brand.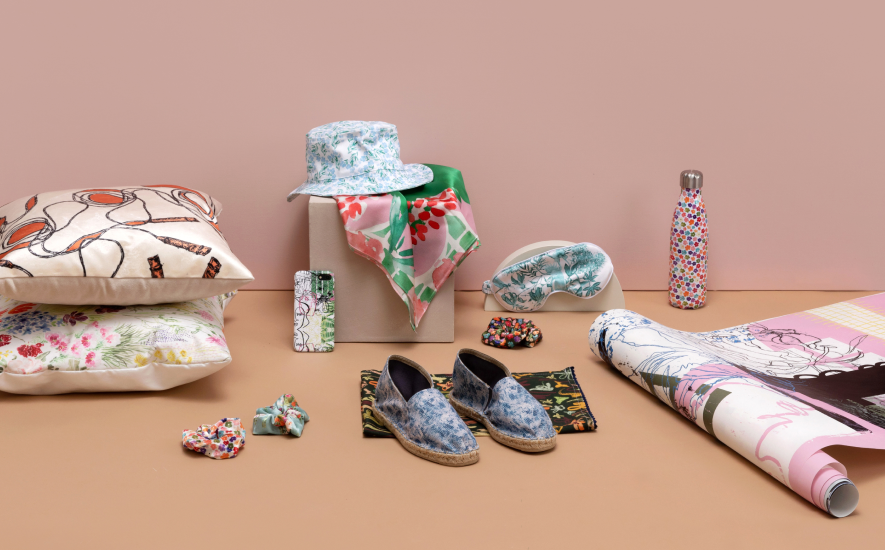 We not only offer artists a way to immediately begin selling their designs to a global audience of collectors online, but we also collaborate with designers to create new collections in our marketplace. We planned out how to support local artists offline this summer as well. We partnered with New Designers 2022 in London to support emerging artists build their brands and tell exciting stories with our products. We invited design students across the UK to submit their original designs and chose 8 talented winners to feature in our 'Dream it + Design it' collection. Then we carefully handcrafted the new products in our London factory and advertised the event in our newsletters, marketplace and social media. Won't you have a look at the result? Click here.

Header Image credit: Sophie Downes (Instagram @sops_studio)