We've been seeing more and more quirky animal motifs and color-popping wallpaper designs in our marketplace this season. Enter Betty Grove, a French-born illustrator and designer who lives and works in England. Betty has collaborated with us to create bold patterns and big-energy animal art wallpapers inspired largely by nature and Japanese woodblock prints.
In her collection, we have different scenes to add fresh character to your rooms and appeal to your inner maximalist. Take our quirkiest dinosaur prints that bring a riot of color and fun to your bedroom space. Spot the sloths popping out of lush foliage featured in botanical wallpaper for walls in the front room to help you get your zen on. Betty's collection is proof that wallpaper is made to bring lively energy to any room.
Clearly, we can't get enough of Betty Grove. So we asked the artist herself about her creative journey and process of bringing fun prints to life on your walls…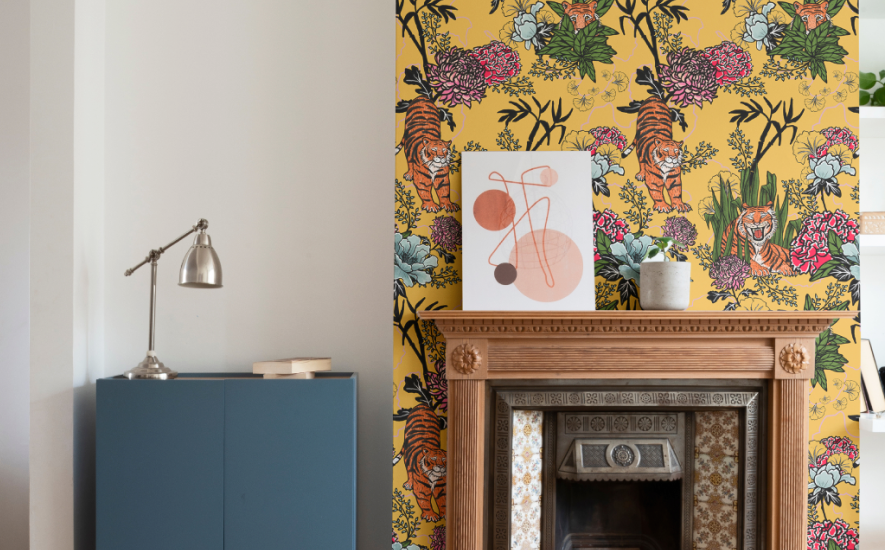 Take us back to the beginning of Betty Grove Designs
I used to be a graphic designer, mostly for corporate companies with little space for creativity, and when I came to London, I decided to develop my illustration work. Very quickly I realized what I loved the most was designing textiles and wallpaper. I've always been in admiration of William Morris and the Art and Craft movement ideology. 
Walk us through your design process
First, I always draw or sketch in black and white with an ink brush pen or a brush. I like the softness of the lines it creates. This stage is more about finding shapes I like on a subject or sketching elements of a study: for example, for the sloth design, I researched fauna and flora present in areas of Amazonia where sloths live to be as accurate as I could.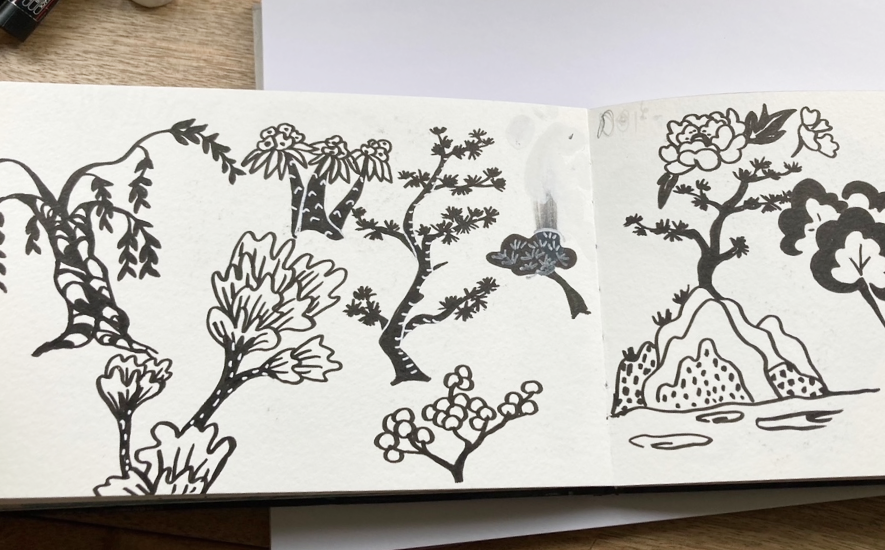 Sometimes, that first research and sketching step is directly done on my iPad. If not, I would scan my sketches and retrace them in Procreate. When I'm happy with my elements, my search for a color palette begins. For this, I can be inspired by a photo, a decor, or a film, but I always tend to gravitate towards similar colors.
Finally, once I have my elements and colors, I play with them to create a composition or a repeat pattern that I like.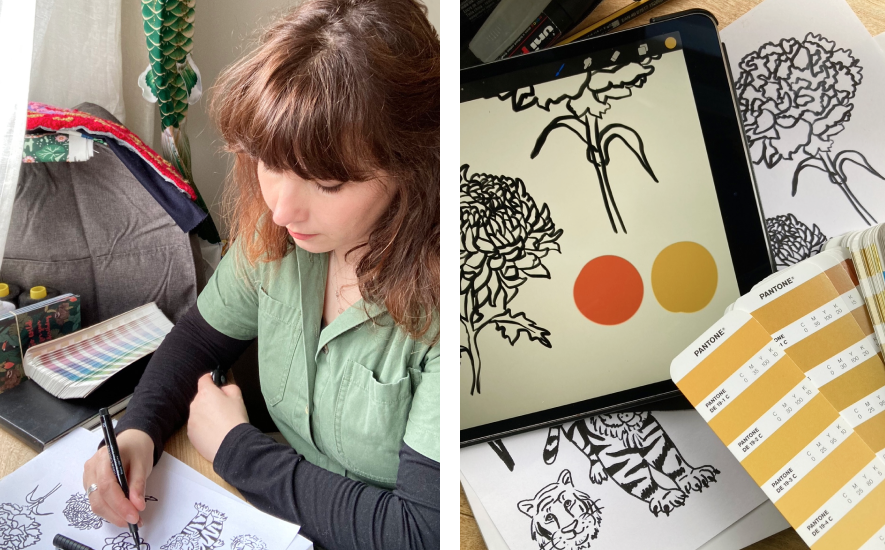 How does your French childhood influence your designs?
The city I come from, Nancy in Lorraine, was the main center of the Art Nouveau movement with artists such as Gallé ou Majorelle who took their inspiration from Nature and Japanese woodblock prints. I suppose I have been subconsciously influenced by the beautiful architecture I could admire around town.
And my love for Japan probably developed at a very young age when Japanese manga was very big, and most of the cartoons French children could watch were Japanese animations.
To this day, traditional Japanese woodblock prints and contemporary designs still have a big influence on me. I've been there twice and I'm dying to go again.
And when it comes to animals, I suppose most children are fascinated by them. I have just managed to keep a bit of this in me.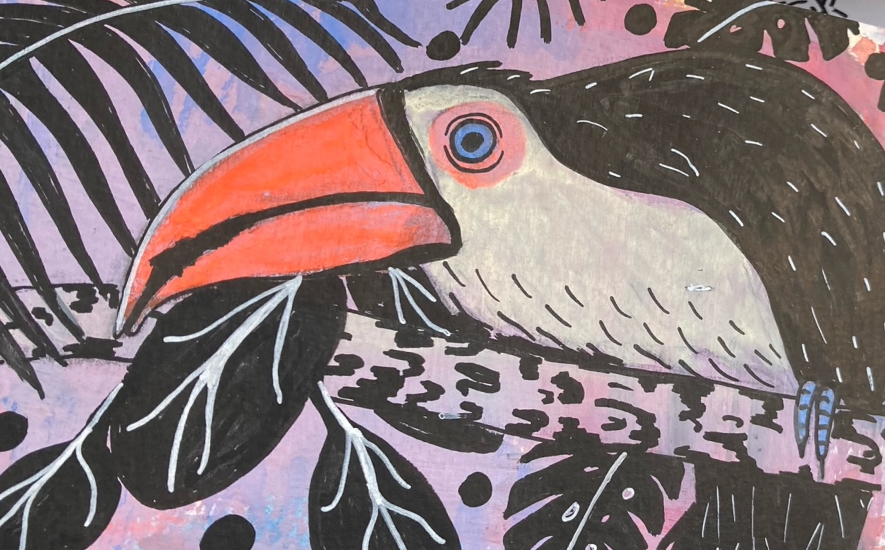 Why did you originally decide to join Contrado as an independent designer?
I was very eager to see my work on different types of products. The print on demand service offered by Contrado and the large collection of items is amazing. I've been searching for a way to create wallpaper for so long.
How have your business and designs changed and grown since joining Contrado?
I've had two children since I joined Contrado, so it has been a slow process but now I'm finally accelerating things and focusing mostly on decor with wallpaper, textile and decor objects.
Tell us about your designs for Contrado
My featured designs are bold, maximalist and have a touch of fun. They are not created for children only but for anyone who doesn't take themselves too seriously.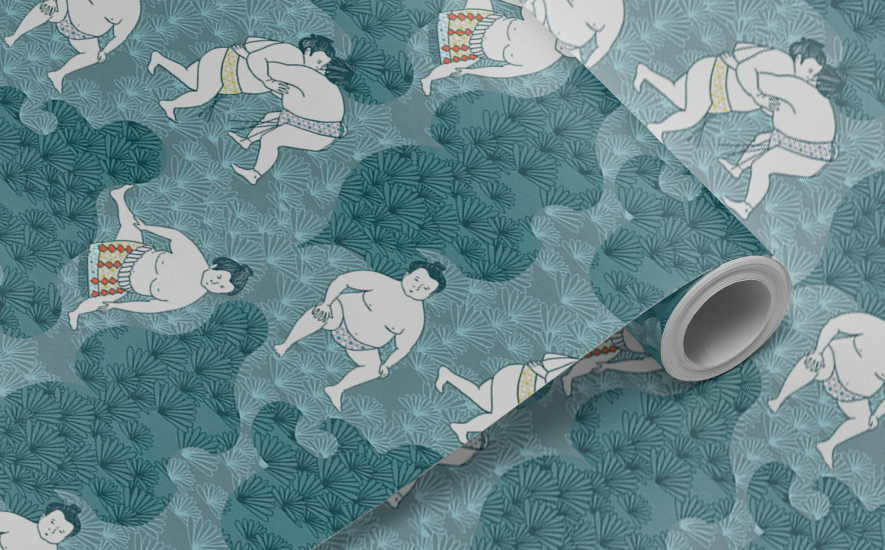 What's the story behind your love of Japanese woodblock art?
What appeals to me is both the content depicted (everyday life, nature and myths) and the graphic treatment of the image with flat and vertical perspectives, line work and bold colors. And of course, the textile lover in me is attracted by all the beautiful, detailed patterns.
Love the animal and botanical elements in your art. Why do you feature aspects of nature in your prints?
It is the best source of inspiration. All shapes, motifs and colors come from nature. I love animals and am always fascinated by them and equally heartbroken by the destructive effects human actions have on them. I think they need to be celebrated.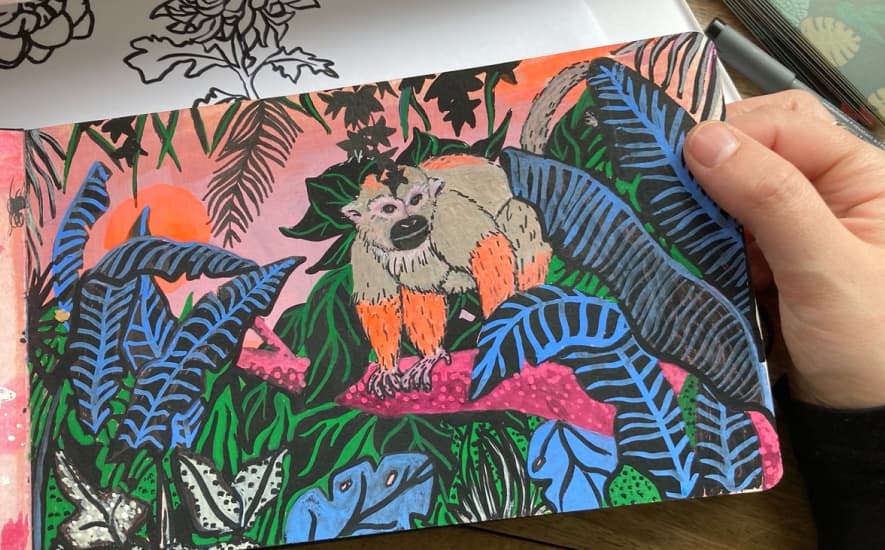 How can you imagine people styling your wallpaper?
I see my wallpaper in maximalist decor. I particularly see the sloth wallpaper in a jungle-themed kid's room. I imagine the tiger wallpaper in a sitting room with a beautiful velvet sofa, a bit of wood paneling, and a lot of textured and colorful textiles for a cozy vibe. The star wallpaper would look lovely either in a bathroom or bedroom for its dreamy and relaxing vibes. 
Do you have a favorite piece in your collection?
Probably the sloth design; it works so well on a big scale on the wallpaper with these deep green colors.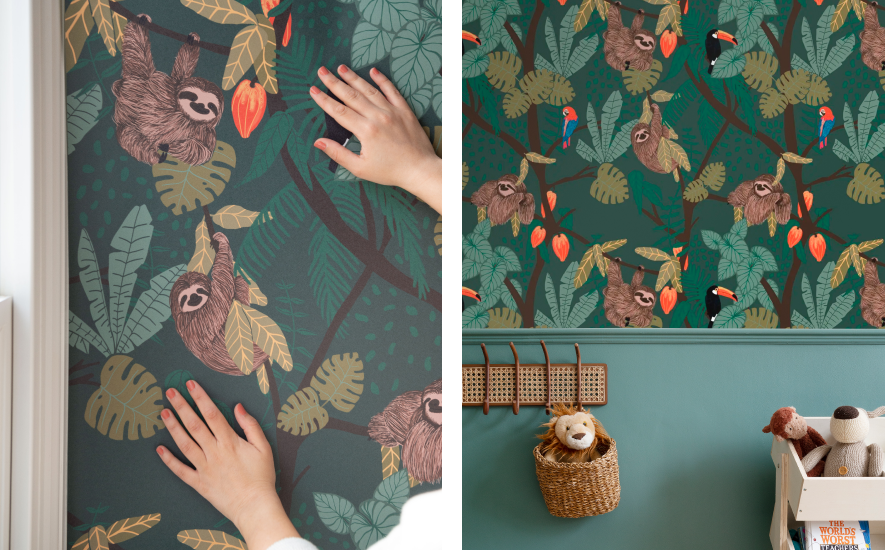 How do you want people to feel when they're in their home or space and see your designs?
I'd like them to feel joy in a home full of character. A home should have personality and be a happy place. 
We seriously can't get enough of your animal-themed wallpaper, Betty. Thanks for chatting with us!