Forget paint. When a room screams out for a makeover, nothing beats unique, artist-designed wallpaper. And so, we've collaborated with Irish artist Anna Deegan to bring you nature-themed wallpaper for walls that'll propel any room into a home's crown jewel. Long, dreamy walks and retro 70's prints are among the many things that have inspired Anna's happy flora and fauna wallpaper this season.
Her wallpaper is printed with all kinds of bright illustrations, from wildflower meadows in happy hues to bold scenes from wildlife. When you've got rolls of Anna's wallpaper, inspired by nature, in your space, the colors vibrating off the walls will be a true salve for the eye and soul after two long years of isolation. Our much-loved Irish artist's prints channel the greenest parks of Dublin and lively sea and wildlife to turn your homes into the single happiest place in the world. The kind of home you can chill – feet up and [insert favorite drink] in hand – to daydream away the stresses of the day.
We found out all there is to know about Anna's design journey and how to best style your wallpaper this season…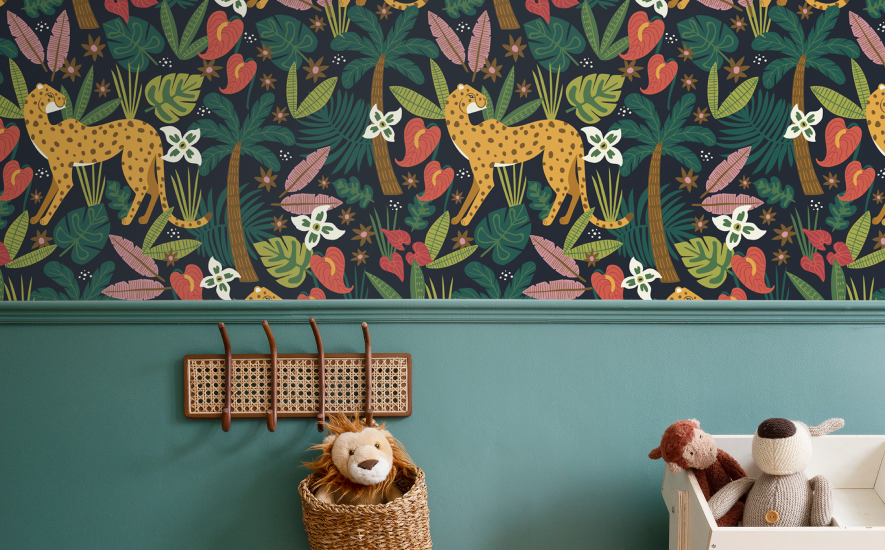 Take us back to the beginning of your career as an illustrator.
In 2012, I worked for a number of years in a digital media studio as a UI and UX designer, and although I enjoyed the job, I wasn't fulfilled creatively. It started slowly, but within months, I teamed up with a friend and colleague, and we formed a collaboration project called Poppy & Red, specializing in print and pattern. After a number of years of working as a duo, we decided to branch out individually, and that's how it all began. 
Walk us through your design process.
I start with ideas that are usually inspired by my day-to-day surroundings and mood. I make lists and notes with doodles. I take tons of pictures on my walks and travels. Then the research begins by looking through my favorite books, reference pictures from magazines/blogs and my photographs. I sketch my ideas and create a color story using my Pantone books. When my sketch is ready, I re-draw it on the iPad in illustrator and then move to the iMac to complete the illustration or pattern for publishing.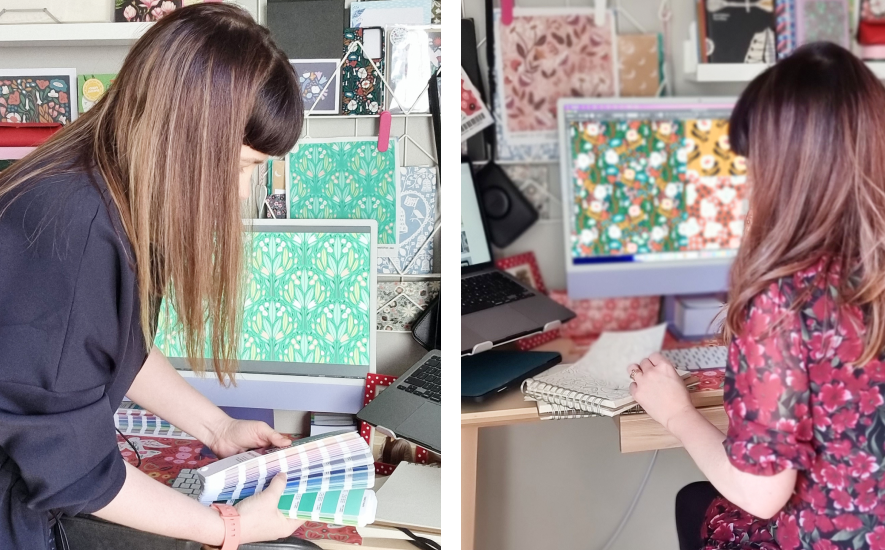 How does your home in Dublin influence your designs?
I am very much inspired by my surroundings, animals, nature, music, fashion and culture. Growing up in a small city like Dublin, within walking distance from the greenest lush parks and the seafront on my doorstep, nature is very much part of my everyday. On my walks, I dream, take photographs and brew up ideas for new designs and collections.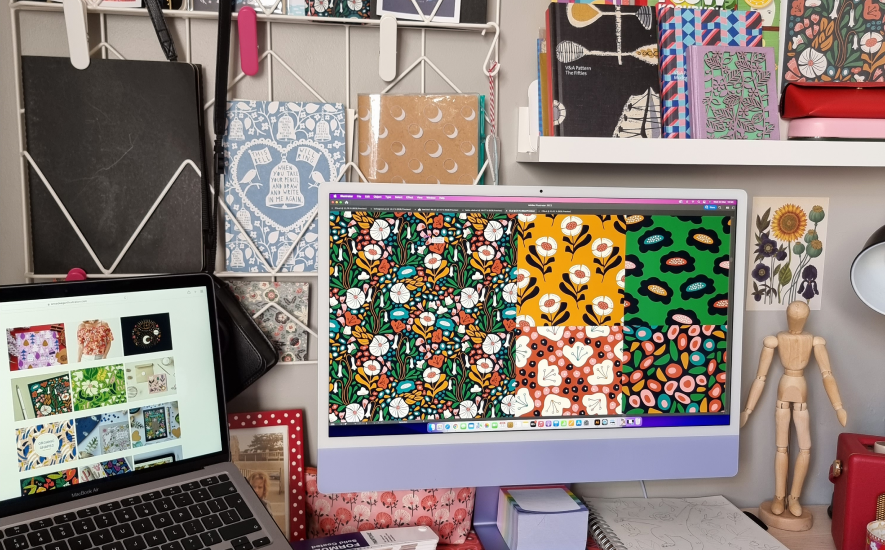 A short stroll brings me to the heart of the city, where you can find the best live music in small bars filled with people from all walks of life. I enjoy people watching; the diverse, unique, and authentic fashion in the city is inspiring to me. These are the people I want to design bold, unique patterns for.
Why did you originally decide to join Contrado?
I researched before I decided to join Contrado. I read reviews from customers, and I must admit I was very impressed. There is an extensive range of products offered at premium quality, but most importantly, Contrado is considering the environment, offering an option to recycle, and producing products from recycled materials. As a designer, sustainability is very important to me, and when a company is offering 100% vegan, natural, biodegradable and organic products, this is a huge selling point for me.
Tell us about your designs for Contrado
My store offers a range of my most recent work from 2021/22, from big, bold florals to wild animal patterns with something for every mood.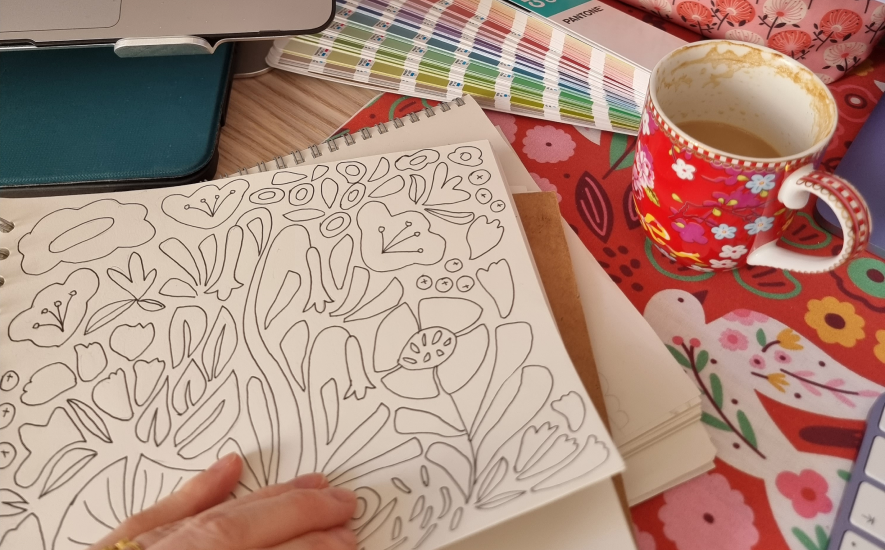 Why do you feature flora and fauna so heavily in your prints?
If I am working on a different theme, I can guarantee a flora and fauna collection will always follow. It brings me so much calm, creating a magical world of florals and animals, and it is something I will never tire of.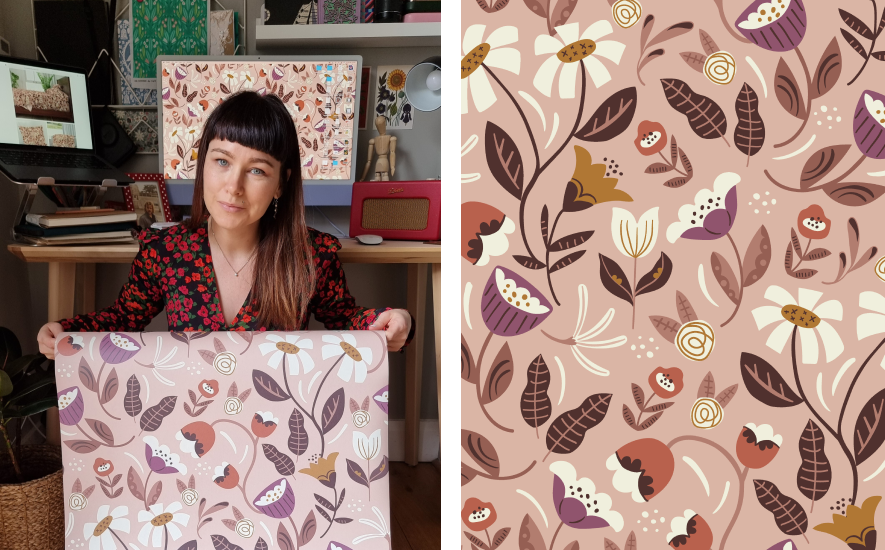 I love that you're inspired by 1970s retro design. What about that decade speaks to you?
I am an 80s child who grew up with young parents who spent their youth in the late 60s/70s. They introduced me to so much from that era. We spent our days working at markets surrounded by the coolest retro furniture, antiques, clothing, music and much more. The bright, bold and deep, muted colors of clothing and home decor spoke volumes to me. That sense of freedom and happiness from the stories they shared from the 60s/70s will never fade. I am an old soul at heart!
How can you imagine people styling your nature-themed wallpaper?
I imagine someone might style the wallpaper with some statement furniture they picked up thrifting, a matching cushion or lampshade. They may select a couple of colors from the wallpaper design to tie in soft furnishings, like rugs, curtains, throws, etc.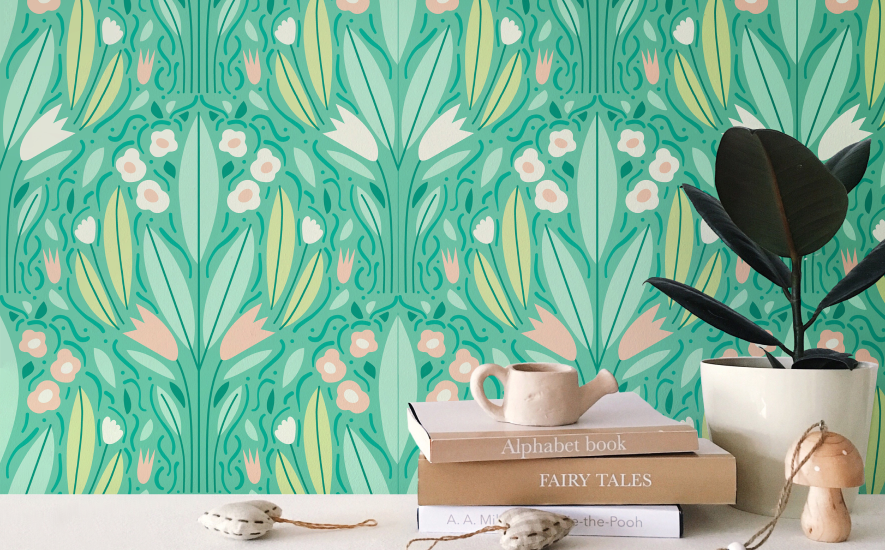 Do you have any advice for new artists joining Contrado?
Start by adding your recent and best designs. Work with collections and offer a variety of products. Write meaningful descriptions and tags for each design. Complete your profile to give a sense of who you are. Share your social media channels.
How do you want people to feel when they're in their home or space and see your designs?
A unique space that brings calm, joy and inspires their own creativity. A space they call their happy place!
A home covered wall-to-wall with your nature-inspired wallpaper designs honestly sounds like perfection. Thanks for chatting with us, Anna!