Social media can be a big, sometimes daunting place, filled with the cacophony of a billion different voices. But you need to know how to cut through the social noise and effectively use these platforms to grow your design business. Thanks to the emergence of visually led networks and snackable video content, social media marketing for artists is becoming increasingly relevant.
As you know, Instagram, Facebook and Twitter are the 3 main networks, with approximately 2.78 billion users collectively. That's a lot of people and a lot of noise. So how can designers and artists best target their audience on each social channel? Because we work with such awesome designers, we understand the importance of social media marketing for artists. So, here's a rundown of best practices for designers if you want to learn how to sell art online.
Social Media Marketing for Artists
1. Instagram
With 600 million users, Instagram has grown exponentially, proving that visuals are really the marketing tool of now. What you should be asking yourself though is how many of these 600 million users are actively following and engaging with brands. Well, out of all the social media networks, Instagram's brand engagement rate is the highest by a mile.
It's 70% higher than Facebook's, and 669% higher than Twitter. While people obviously still use Facebook and Twitter, there's clearly a difference in how they use each channel. This statistic suggests that people who are on Instagram are there to connect, comment and appreciate beautiful imagery.
Posting to Instagram
IG operates under this important truth: the more you post to Instagram, the more engagement you will get. Of course, this is within reason. If you post to Instagram daily, you can expect to grow your follower base 4x faster than if you only post once a week. A study by Tailwind found accounts that increased the amount they post by 100% over the course of 3 months, saw a 19%+ increase in interactions. The general consensus is stick to one per day.
The time you post is also crucial. Unfortunately, there's no magic universal time, as it all depends on your target audience. But using common sense, post at 11am-1pm and 7pm-9pm. Basically, during non-working hours when everyone is glued to their phones!
Instagram Tips for Artists & Designers
Whether you're a fashion designer, surface pattern designer, illustrator, graphic designer or any other type of artist, beautiful imagery is not scarce in your world. From posting teaser 'behind-the-scenes' pictures of new work, to uploading professional shots of your design in action, Instagram is the platform for you to really showcase your creativity.
Images with a blue hue perform 24% better than those with high concentrations of red & oranges.
Images with a lot of background space get 29% more likes than super up-close shots.
Bright images perform 24% better than dark images.
Repost influential artists, posts that inspire you, etc. & tag the account – this not only demonstrates you're actively involved in the design community, but it could expand your reach beyond your own audience.
Post hashtags in a comment, not within the caption.
Create a house style – do you post in capital letters, make use of emojis?
Read on for more tips: How to Get More Instagram Followers as an Artist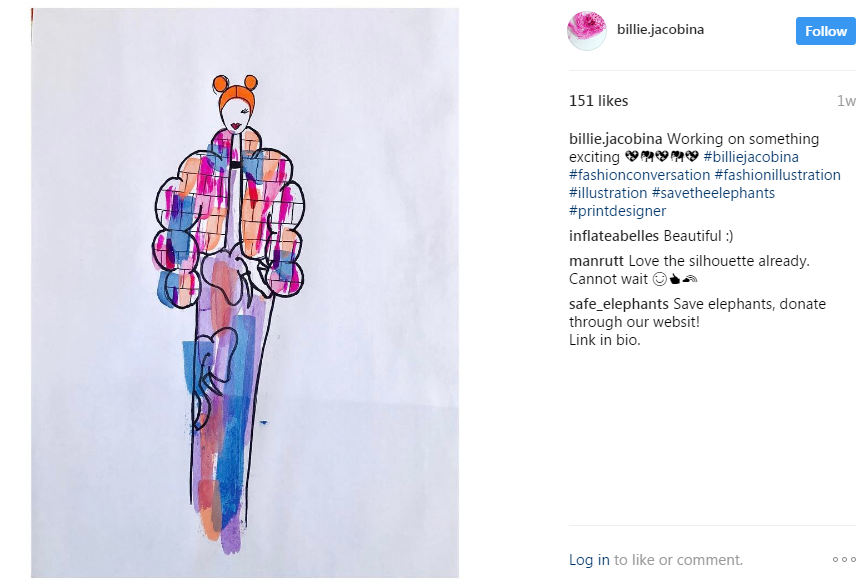 2. Facebook
Although Facebook's ever-changing algorithms (updating news feeds to determine what everybody sees first based on individual interactions), it's still a relevant form of social media for artists to be on. However, in truth, the giant conglomerate is trying to stamp down on businesses receiving organic traffic from Facebook by making brands pay for sponsored posts.
To overcome this obstacle, you need to play by their rules. Facebook prefers content that offers real value to the reader, and explains as much as possible before they click through or engage. This is an attempt to wipe out click-bait; you know those annoying posts where the caption cuts off just before the juicy bit of information is revealed, so you have to click through to find out? Yep, those.
Posting to Facebook
If you're a designer, illustrator, artist, etc., then you should have a mountain of cool images in your arsenal. Sharing images is fantastic for click-through and engagement, and engagement widens the reach of your brand.
Posts with photos get 2.3x more engagement
Posts with photos get 84% more click-throughs
Photos that are self-explanatory receive more engagement – does the photo explain the context on its own?
Refer above to when 'the best time to post on social media' is, because it's all about monitoring your own individual page. As for the frequency, post 1x per day, 7 days a week, or 5-10 posts per week. This is a good amount to keep your Facebook active but without being spammy. Nobody likes spam.
Facebook Tips for Artists & Designers
Be conversational and ask for feedback about a new piece or a piece in the making. People love sharing opinions on Facebook!
Keep statuses short and let your visuals do the talking. Statuses with 80 characters get 66% more engagement, and statuses with 40 characters get 86% more engagement. Don't try and shoehorn this in all the time though, sometimes its better to clearly explain and describe what you're doing.
Be inspirational – provide your fans and the wider artist community with inspiration. This could be sharing a vintage photo from a previous era, a favorite design quote, or even colors to reflect your mood.
When you share your artwork, try out the Carousel feature. Attach up to 5 images to the same status which fans can scroll through. Great if you're presenting a series or a chronological display of your progression.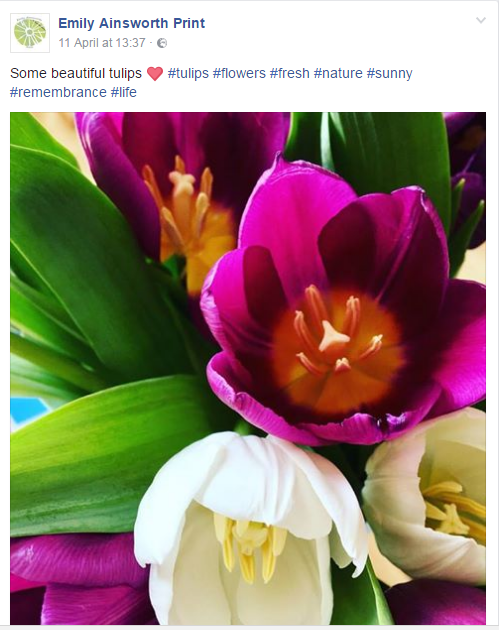 3. Twitter
The fast-paced world of Twitter can seem like a lot of effort for little return on your investment. But like any party, if you're not there, you miss out! Also, it's found that around 42% of consumers discover new products or services via Twitter, and you want a piece of that pie, don't you?
Posting on Twitter
Twitter is different from the other two channels as people don't necessarily window shop. The sheer monumental amount of content that's posted to Twitter every minute can be hard to fathom, so your content needs to stand out. By the way, it's 350,000 tweets per minute, or 500 million tweets per day.
Get the right balance between general tweets and promotional tweets
Tweets with photos get 18% more click-throughs
Tweets with photos get 35% more retweets on average
Tweet during the morning commute, lunch breaks, and evening commute
Engagement is 17% higher on weekends for brands
Twitter Tips for Artists & Designers
Share announcements, news, exclusive promos, exhibition information, etc. that people don't have a choice but to engage with there and then. Twitter is a great place to let (literally) everyone know.
Sharing and collaborating with other people in the design community can go a long way. It shows you're actively involved in what you do and want to support other artists.
Retweet other artists, get involved in hashtags and share wider industry news.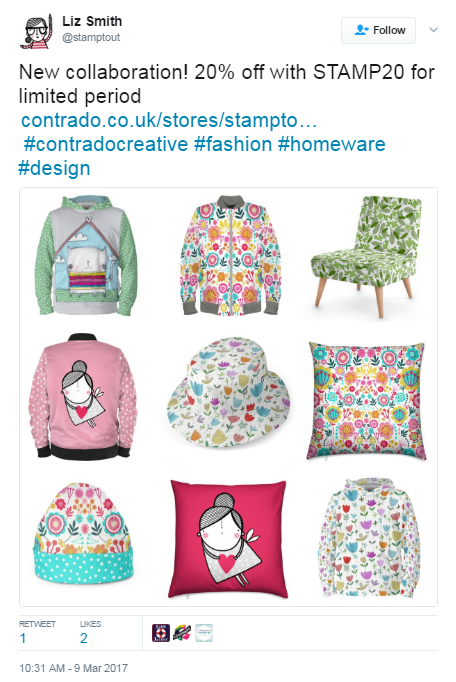 A great example of sharing a promotional offer from Liz Smith of Stamptout
So there we have it! A comprehensive guide to social media marketing for artists that you should follow religiously. Don't forget to 'share' with your fellow designer peers, following the best practices above, of course.
Are you a designer? Click the banner below to see how easy it is to sell your artwork online with Contrado.