What is taffeta?
We are constantly bombarded by images of celebrities at weddings; on the red carpet and at awards shows, looking resplendent in their flowing gowns and dresses. Many a time, the fabric used for these luxurious creations is taffeta, a crisp, stiff fabric with a slight sheen to it. While the name might not be as common as cotton, silk, georgette, chiffon, and velvet, taffeta is an important fabric for fashion, soft furnishings, and other household accessories. In this blog, we will learn more about what is taffeta.
What is taffeta made of?
Taffeta was originally made from silk. However, today synthetic fibers such as rayon, acetate, and nylon are also used in the manufacturing process. The fabric is made from a tightly woven plain weave also known as 'tabby weave', with very fine horizontal ribs. The warp and weft form a simple criss-cross pattern, resembling a checker-board.
There are two types of silk taffeta: piece-dyed taffeta is soft and often used in linings. Yarn-dyed taffeta is stiffer and is used for making evening dresses. There is also something known as 'paper taffeta', an extremely thin and crisp kind of taffeta. The other kinds of taffeta include:
Moiré Taffeta: It has a rippled, watermark pattern which may or may not be permanent.
Antique Taffeta: A stiff cloth with soft lumps in the yarn.
Faille Taffeta: It is woven mostly with staple natural fibers.
The quality of taffeta can be gauged by a simple test—scratch the fabric with your fingernail. If the warp yarn separates it is a loose weave and the fabric may unravel.
What is taffeta's origin and history?
Taffeta is a Persian word which means 'twisted woven'. This fabric originated in Attabiya in Baghdad, sometime in the 12th century. In recent times, Italy and France have been home to the fabric. It was also made in Japan until the 1950s.
Currently, the bulk of the production of raw silk taffeta happens in India and Pakistan. Indian manufacturers, specifically in the southern region near Bangalore, used to traditionally produce it using handlooms. However, since the 1990s, mechanical power looms have replaced the handlooms.
Taffeta is one of the most luxurious fabrics known to man. It comes in a wide range such as soft or stiff, lightweight or medium-weight, sheer or opaque, checks or prints. The fabric is especially known for its shine and crisp, stiff texture and slippery smoothness.
What is taffeta used for?
Due to its rich and luxurious feel and appearance, taffeta is used to make wedding gowns, evening dresses, prom dresses, jackets and other kinds of party wear. The stiffer variant of taffeta can also be used to make curtains as the fabric holds its shape when drawn together, thereby enhancing the aesthetics of a room. Other uses of taffeta includes lining fabric, insulation, manufacturing umbrellas, handbags, sleeping bags, shower curtains etc. Taffeta was also used to make parachutes during World War II.
What is taffeta like to sew with?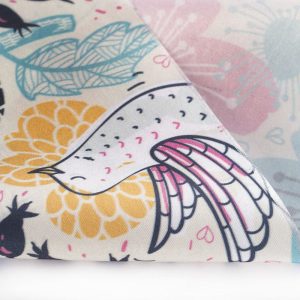 As the fabric is lightweight and has a slippery surface, it might not be the easiest of fabrics to work with. However, sewing experts have some basic sewing preparations that would make the process less daunting
• Pre-wash the fabric to reduce stiffness
• Use sharp needles, scissors, and pins to avoid snags and holes in the fabric
• When ironing the seams, keep the temperature low and avoid direct heat to the fabric
• Taffeta is prone to staining so make sure the iron is not spitting steam on the fabric and don't use chalks or water-soluble pens
to mark the fabric
• Adjust stitch length and tension before beginning to sew
• Keep the fabric taut to avoid puckering
• Finish the seams to prevent the fabric from unraveling
Advantages of taffeta
• Lightweight
• Rich and luxurious
• Smooth and shiny
• Poly-based taffeta is inexpensive
Disadvantages of taffeta
• Requires more maintenance
• Prone to creasing
• Not breathable
Taffeta Printing in 3 Easy Steps
Printing on taffeta is much easier than you might think. In fact, it's a simple, three-step process.
Choose your art – Find a photo, print or pattern that you would like to print onto your fabric and upload it to the design interface.
Edit your design – Move the image around, make the design bigger or smaller, even repeat your pattern until you're happy with it.
Decide on your dimensions – Choose how much of the taffeta you want, and place your order. Easy as 1-2-3.
If you're still not entirely sold on how simple it truly is, why not order a test print and find out for yourself?
Now that you know what is taffeta, get your hands on our swatch pack to get create your own bespoke taffeta. You will also be treated to the other wonderful fabrics in our range. So let your creativity unfold.