This month, we partnered with UK-based artist Marcello Velho to create a collection of clothing and accessories that celebrate sustainability and the power of nature. In this blog, we'll be sharing 5 tips from Marcello to help make your new or growing business more sustainable.
1 – Make your art process more sustainable
Marcello's tip: Work in an eco-friendly medium
"Some days, I'll work on a canvas or a piece of paper, scanning my work and then processing it through Photoshop. Other times, I'll sketch out ideas in pen and ink before moving on to digital applications like Illustrator or InDesign."
If you want to make sustainable art for your business, be mindful of the materials and energy required to do so. Start buying your art supplies locally to limit your carbon footprint. Look for toxin-free acrylic, water or plant-based pigments and work from an FSC recycled sketchbook or a natural canvas made from hemp/flax, which doesn't require bleach or chemicals in the harvesting process. To do away with waste altogether, how about choosing to make sustainable art using digital apps like Procreate or Photoshop?
2 – Print artwork on fabrics that are inspired by nature
Marcello's tip: The best inspiration for sustainable artwork is drawn from nature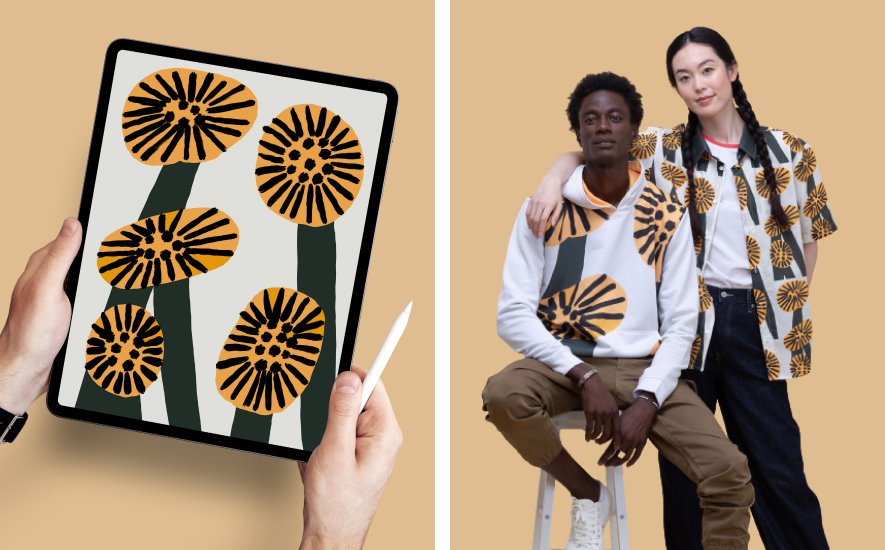 "My collection is about caring for the environment and seeking inspiration from the earth. I think that's really important in today's world because we're so disconnected from nature."
With products handcrafted with organic cotton, recycled jersey and more and printed with designs inspired by the great outdoors (lively birds, foliage and flowers), Marcello's collection shows a need for nature and full respect for it. Take the approach of designing products using natural materials that protect the environment while enjoying its beauty. For example, our Italian wool silk fabric is 100% natural, breathable, and as soft and sheer as a petal. We print the material using reactive dyes that are the best at recreating the effect of colorful flora and fauna, from mossy green leaves to deep purple and red blooms.
3 – Print-on-demand for your business
Marcello's tip: Print a design on a product only when a customer orders it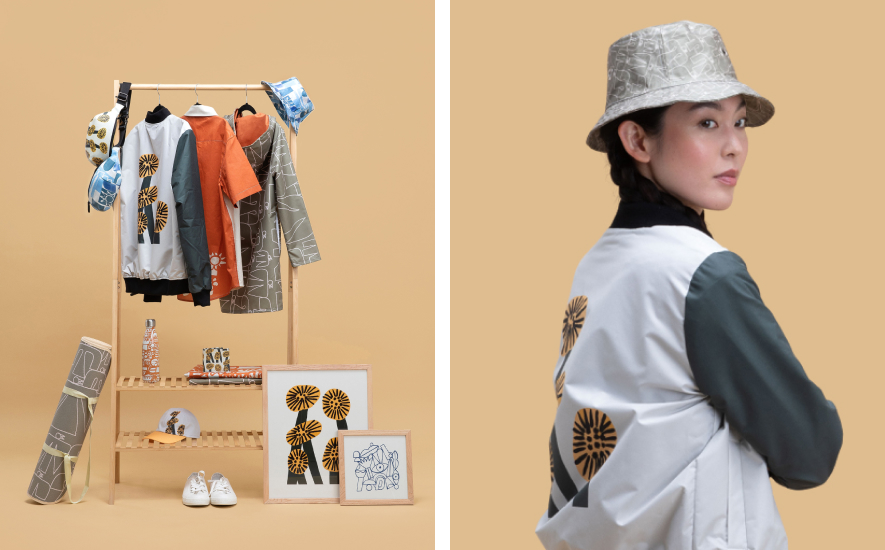 "You're buying quality instead of quantity – valuing products that are not mass produced – appreciating products produced using sustainable materials that do not have a negative impact on the environment."
When you print-on-demand for your business, your designs are printed on products only once an order's been made, which means no materials are wasted or overstocked. At Contrado, absolutely everything is made to order. Just choose custom products from our wide range, upload your designs and open a store on our platform to start selling.
4 – Start drop-shipping with Contrado to reduce your carbon footprint
Marcello's tip: Work with a third-party manufacturer that values high quality and sustainability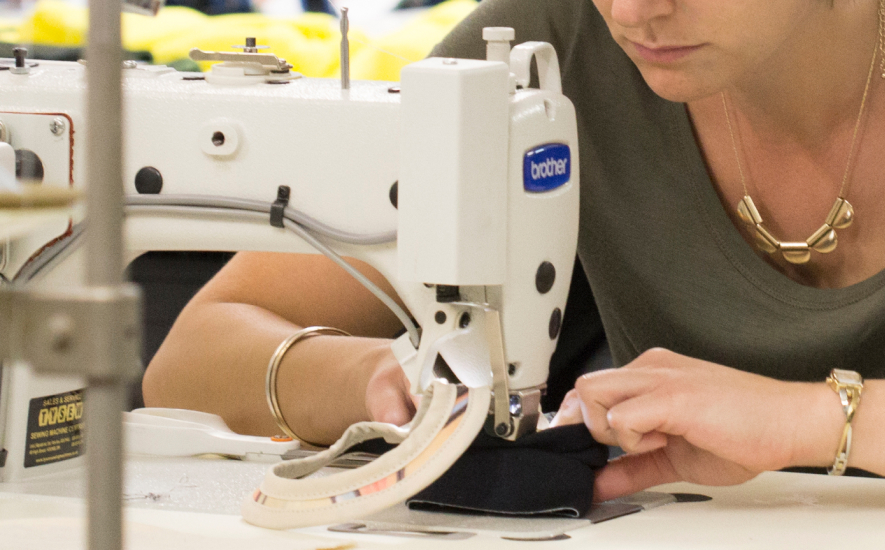 "Contrado is a great platform for up-and-coming artists to showcase their work on a range of products, and it's also difficult to find decent manufacturers of quality goods with low minimum quantities."
Already have your own store? Work with a manufacturer that can craft your products for you using the finest materials. At Contrado, we source (locally whenever possible!) the same premium quality materials as a number of world-leading brands. We also have 450+ products you can drop-ship that don't cost the earth – literally – because everything is sustainably made under one roof in London. From clothing to fabric, accessories and home decor, drop-shipping allows you to sell any number of products in your store, and we'll print, pack, and ship them to your customers for you.
5 – Create sustainable art that highlights real environmental issues
Marcello's tip: Connect to your audience with products they care about
"I feel most rewarded when people tell me that they connect with my work or enjoy it in some way. That's what I'm trying to do with this stuff: create something that someone else might find meaningful."
It's important to remember that your eco-friendly art will be held under more scrutiny than non-eco-friendly art. People want to know the products they're buying are as sustainable as they appear, so be transparent with your audience about your brand's efforts. You could start by introducing a sustainable collection to your store, e.g. a range of swimwear made with recycled polyester from used PET bottles, to help contribute to the circular fashion loop and raise awareness about landfill waste. You're clear that it's a step towards your goal of using only sustainably sourced materials.
Of course, the best way to learn how you can create sustainable art is from other successful brands. Explore Marcello Velho's shop and find inspiration from his sustainable Curious Nature collection.