Custom Ribbon Printing
We offer a range of options when choosing your ribbons. There are 5 width choices and an array of fonts in full color that you can position and repeat along the length of the ribbon. We provide tools to center the designs and you can preview before you buy. If looking to work with images or logos, to maximize the design quality we recommend using our wider ribbon. Your custom ribbon will be sent to you cut in strips of 4.7ft.
Frequently asked questions:
Can I use this for wedding accessories?
This is perfect for making your own ribbon for weddings and not just for pretty final touches but for cake ribbon, wedding favor boxes or car ribbon too! When planning your wedding, be sure to get your personalized wedding decorating ribbon. Why not cut sections in short lengths to hand out as part of the favors or keepsakes?
Can I print photos on the Custom Ribbon?
Make sure that you choose to print on at least 50 or 70mm because although the images may be tiny we still want your gorgeous photos to show in perfect quality, with the imagery clearly visible. Once you have chosen a larger size ribbon, then add several photos and text to make an impressive photo ribbon for any occasion.
Could I use this to print Christmas Ribbon?
If you want to make your Christmas extra special then add our personalized ribbons. We will help you make each part of your festive season special, including; wrapping gifts, decorations for the home and dinner party accessories. What's more you can add to it every year building up your festive decorative stock and choices!
Delivery time & costs
At Contrado, we personally commit to our customer satisfaction with a wide product selection hand-made in our premises, a great quality, dedicated service as well as fast delivery.
Make use of our manufacturing and worldwide shipping experience
For the past 15 years, we have printed and hand-made countless personalized products for a wide range of customers all over the world and many of them have become loyal customers who love not only our products but also the care, knowledge and dedication from our staff.
Here is how it works. We first hand-make your item on average within 1-3 days depending on the product manufacturing timeline and quantities. After production time, we ship your order so you can receive it very quickly, subject to the delivery type you select in your basket. You can then enjoy or resell your handmade products with your very own designs.
You can also read more about our
terms & conditions
and
refund policy
.
We hope to start working with you soon.
You have the amazing designs, but do you have a unique range and place to sell?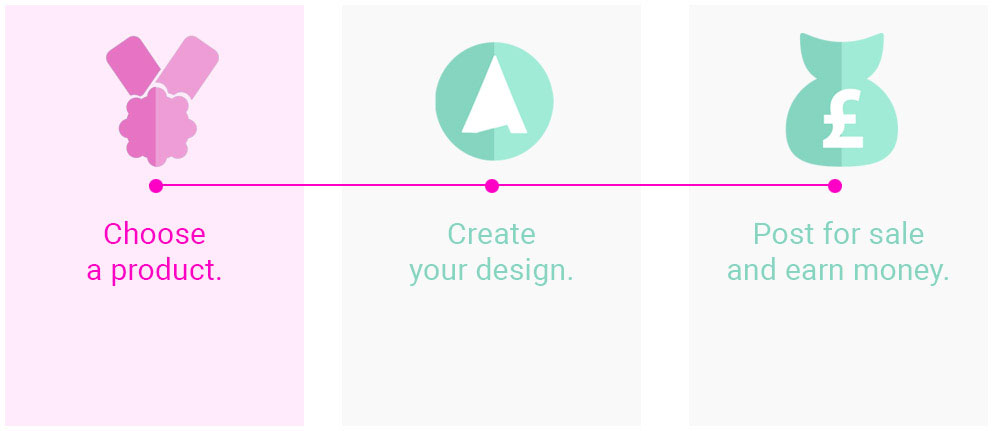 All you have to do is design what you love and we bring your creations to life. We take care of the hand crafting and manufacture, the sales and the shipping. You the designer, control the products and designs from wherever you are, from home, the office, even on the go. Meanwhile the orders start to roll in and you get commissions fast.
.
Print Guideline
What's the best resolution to print in?

We print at 200dpi, which is a good combination of quality and file weight. Ideally your image should be scaled to 100% at 200dpi; this means that no resizing of your file occurs, preventing any interpolation.

Should I save my file as a TIFF or JPEG?

For multi-colored or very detailed files we recommend using a tiff format, but they must be flattened. For simple colors and low detail files, a jpeg is fine.

Which color model should I choose? RGB or CMYK?

If each individual color is specifically important to your design, choose CYMK as our setup will print each color with the closest possible match within our available range. If the relationship between the colors within the image is more important choose RGB; this will reduce all colors equally to fit within our range.

Maximum dimensions

There is no limit on the length of the fabric that you can order. We have a preview design window set up to 5 yd max to visualise the print, but that's not a print limit. If you'd like to order more, you can increase the quantity (x2 for 10 yds or x 4 for 20 yds for e.g.) and then your orders can be as long as you'd like, with a built in automatic volume discount too. The maximum print width of each fabric can be found on the individual fabric pages or in our design interface.

Do I need to incorporate white space within my design if I want a border or some cutting space?

Yes, that might help you Always incorporate any extra space or borders into your purchased fabric size. We trim squarely around fabric samples and fabric prints, leaving approximately 0.22" white space. Cutting neatly on the line has an additional fee.
Do you print on fabric a customer supplies?

Unfortunately not; we like to test meticulously so that we know what gets best results on our fabrics, and our facilities cater perfectly to them. We do however print sublimation transfer paper to order, and if you have access to a heat press you can press your own fabrics easily.

What is the situation with material shrinkage?

Just like many fabric printing processes, there is the potential for shrinkage. Depending on the fabric, please expect and allow between 2-6% shrinkage which you need to plan for in your dimensions.

Can I print on both sides of the fabric?

We do not offer printing on both sides of the fabric, as a lot of our fabrics are semi-transparent. As the customer, you can consider the effect of printing on both sides one of our fabrics and contact us, and we will get back to you if it's feasible.

Can I order labels in another fabric? Will you cut them like you do with the normal fabric labels?

At the moment no, our labels are all printed on the same satin fabric. We may introduce more in the future, but for now this is the best choice. The labels are all cut the same way. You can order the fabric of your choice and make the labels yourself, but we do not cut different fabric into label format.

How is your fabric printing eco-friendly?

With environmental consciousness in mind, our fabrics are all printed using completely water-based inks. This means no chemicals or solvents are used. Our heat fixing procedure fixes the colors and prints, avoiding the downsides of steaming, such as excess or contaminated water returning into the waste system. We have one facility where we conduct all the printing, production and fulfillment.
Sizing For Hemming And Shrinkage
We have a full Cut & Sew service here at Contrado, and are able to hem your fabric prints for a small additional charge. We create a small one- or two-fold hem that typically uses 0.22" to 0.75" (5-20mm) of material, depending on the thickness of the fabric. So, for example, if you want a finished piece of fabric that measures 100 x 100cm, you will need to order a size of 101.5cm x 101.5cm to allow for the hem (on top of that please also allow for shrinkage of min 2%). The thicker the fabric, the bigger the hem will be. You can choose to have your prints hemmed with either Black or White thread. On our silk and other light woven fabrics, one hemmed edge will be straight (vertically down the roll) and the other will be slightly rippled. The hemming material allowances are as follows and you need to make your print bigger to accommodate the hem:
Light Fabrics (20-100gsm): For silks and other light fabrics, we use 6-8mm in the hem (2 fold), so overall width/height will be minus 0.5"/ 12-16mm
Medium Fabrics (101-200gsm): For medium-weight fabrics that fray, we use 0.5 - 0.75" / 15-20mm in the hem (2 fold) so overall width/height will be minus 35-40mm
Stiff/Heavy/No-fray fabrics: we use 0.5 - 0.75" / 15-20mm in the hem (1 fold) so overall width/height will be minus 1.5" / 35-40mm
All of these measurements are approximate and can vary. Including with shrinkage it can mean a fairly significant difference to ordered dimensions, so please plan your print accordingly. Depending on how open the weave is, our fabric can shrink anywhere from 2% to 8% with the average being 2.5%.