Why make your own wedding dress?
So, you're engaged. Or perhaps someone very close to you has just gotten engaged, and wedding preparations have slowly but surely begun to take over everyone's lives. Whether your wedding is going to be big or small, in the autumn/winter or summer/spring, the dress is one feature that must be tackled head-on.
For decades, the wedding dress has been the star of the show. Its design is kept secret until the last possible minute, before wowing everyone and outshining even the groom! However, it's 2021 (at time of writing), and you might need a maternity wedding dress with some extra room, or you might have two dresses to consider in a same-sex wedding, not to mention the maid of honor, bridesmaids, and flower girls. You've spent hours sifting through magazines, browsing dress shops with a never-ending champagne flute, and scrolling through Pinterest in an attempt to stumble upon 'the one'. It's time to step back and think about what you really want to be wearing for one of the most important events of your life.
You might know exactly what you want, but just can't find it anywhere. Believe it or not, this is great news! This gives you the absolute freedom to design and make your own wedding dress to your exact specifications and precise detailing. Step one of any garment making project is fabric.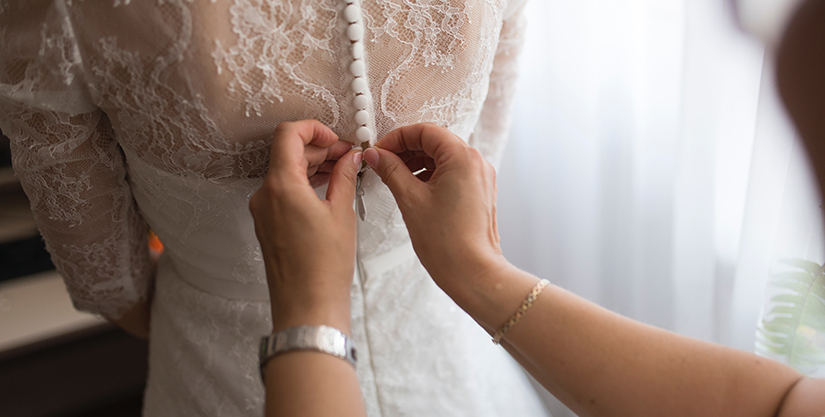 Classic wedding dress fabrics
When considering the best fabrics for wedding dresses, there are a number of classics which spring to mind:
Satin – Full-bodied, high fluidity, and a smooth finish
Lace – Delicate, open net, intricate and often elaborate
Organza – Transparent and fine with a crisp handle
Chiffon – Incredibly lightweight, sheer, and flowy
Taffeta – Rich, stiff and slippery with a crisp feel
Choosing a fabric often bears in mind what it's made out of and whether it's easy to work with. However, with wedding dress fabric, two things that are above any other factors are how it looks and how it feels. A fabric that's soft against the skin may be far too warm to wear all day. A fabric that's light and cool may snag on jewelry and unravel its weave. It's important to always think ahead about when and where you'll be wearing your dress, as this will greatly inform your fabric choices.
Contrado's Bridal Wear Fabrics
At Contrado, we offer a huge range of fabrics that are perfect for wedding dress making. Not only do we have the most popular options, but we also offer a variety of alternative, contemporary, and forward-thinking fabrics for the more adventurous brides out there. Here is a selection of our top picks for bridal wear.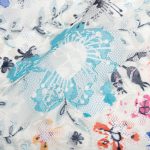 Highly versatile, this delicate open-net lace fabric has an elegant pattern, bold and carrying color with a delightful shine. Flora Lace is perfect for adding a romantic touch to plainer gowns and can be used as a feature fabric across all the bridal wear: veil, skirts, gloves, and even the bouquet.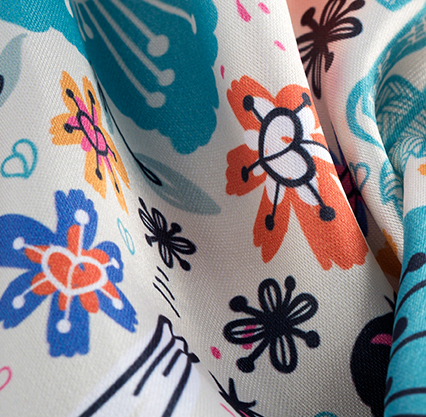 One of the most common fabrics for wedding dresses is satin. Carrying substance in its build and femininity in its flowing drape, Lucent Satin is a high-luster, double-faced fabric with a beautiful shine. This fabric is slippery and smooth, lightly gliding against the body with ease.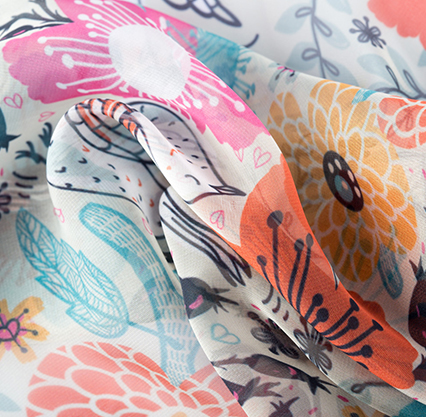 Semi-transparency in a wedding dress presents the bride with an air of grace. Paris Chiffon does this perfectly; with a slight stretch and an incredible lightness, it feels like a second skin and looks celestial with its daring sheerness, ideal for layering over skirts and under complex lace patterns.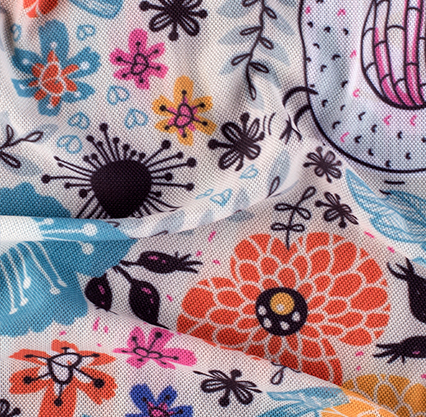 Similar in lightness to chiffon, the Florence Power Net reaches new heights in wedding dress fabrics. As its name suggests, it's an incredibly powerful fabric in that it's fray-resistant, meaning no jewelry snags or nail tears. Perfect for spring weddings, Florence Net is a knitted tulle that's highly flexible and extremely breathable.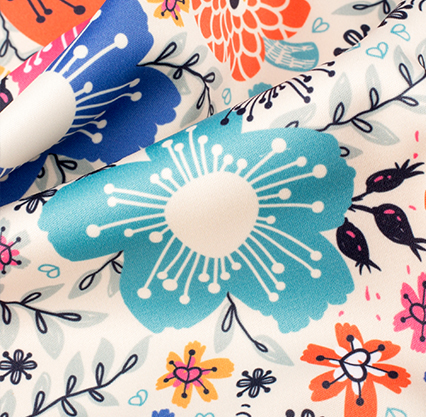 Winter brides, this one's for you. Soft Shell is a jersey with a brushed reverse that is super smooth against the skin. The smooth-face gives a wonderfully consistent color and fine prints. The stretch and drape work wonderfully with dresses and despite being heavyweight, it's impressively breathable.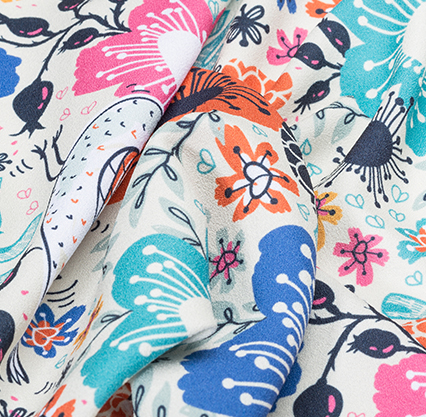 Fill your wedding with contemporary vibes by the characterful Fashion Crepe. This double-faced fabric is a spring-time favorite. Lightweight but durable with a grainy texture, crepe fabric is notoriously easy to work with and makes for a gorgeous and fun wedding dress fabric.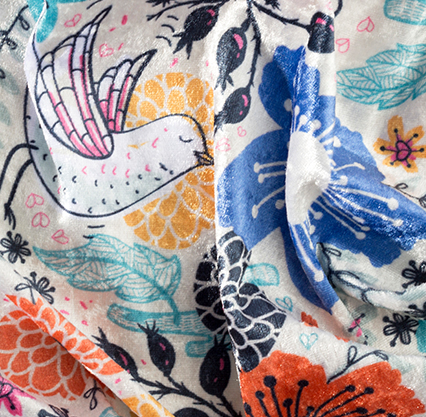 Super stretchy with an irresistible shine, our Crushed Velour fabric absorbs and reflects light, creating a sheen that stands out in any crowd. Completely opaque and heat-retaining, it makes great Autumn wedding gowns. A bride in Crushed Velvet is guaranteed to get all the attention she deserves.
Fit for a Princess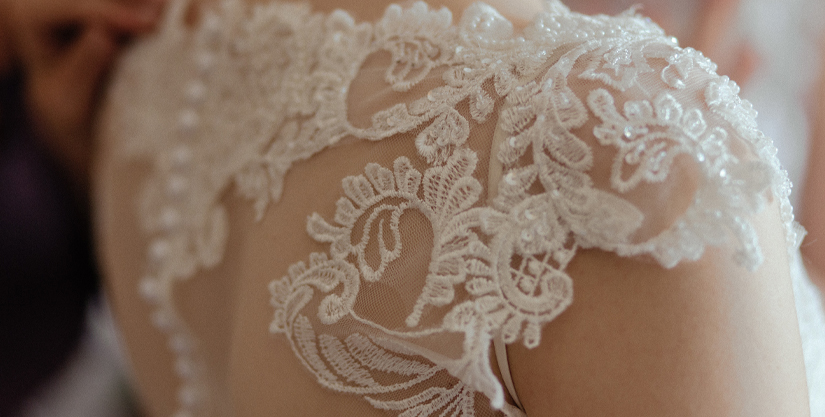 If your dress design has been heavily inspired by the recent weddings of the royal Princesses, you could choose your fabric to emulate them.
Go classic with Kate
Stun everyone with a timeless classic look. The Duchess of Cambridge's wedding dress was made in silk gazar; stiff hold with a smooth texture, gently pleated out. Perhaps you're sticking with a classic style but making it personal by making your own dress from scratch. Try our Silk Impression: semi-transparent in paler prints with a stiff build and shimmery drape, you can emulate the charm of a future queen.
Step out modern like Meghan
A shift from traditional, step into your future married life like the sparkling Markle. Our new American princess wore a silk cady gown featuring hand-embroidered flowers. Match Meghan's elegance with a fabric featuring a delicately patterned print. Try out our 100% Silk Satin: a durable fabric, perfect for layering with lace for that memorable, modern touch.
Design your own wedding fabric
Take your wedding dress into your own hands and check out all our fabrics, each with unique characteristics, to help you decide which ones will work best for your big day.